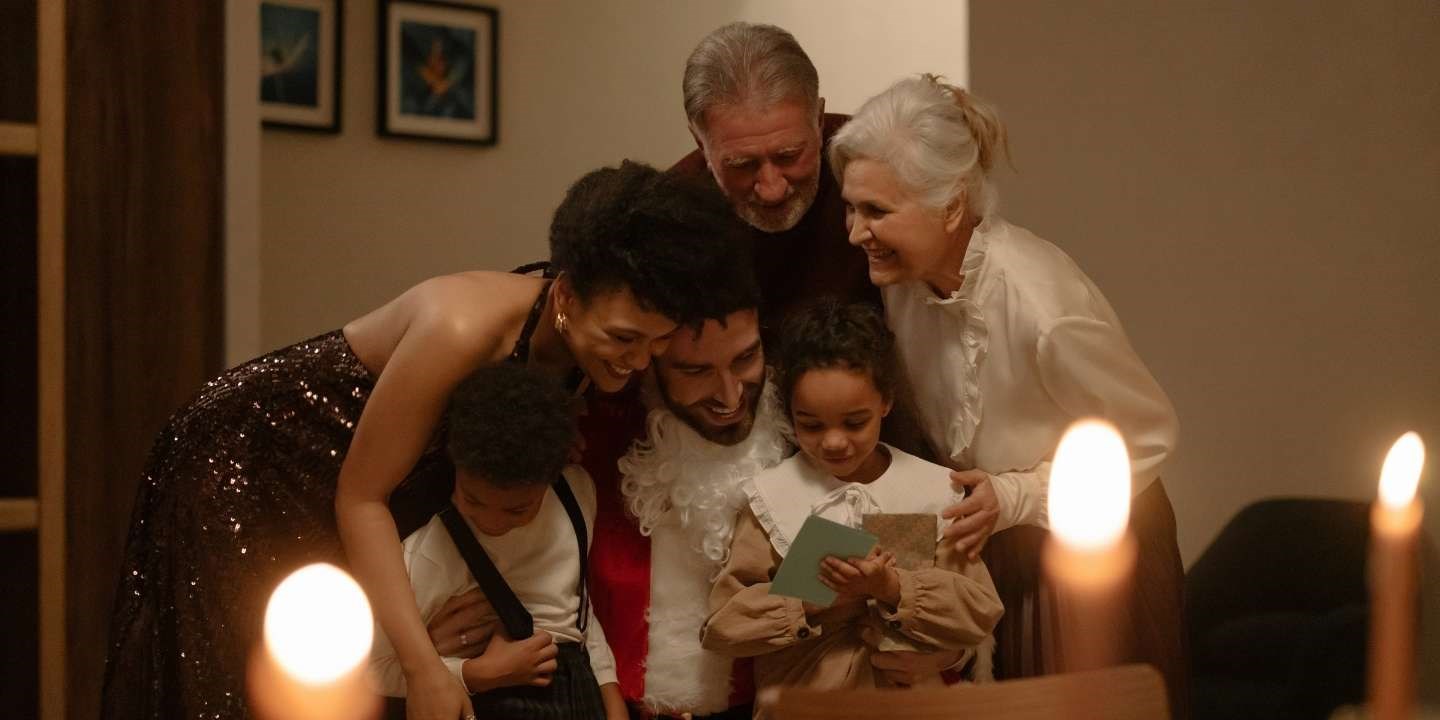 Holiday Gift Guide: 2022 Planners, 2022 Calendars, Notebooks, and More
Everyone needs the gift of organization! The chaos of the holiday season is quickly approaching, and this year we are hearing about supply-chain issues impacting what may be available. No one wants to scramble when you should be enjoying family, and finding a perfect, creative gift for each person on your holiday list can be a challenge. AT-A-GLANCE is here to help.
Instead of another sweater or gift card, what if you could give the gift of reduced stress, better sleep, focused wellness, increased productivity, and improved relationships this year?
Putting a focus on building a more organized life does all that and more.
Although many people us their smartphones to keep appointments and a few reminders, there is something absolutely magical about putting pen to paper. In fact, it's not actual magic it's science.
Here are some great ideas for holiday gifts for the special people on your list, and maybe something for yourself as well.

If you someone who takes care of car maintenance in your family, you probably are very grateful for that person! In Sophia's family, it's her dad.
"My dad is the car nerd," she says. "Every time I come back from college, he checks my car's tire pressure. He also makes sure I get my oil changed in time and any other stuff my car needs. He loves to track his gas mileage too. We all call him the car nerd, but I'm not sure my car would still be working if not for him."
"I'm excited to get him this as a gift. Not exactly my taste," she laughs. "I'm hoping for some clothes, but he will love it, and will probably start filling it out pulling the information from all his maintenance file folders." 
The AT-A-GLANCE Auto Record Book is perfect for keeping track of vehicle maintenance, gas/oil consumption, tire mileage and more. The black vegan leather cover is flexible and durable, and it has the same great premium paper you expect from AT-A-GLANCE. It's small enough, at 3 3/4" x 6 1/8", to store in your glove compartment to keep your vehicle information handy.

These organizers have loyal fans, and by gifting one of these, you are providing a beautiful organizer set, and the recipient of your gift will only need to purchase the refills for future years.  
"I am telling you; AT-A-GLANCE keeps me in line with an overall perspective of the upcoming and future weeks," one fan* writes. "This format is perfect for tracking daily, weekly, and monthly activities."
This sophisticated AT-A-GLANCE Day Runner Undated Harrison Slim Profile Starter Set features a slim design and comes with an undated starter set, complete with both weekly and monthly planning pages, contacts pages, and accessories. The brown vegan leather cover is accented by a canvas spine and zipper closure, giving it just the right amount of style for work or home, and there are more colors and styles on our website.
Try it yourself or give the system as a gift, and you will see why one fan says she can't imagine organizing her life without this planner! She loves the weekly layout with monthly overviews, and that each day there is a place to list priorities. 

After research and listening to users, we presented The Elevation Collection of 2022 Planners and Calendars. It is stylish, professional, and minimal. It caught on like wildfire, and already has a loyal following. One fan said she had searched for the perfect calendar year after year before finding her Elevation Planner. 
"Best layout EVER," she told us. "It has been years since I found one that works so perfectly for me. Please keep this one around!" She uses this planner every day to keep track of activities.
"It also has plenty of room for notes," she says, "especially with the adjacent Goals/ Focus page each week. I also like the extra note pages in the back of the planner. I have had many planners, and I like this the best. I just placed my order for the 2022 version."
The collection features two different layouts to choose from, and matching wall and desk calendars with perforated notecards to take with you on the go.

A gift from one of our most popular lines will bring joy to even the most disorganized. The Badge Collection of 2022 planners and 2022 calendars offers open weekly layouts with plenty of space to write down daily activities, as well as a Notes & Ideas section so that nothing falls through the cracks. As you would expect, Badge products have premium, thick, smooth paper that resists ink bleed, as well as sturdy covers and colored tabs.
"I love that it's easy to reference back to things," says a long-time Badge user. "I have space at the top of each weekly layout–which is across two pages–to jot notes of things I need remember. The planner is attractive, and the paper quality is terrific. It works well with any ink I've used."
Beautiful matching wall calendars and desk pads can complete the planning system, so that you can give a whole set. The desk pads keep priorities and goals in view, while wall calendars keep everyone in the household informed. 

"This is the best weekly/monthly planner out there," according to Deb, a loyal user. "Not too small or too big, and it keeps everything you need in one convenient place. You will not be disappointed. Buy now to beat the backlog of shipping containers, so you have it in time for the New Year."
The Contempo Collection of 2022 planners, 2022 calendars, and notebooks is sleek and offers a variety of product types to suit any planning style, featuring modern formats and space to track priorities. The collection includes planners in several sizes and layouts, desk pads, and wall calendars–including 3-month reference calendars.
The planner covers are durable and flexible, and they are bound by a durable metallic coil. Contempo's smooth, thick paper resists ink bleed and gives you a premium writing experience, and the planners offer more than 40 notes pages.
"I buy this planning system every year," says Leslie, a long-time user. Karen, another fan, agrees.
"It has everything I need including a file pocket, and it comes in a convenient size for purse or tote," she says. "And delivery was sooner than I expected."

This great planner is unisex and very professional looking," says Dee. "I love the (vegan) leather cover and sleek look. I do also love the amount of space under the specific dates."
The unusual block layout has been a game-changer for many users.
The vintage-looking AT-A-GLANCE Signature Collection of 2022 planners, 2022 calendars and notebooks was created for busy professionals and students who enjoy a simple planning experience with premium, modern cover materials and treatments. The Signature Collection features plenty of open writing space, superior ink bleed resistance and a storage pocket.
"I like the size, its flexible but substantial cover, and the multiple ways to organize," says one user. She and her husband both use Signature every year, so they alternate colors to keep their planners straight.
"I love its size and overall design of the planner," says Soto. "The layout is perfect for my needs and helps with keeping me organized by day/week and by month. It's very easy to understand and adapt to, and I would recommend this to anyone needing a little help with keeping their activities organized."
"I am a major planner aficionado, so I was super excited to have been gifted this planner," says Sav. "I've tried many planners over the years and this one ticked a lot of the boxes I'm looking for. I love that it's both weekly and monthly, and the weekly is lined to keep it clean and organized. The lined (area) is perfect for to-do lists."
Yet another fan who has used Signature for six years, loves the size and the material of the cover– she says, "it's strong and holds up through the year."
"I also love the weight of the paper," continues Anne. "It's thick enough to not bleed through, the choice of light ink (versus dark), the tabs that delineate the months, the sections in back to write additional notes, and the pocket in back."
"Most of all I appreciate the layout of each day, namely having lines but no times," says Anne.
"I get excited to order the new one each fall and would give it 4.9 stars if that were an option!"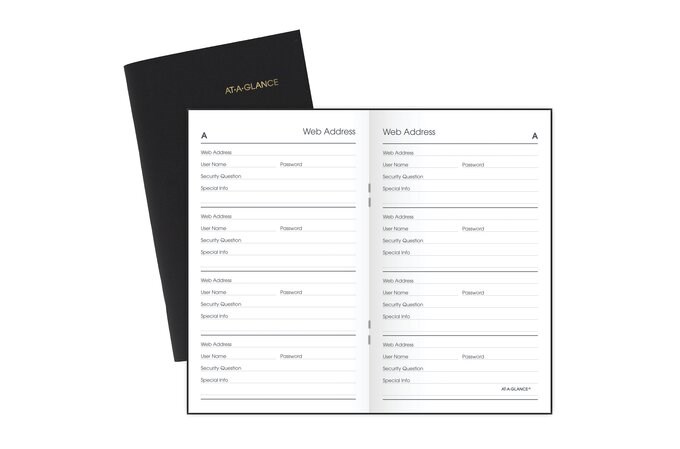 How many times have you looked for the password for a streaming service or utility, but you made it so long ago that you no longer remember? Give the gift of an uncluttered head, by making remembering passwords no longer necessary. Help a loved one to stay organized.
"It's a perfect place to keep all your passwords," says one reviewer. "I love it so much I now give it as gifts!" Another fan agrees, saying, "It's my answer to 'What's my password, honey?' It's my second time ordering, and it's a great gift to give to friends."
We all have so many login IDs and passwords for personal sites we love, streaming sites, utilities, and more. Of course, passwords should be kept private and secure, so keep it in a safe place. This booklet is great for sharing in a household, where passwords need to be accessed by several people.
The AT-A-GLANCE Password Book has room for over 200 entries and includes fields for all relevant web information. As always with AT-A-GLANCE products, it has high-quality paper that has superior ink-bleed resistance. The vegan leather cover is flexible and very durable to last a long time, unlike your passwords, which you should change occasionally.

Organizing contact information for family, friends and business contacts is easy as can be with a good old-fashioned address book. This AT-A-GLANCE Large Telephone Address Book has enough room for 800+ entries, to store both addresses and multiple phone numbers.
 "It's great because it holds a lot of information and is easily accessible," says one reviewer. "This book is well-constructed and has space for quite a few entries. The tabs are easy to use as well."
 "Having failing vision, I ordered a larger address book this year," says Dorothy. "It is flat and will fit in most purses and, most important, makes the entries very legible. I'm happy."
The classic AT-A-GLANCE Harrison Telephone Address Book has a professional brown cover and includes lines for names, addresses, and phone numbers. The high-quality paper features superior ink-bleed resistance, and as with all AT-A-GLANCE products, the paper comes from forests which are certified to meet specific forestation management standards–which protect our forests.

Grab a few 2022 wall calendars to give as gifts this year. AT-A-GLANCE has many different styles and types of calendars. We have decorative wall calendars, as well as 3-month reference calendars, and even erasable horizontal or vertical calendars.
We use high quality grades of paper to provide a premium writing experience, and the durable twin-wire binding with built-in hanging loop is lightweight yet sturdy.
"I have purchased this calendar (AT-A-GLANCE Watercolors 2022 Monthly Wall Calendar, Medium, 15" x 12") each of the last several years," says Henri. "I like the amount of space it provides for each date, and its overall appearance."
"I absolutely love this calendar to keep my family on schedule" adds Vicki, another loyal user.
Additionally, this popular 2022 Vertical/Horizonal Erasable Wall Calendar is vertical on one side, horizontal on the other. This is a great choice for those who want to see their whole year at once, so nothing falls through the cracks. When plans change, simply erase–without a trace–and start over. 
There are lots of choices and styles available.

Some of our top sellers, are our straightforward daily planners, monthly planners or monthly/weekly planners. They have very loyal fans who use them year after year to keep track of appointments, meetings, and family and personal events.
Some of the most planners include: 
"I have been using this planner for decades," reports Sallee. "It offers space to write down notes and phone numbers and to keep appointments organized and visible without opening a new tab or program on the computer. PLEASE continue to produce these yearly planners."
These professional monthly planners have durable, flexible covers and come in black, winestone, and navy. The premium paper provides a high-quality writing experience, and the planner opens flat. The durable twin-wire binding will last all year and withstand being tossed in a bag or car so it can go everywhere with its owner.
"I have been using monthly planner for years," says Lynda. "It is so helpful in planning my life! Fast delivery! Thank you!"

The 2022 Standard Diary is iconic. Many users have purchased for 10-20 years, and depend on the Standard Diary for work, even for compliance documentation, as well as documenting family life and personal journaling.
There are several Standard Diary options available: 
All Standard Diaries are permanently bound and extremely durable, with heavy, smooth paper that resists ink bleed. Keep and reference personal and business records for years to come with a Standard Diary. It's great for legal notes, research data, personal memoirs, and more.
"This is my fourth purchase of this diary for business use," says Barbara. "Each page holds 5 years of comments which we review daily. This is the only diary I found that allows a full year of notations."
Another user with small children writes every night about the day so that they will be able to read it all in the future.
The sturdy binding is flexible enough for the open, lined pages to lie flat for easy use. The Standard Diary is a great gift for any of your iconic loved ones.
Start Early–Get Your Order in Today for Planning Gifts that Will Help Your Friends and Family Stay Organized.
Conquer the chaos of the season, shop from home for gifts that can give your friends and family a boost in organizing their own lives.
If you buy a planner as a gift, consider adding in family birthdays and maybe even a fun note or two in the pages.
At AT-A-GLANCE, we want you to get your gifts, so please don't wait. Order now, while supplies last. It's easy, but don't take it from us…. 
 "It's great to get AT-A-GLANCE products from the source," says one fan. "They have easy ordering, and I got the product the next week. Perfect."
*All review quotes are verified purchases, although not every reviewer chose to give his/her name.