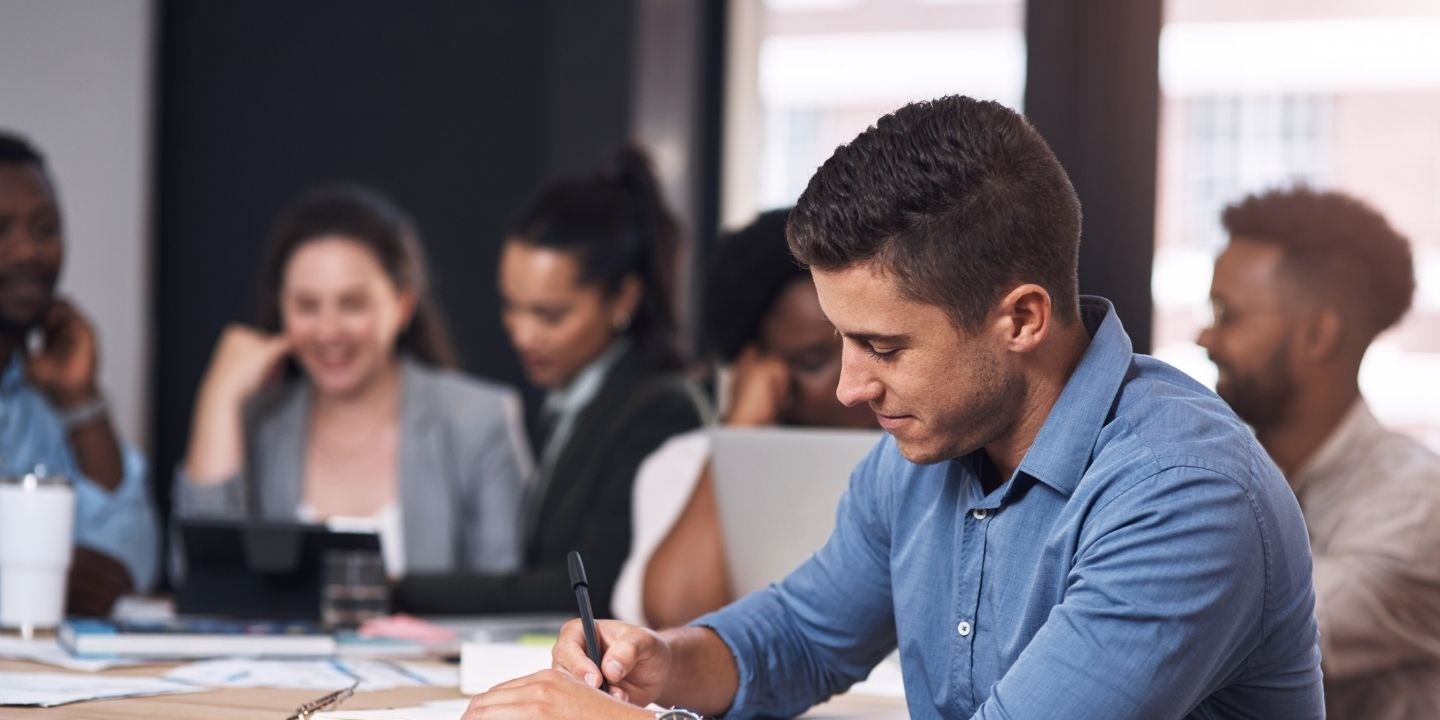 Soon, 2021 will be over, and a new, great year will begin. Make yourself a priority by getting your year set up with new planning products.
When you crack open a new planner, your life feels completely open, and the possibilities are endless. But don't rush into your choice. Ideally, your planner will last all year and will act as a personal assistant. You will brain dump into it, and it will hold all the those nagging thoughts and things you need to remember, freeing you up to be creative and more present.
Even if you track appointments and make notes in your smartphone, planning products provide a place to see your life holistically. All your plans, goals, and commitments written down in one spot, and writing them down matters. Research shows that you are much more likely to achieve a goal when it's written down. That percentage increases if you keep written goals in view.  
Additionally, a planner gives you space to journal and capture those most important moments. You can take notes at meetings or add details to an event as well as sketch or embellish the information with color.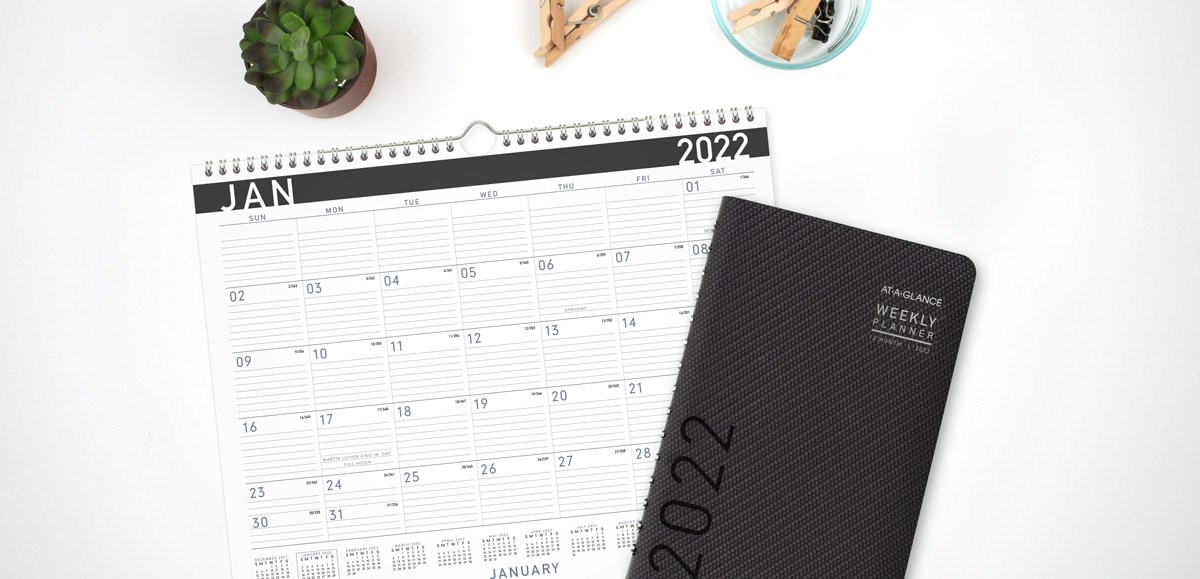 Our Contempo Collection is sleek and straightforward. It includes a variety of product types to suit any planning style, featuring modern formats and space for priorities. The covers are durable and flexible, and it's bound by a durable metallic coil. Contempo's smooth, thick paper resists ink bleed and gives you a premium writing experience, and Contempo offers more than 40 notes pages.
The Contempo Collection also offers several different types of wall and desk calendars as well as desk pads to keep your plans in front of you all day long.
The Elevation Collection is progressive, stylish–and serious on the inside. Check out the year-in-two-pages spread, so you can look at your whole year, and you get to choose from two weekly layouts.
The divided format offers blank and check-box daily blocks, as well as a Wins of the Week section to keep you motivated. The block format has a block for each day on the left side, and three sections on the right page: Goals of the Week, Focus on This, and Notes.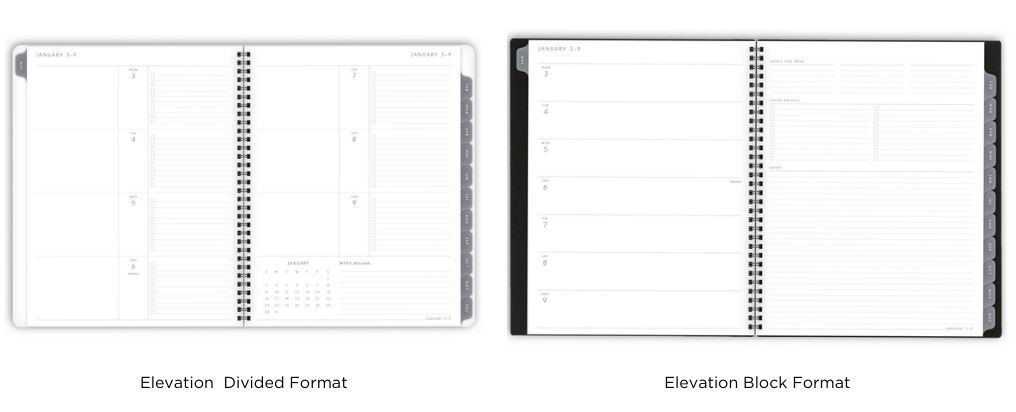 The matching desk pad and wall calendars both have perforated cards so you can take lists or priorities with you, so nothing ever falls through the cracks!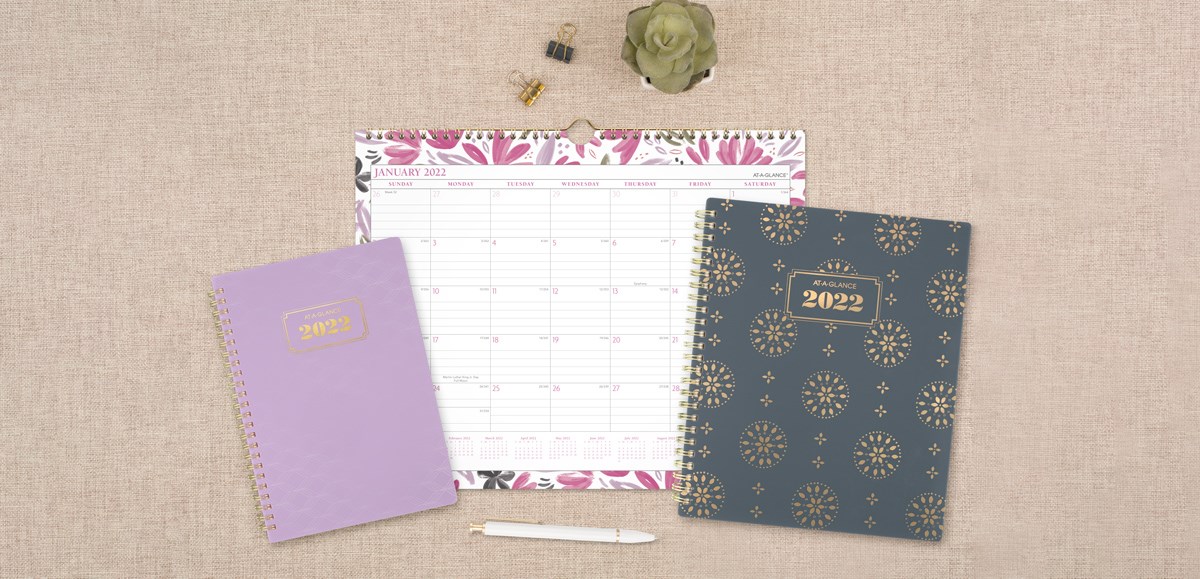 The AT-A-GLANCE Badge Collection of 2022 planners and 2022 calendars is named for the beautiful foiled date stamped badge on the cover of every planner. It is a fan favorite, due to its superior paper, and durable beautiful covers and coil that can take the daily use of life and still look great at the end of the year.
The layouts are simple and uncluttered, with just a Notes and Ideas section added to the weekly layout. There is plenty of room on the monthly layout to track appointments and events as well as notes and monthly priorities. Plus, artistic matching wall calendars can complete your planning system, keeping everyone updated and informed.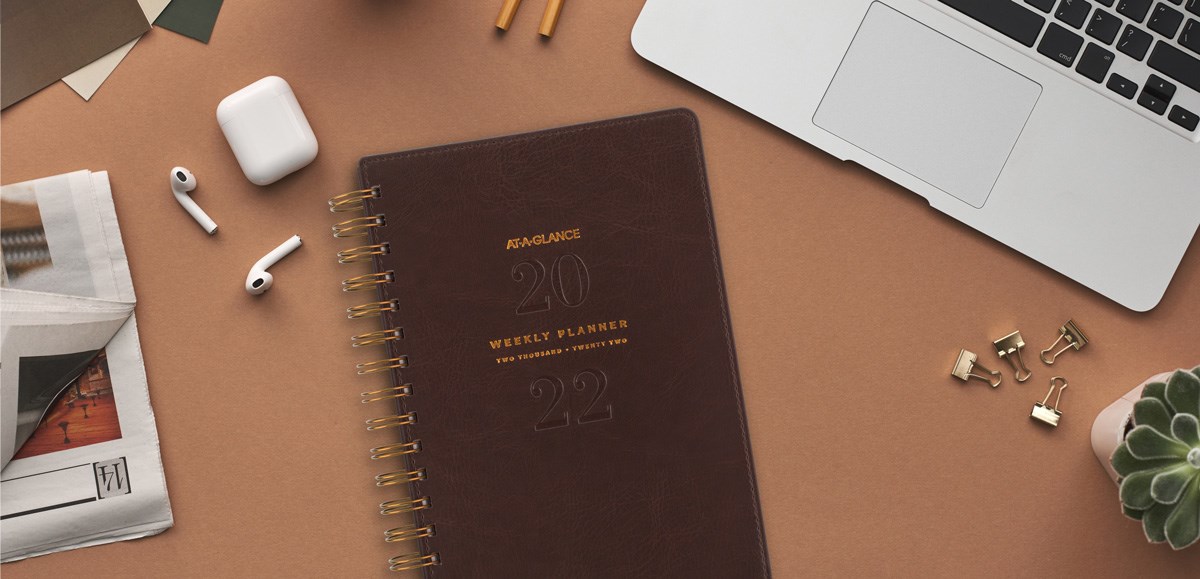 The Signature Collection Planners are built to last with a flexible yet durable cover and coil. Like most AT-A-GLANCE planners, Signature provides you with premium paper that won't bleed through.
The craftsmanship is evident on the vegan leather weathered covers–which are stamped with the year–and brass twin wire binding. There are two weekly layouts: one is vertical across two pages, with each day in a column. The block layout gives each day its own block with an extra block for weekly notes. Both layouts offer lots of open space.
This collection takes notetaking and planning to another level. Each Plan.Write.Remember. product is bookbound and features a pocket, ribbon bookmark, and a bungee cord closure. Each product blends planning and notetaking into one convenient solution.
The undated planning notebook has over 130 lined pages with date boxes. Since it is undated, you can use it fluidly, as needed. Other options are the dated 2-days per page planning notebook with a daily "hotspot," the monthly planning notebook with a monthly "hotspot," and the one-day-per-page layout that provides open space for scheduling and detailed notes.
Manage up to four busy schedules in one daily appointment book. This large appointment book covers 12 months from January - December with Julian dates, and features the same high-quality paper featuring superior ink bleed resistance you expect from AT-A-GLANCE.
The roomy one-day-per page layout shows four vertical columns broken into quarter-hourly appointment times from 8 am to 7 pm., one for each person and space for notes. The black vegan leather cover is durable enough to last all year and is made with flexible material.
It's important to have dates in front of you while you work, plan, or just try to control the joyful chaos of a full life.
AT-A-GLANCE has a wide selection of 2022 wall calendars that are functional and attractive. Choose from erasable calendars, wall calendars that span three months per page for easy planning, as well as calendars that are more focused on design. Find the wall calendar that's right for your office, and/or your home.
Additionally, we have a wide selection of calendars to sit on your desk or desk pads to work and plan on at your desk. 
Step up your organization game with accessories. Add some color and shimmer to your planner or mark your place. Our variety of accessories like stickers, tabs, washi tape, tabbed dividers, flag paper clips, and pen loops help you to stay on track.
Shop 2022 Planning Accessories
Keep yourself at the top of the priority list.
As you head into the chaos and fun of the holiday season, keep in mind that you need to prioritize yourself. If you are healthy and happy, those around you will also benefit. Use your new planning tools to visualize goals, plan your days, take care of yourself, plan adventures, and set aside time to show those around you that you care about them.
Please explore our website and look at our 2022 Planning Collections as well as our wall calendars, desk calendars and desk pads, plus accessories to put your wellbeing at the top of your priority list.
Share this story with others who may be looking for a planning system for the new year, and check out our story How to Use Your Planner For Success.
We would love to know…which of our planners and other planning products fit best into your life?