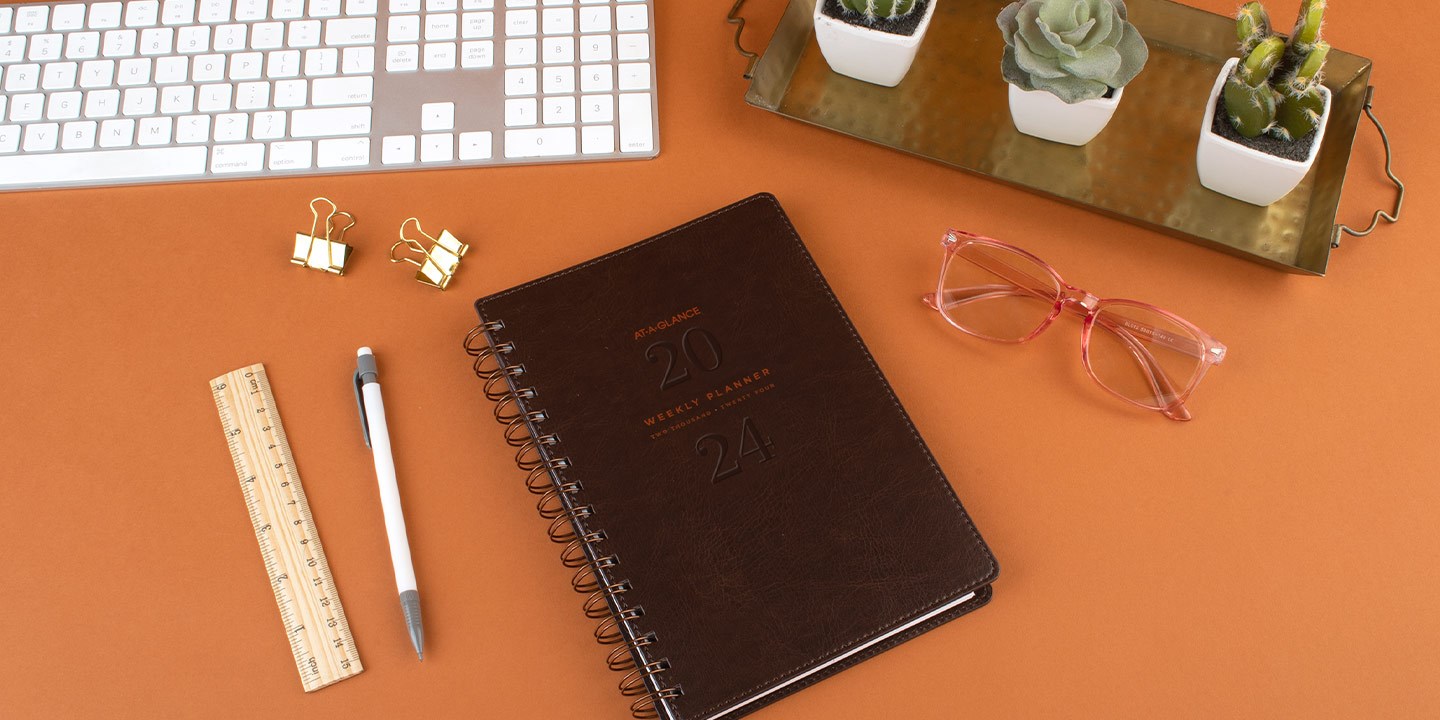 How to Successfully Use Your Planner
While you can use smartphones and other tech to schedule appointments, a physical planner can help make plans feel more concrete. Writing down your goals and important reminders may help them seem more doable. Plus, it feels great to cross off your achieved to-do's and see how much you've accomplished all on one page.
You may be wondering where to start and how to use a planner for success. What do you do first?
Using a planner is highly personal. Some people use their planners very simply, preferring to write in their appointments, social events and to-do's neatly, while others like to use their planner for motivation, using colors, stickers and quotes for excitement and joy.
No matter how you plan, we have a few easy steps to help you learn how to write in a planner.
 Add Important Dates
A good first step is to put in all the dates you need to remember. Start simple. Add birthdays for your family and friends, anniversaries and the annual family reunion, so you never miss a big date.
Next, add important timelines and deadlines. If you're a student, teacher or parent, you can add the beginning and ending of each semester, scheduled breaks and exam weeks. For work planning, you can mark important project deadlines, conference dates and holidays.
And don't forget to make time for yourself. Schedule your vacations, upcoming concerts and weekend getaways. By keeping your fun events in sight, you can stay motivated throughout each week and month.
Set Achievable Goals
Write down your goals. Small or large, they should ALL go in your planner. It may help to keep separate lists for your short and long-term goals. Short-term goals can help you feel accomplished each day, while long-term goals give you something big to work towards all year long.
Using your planner is all about setting small, achievable goals. Try to resist the urge to put too many to-do's on your daily list. Three is a good number to start with and can always add more. Set yourself up for success, knowing that some things may pop up during the day that you weren't expecting.
As you set your goals, remember to include deadlines and actionable steps. Many AT-A-GLANCE Planners, such as the Contempo Planner Collection, include dedicated space for your priorities.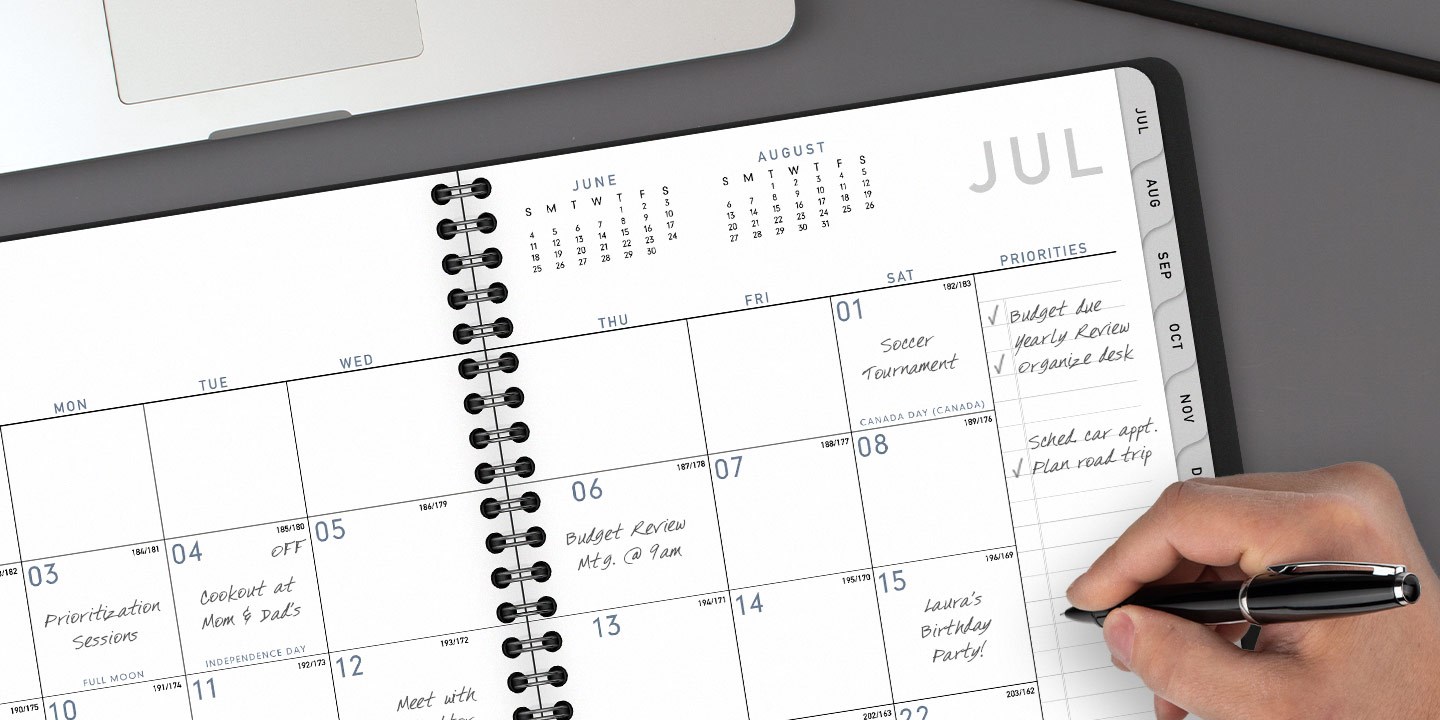 Store Everything Together
Jot down all of your notes in one place. Stop writing (and losing) reminders on scrap paper or within your phone notes. Make sure you record it in your planner instead.
If you have a lot on your mind or feel overwhelmed, pick a page and write it all down. Review your writing and determine actions you can take to reduce your stress. You can separate the list into work, school, personal and any other categories you need to help make your to-do's more manageable.
The Harmony Collection of Planners are perfect for jotting down notes, to-do's and reminders. These planners help organize your day, week or month and help you stay motivated all year long.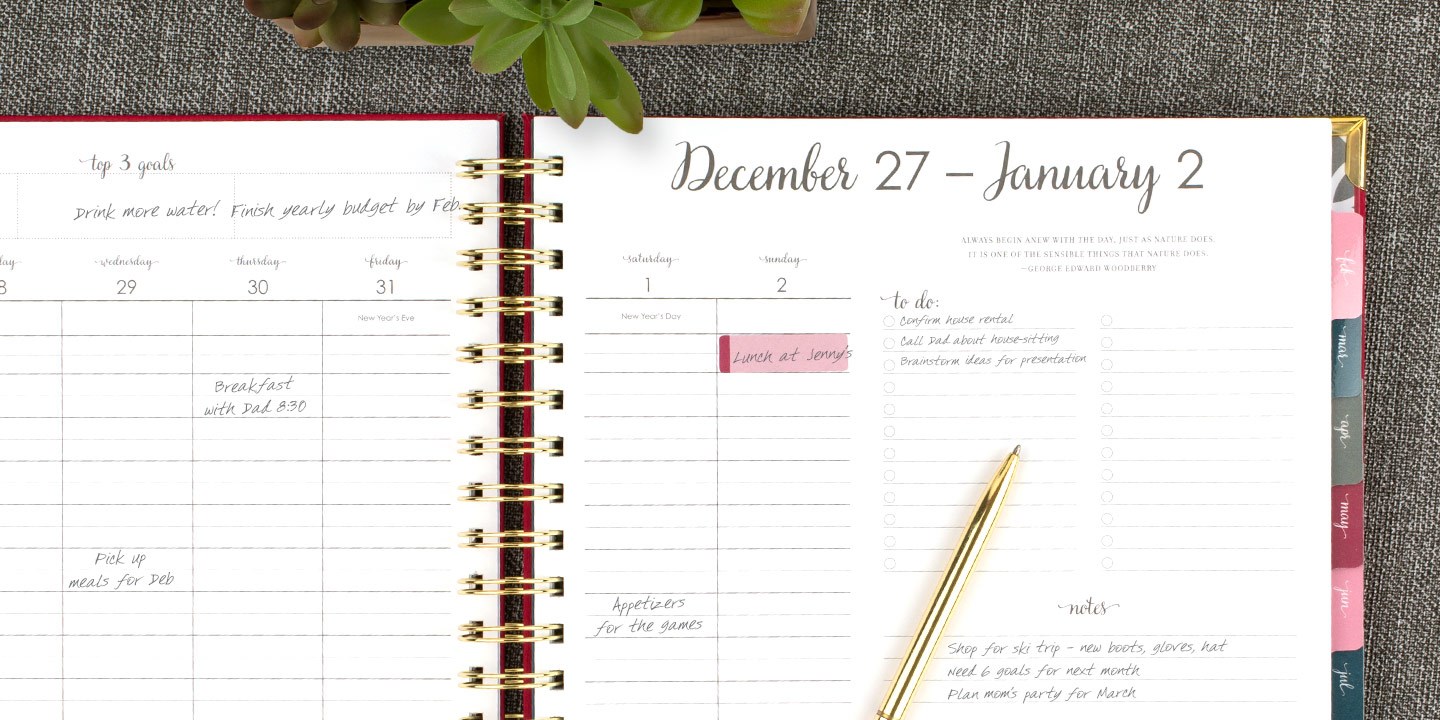 Celebrate Your Wins
Give yourself a little credit. Often, we reach a goal, big or small, and we simply move on to all the things still left to do. Take time to reward yourself with a short break, your favorite treat or even by giving yourself a literal pat on the back.
Now that you know how to organize your planner, it's time to get started and get planning! Keep up with your full life, track habits and goals, and organize your thoughts with an AT-A-GLANCE planner.
Looking for the perfect planner?