How to Use Your Planner
Even if you use your smartphone for appointments, there is something about using a planner to write down goals and other important things in your life. Research shows that you are more than 50 percent more likely to achieve something if you've written it down. It's also a great place to download your thoughts and those little nagging things you will quite likely forget if you don't write them down.
When you get your planner, it feels like your life is an open, blank canvas. But how do you organize and write in your planner? What do you do first?
Use of a planner is highly personal. Some people use their planners very simply, preferring to write in their appointments, social events, and to-dos neatly, while others like to use their planner for motivation, using colors, stickers, and quotes for excitement and joy.
First steps for using your planner
A good first step is to put in all the dates you need to remember. For example, if you are a student or teacher, things like the beginning and end of semesters (or quarters), spring break and other holiday breaks, days off for teacher in-services, or conferences, exam weeks, etc. You may also want to add in birthdays of family and friends, or other days that are special to you, like vacations and concerts.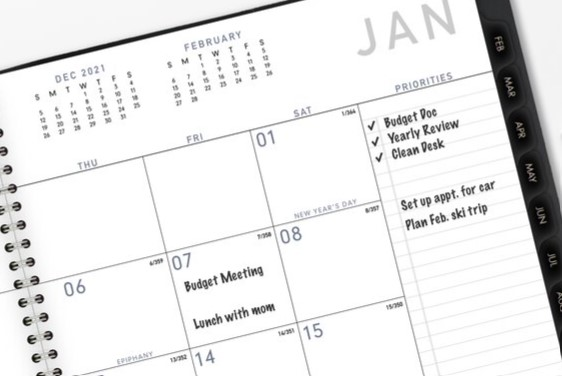 Then, write down your goals. Small or large, they should ALL go in your planner, so you see them: Learn guitar, organize photos, run a race, get your next job, get good grades. They all need to be written down. Remember to  include some deadlines and actionable steps. Many AT-A-GLANCE Planners, such as the Contempo Planner Collection, include dedicated space for your priorities. 
Now you are ready to use your new planner and step into a great new year. If you have a lot on your mind, and it's cluttered with lots of things you need to do, pick a page and write down all of it. You may even want to separate the list into work/school and personal.
For example, you may have: Pick a subject for term paper or finish department budget in your work/school section; and shop for Mom's birthday on your personal list.
Set small, achievable daily and weekly goals
Using your planner every day is all about setting small, achievable goals. Try to resist the urge to put too many to-dos on your daily list. Three is a good number (you can always add more). Set yourself up for success, understanding that some things will pop up during the day that you weren't expecting.
Retrain yourself to use ONLY your planner, not scraps of paper.
Take all your notes in one place so you always have details handy. A planner can simplify your life by acting as a personal assistant. There's nothing more annoying than searching for a scrap of paper or scrolling through notes or emails on your phone trying to find dates and other details. The Harmony Collection of Planners are perfect for jotting down notes, to-dos, and reminders.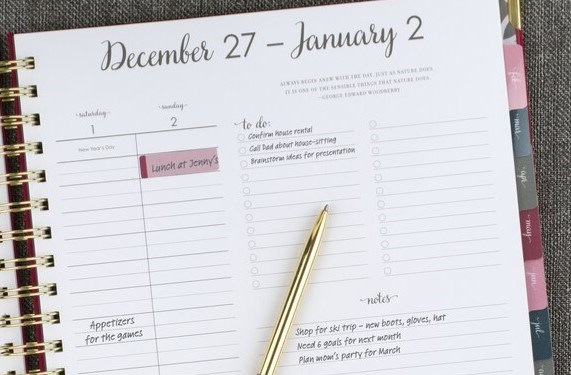 Celebrate your planning wins
Give yourself a little credit. Often, we reach a goal, big or small, and we simply move on to all the things still left to do. Take time to reward yourself, even if it's something as silly as dancing to your favorite song. 
Keep up with your full life, track habits and goals, and organize your thoughts into a fresh AT-A-GLANCE planner.
Looking for the perfect planner?