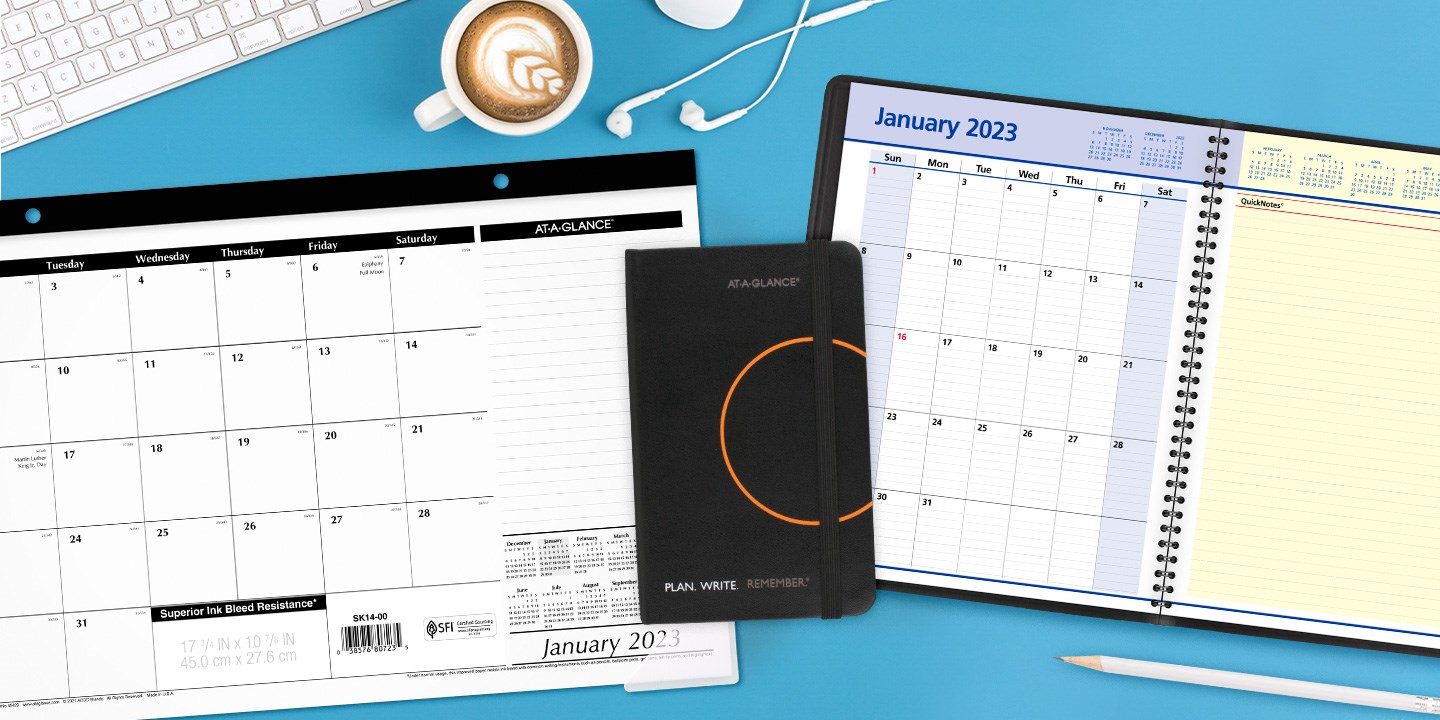 With your 2023 planner or organizer, you need a tool to help you win each day, and become more self-disciplined. You can track health and fitness checkpoints, list out experiences you want to have in the year to come, and the personal goals you want to attack every month.
The world feels a bit more "normal," and if you work outside the home, your job location may be the same as before the pandemic, it may be completely different, or you may be in several places throughout the week.
Wherever you work and play, AT-A-GLANCE has a great planning solution waiting for you.
We believe in empowering your intentional journey toward experiencing the balanced, meaningful life you want. Use a monthly, daily, or weekly planner to build your strongest self.
Wherever you put your focus, that is what will grow stronger. A desk pad will keep you on track, and a wall calendar will keep everything in view and can keep a busy family or team running smoothly.
A planner, desk pad calendar, and wall calendar will help you:
Prioritize work, family, and personal tasks
Track habits you want to strengthen
Build a healthier morning routine
Organize your whole life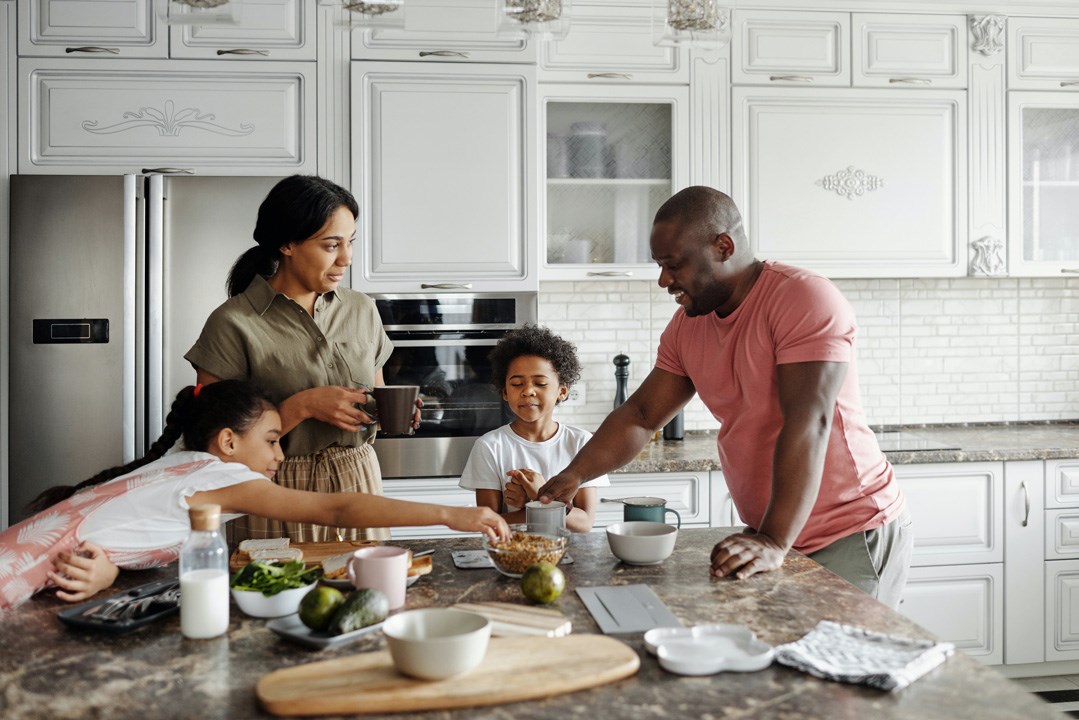 We know how crazy life can get, and often you may have competing responsibilities. You may have more than just yourself to keep on track and moving in the right direction. Some people need to plan one month at a time, while others need to see their whole year spread out in front of them in a year at a glance calendar. Alternatively, others like to see two or three months at a time. We have a variety of wall calendars highlighting the months the way you need them:
One month
One month at a time with perforated cards to take reminders and to-do lists with you
Two months 
Three months
The entire year, either erasable or paper, shown vertically or horizontally
All of our calendars have durable wire and the high-quality premium paper you have come to depend on AT-A-GLANCE for, so that your notes never bleed through to the next page.
Here are just a few of our offerings to keep you organized in 2023.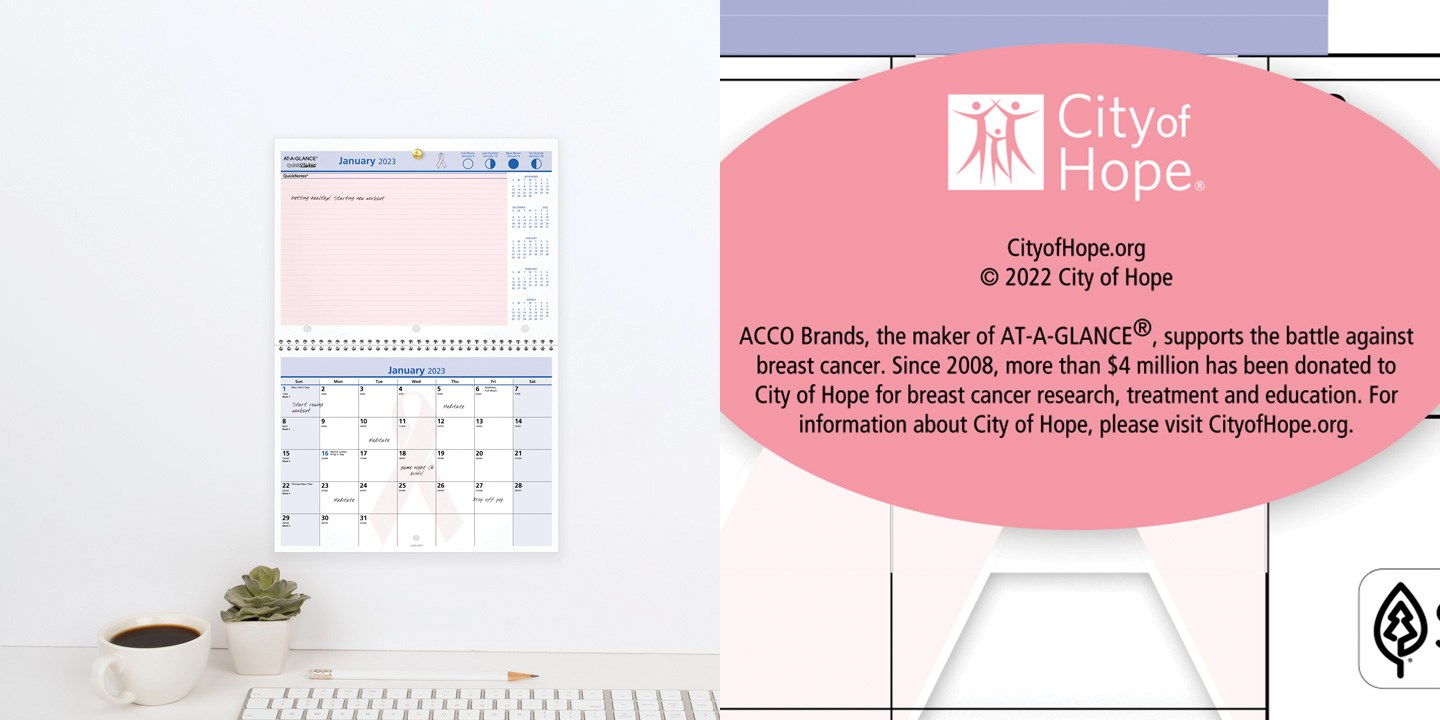 The purchase of this City of Hope wall calendar supports the fight against cancer. The top portion is for your notes, reminders, or family messages, with reference calendars along the side. The bottom portion has daily boxes for your events and due dates, with a pink ribbon signifying your support.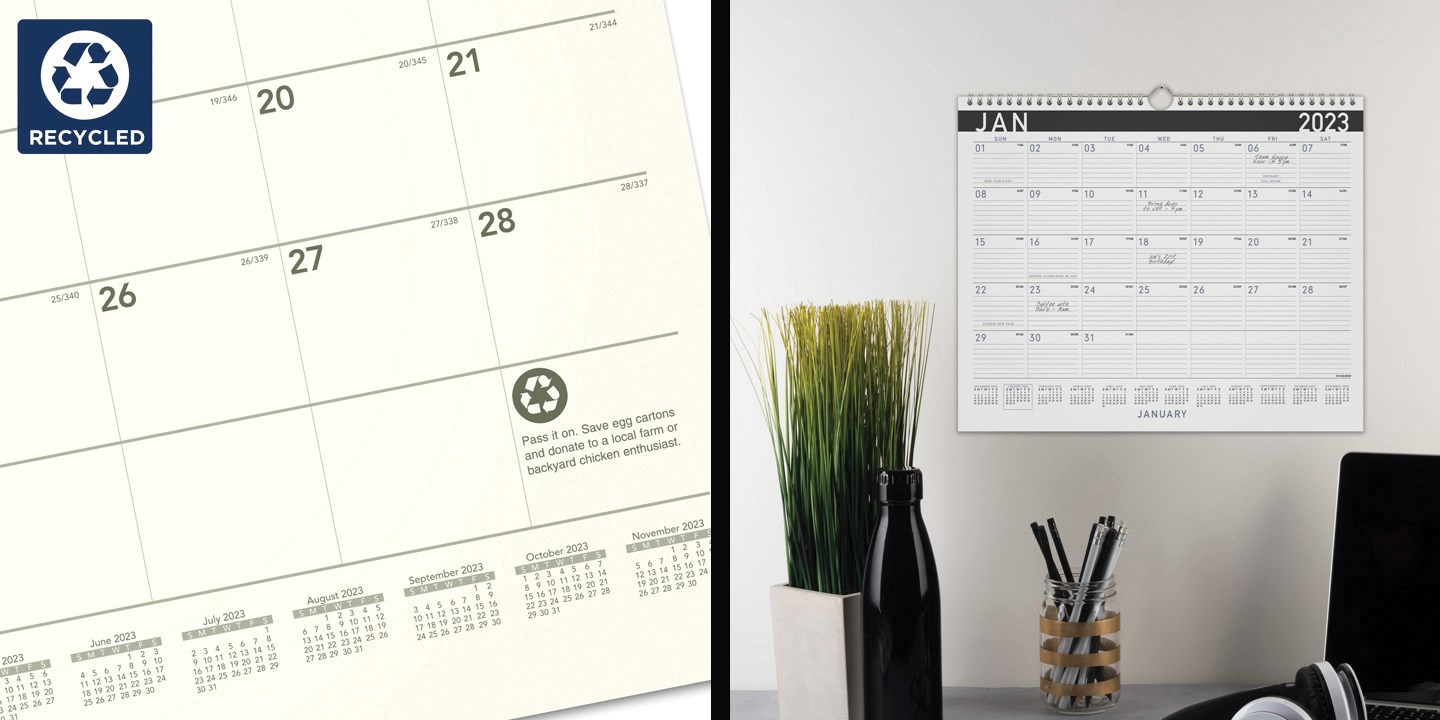 This calendar is made of recycled materials, and each month you get a tip for working toward a cleaner, more sustainable Earth. With sturdy twin wire and a built-in hanging loop, this calendar is sure to last until 2024, when you recycle the whole thing.
Each month of this yearly calendar has a beautiful image for inspiration, while the daily blocks are large enough for notes. there is a full year of reference calendars across the bottom.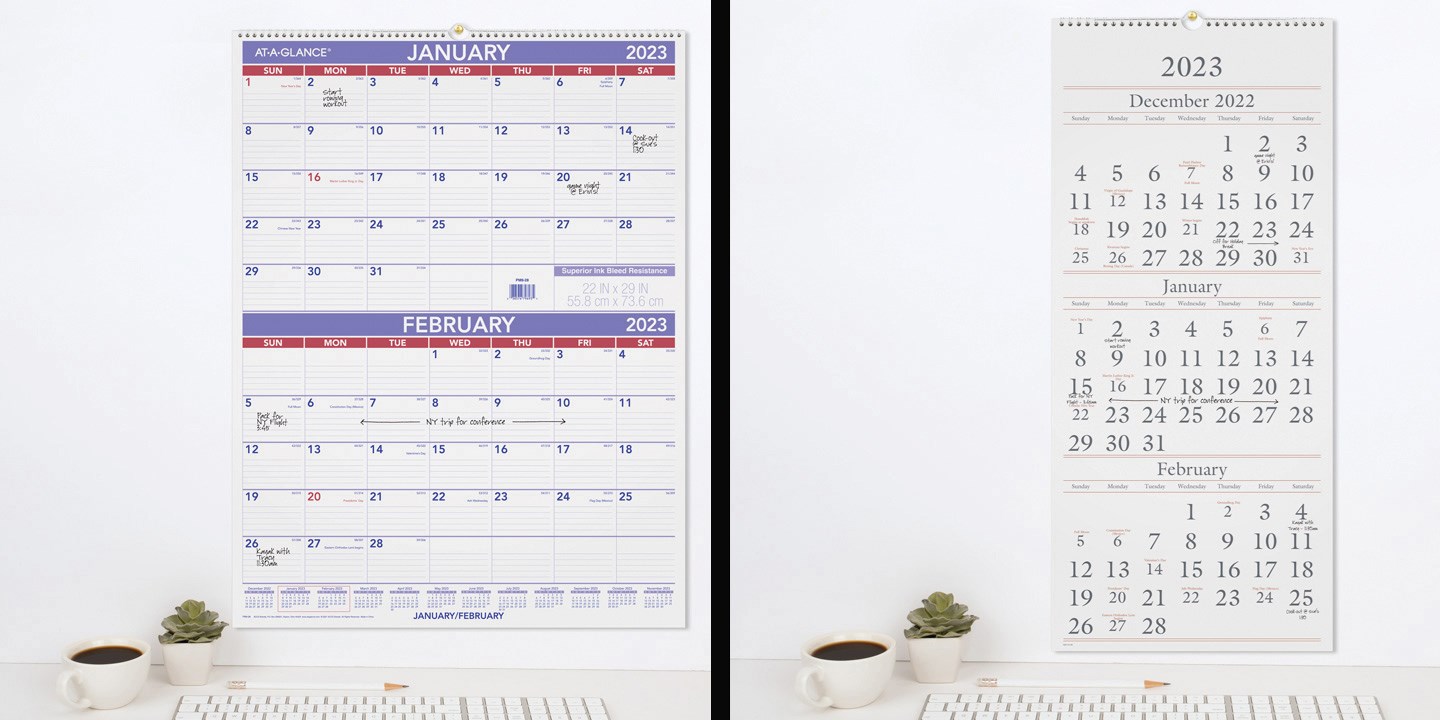 If you like to know what's coming, grab this Two-Month Wall Calendar, which also has Julian dates, as well as a full-year reference calendar across the bottom.
This beautiful reference calendar will fit nicely into any décor. The thick paper resists ink-bleed, as well as tearing. Each page shows three months in an artistic font with months, days, and dates in a slate gray and holidays and lines in soft rust.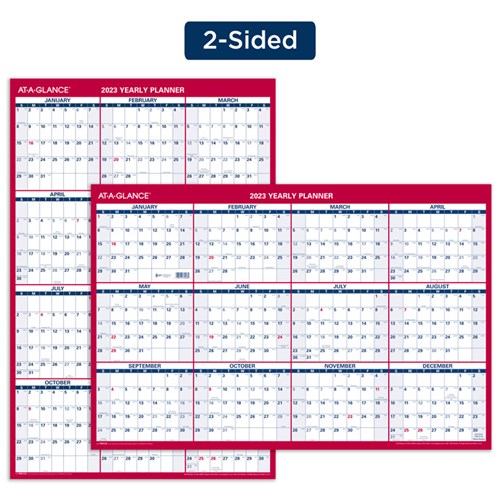 Our reversible yearly calendar is the ultimate planning tool. It comes in a dry erase as well as paper version.
The bright white background and bold print allow you to easily find important dates. At two feet by three feet, this provides you with a planning focal point for office or home. 
Whether you work from home or an office, a desk pad calendar adds form and function to your organizational system. We offer many different types and sizes, ranging from large (24² x 19²) to more compact (17 ¾ ² x 11²). They are all very durable, have smooth, thick paper so you don't worry about ink bleeding through, and they stay in place.
Here are just a few of our desk pads for the year.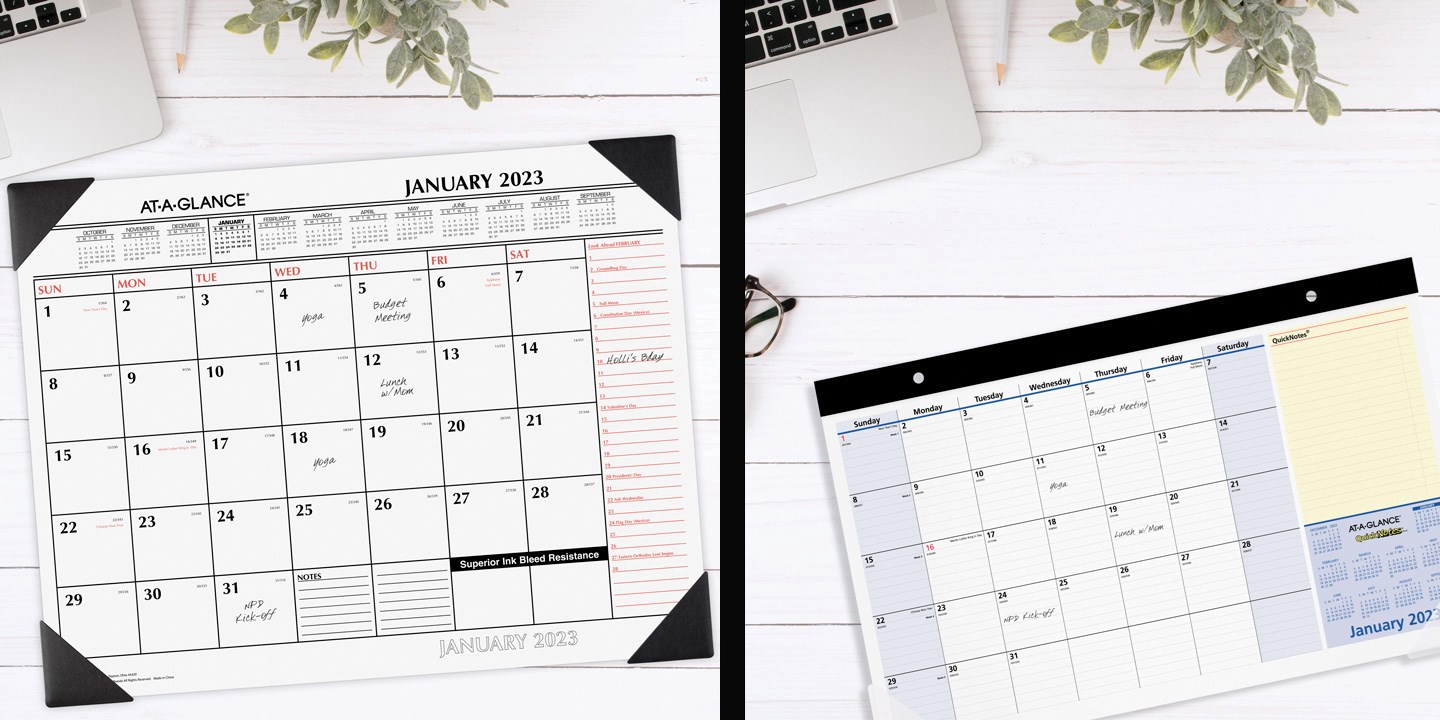 Add some swagger to your desk with our popular two-color desk pad. Each pad offers large, unlined daily blocks with Julian dates and holidays in deep red, as well as a full-year reference across the top. The side column has a line for each day of the following month, so you can easily plan ahead. It also has sturdy corners to protect from tearing or curling.
Let's face it. Many times, a desk pad calendar is the closest place you can find to jot down a reminder. With the QuickNotes Desk Pad, your notes area is on every page, along with a full-year reference calendar. Each block is ruled for neat planning.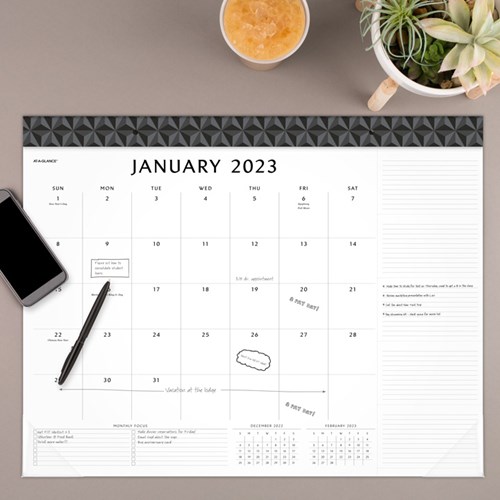 The new, sleek, "gold standard" for planning: The Elevation Collection. This updated desktop calendar has large open daily planning blocks (2 5/16² x 2 7/16²) on premium paper. With no ink bleeding through, you can leave your past behind.
Additionally, across the bottom you will find an area to plan your monthly focus and reference calendars for prior and future months. The side has five perforated cards so that you can take your to-do list with you. It has a rugged binding across the top, as well as two holes so that you may mount it on a wall if you wish.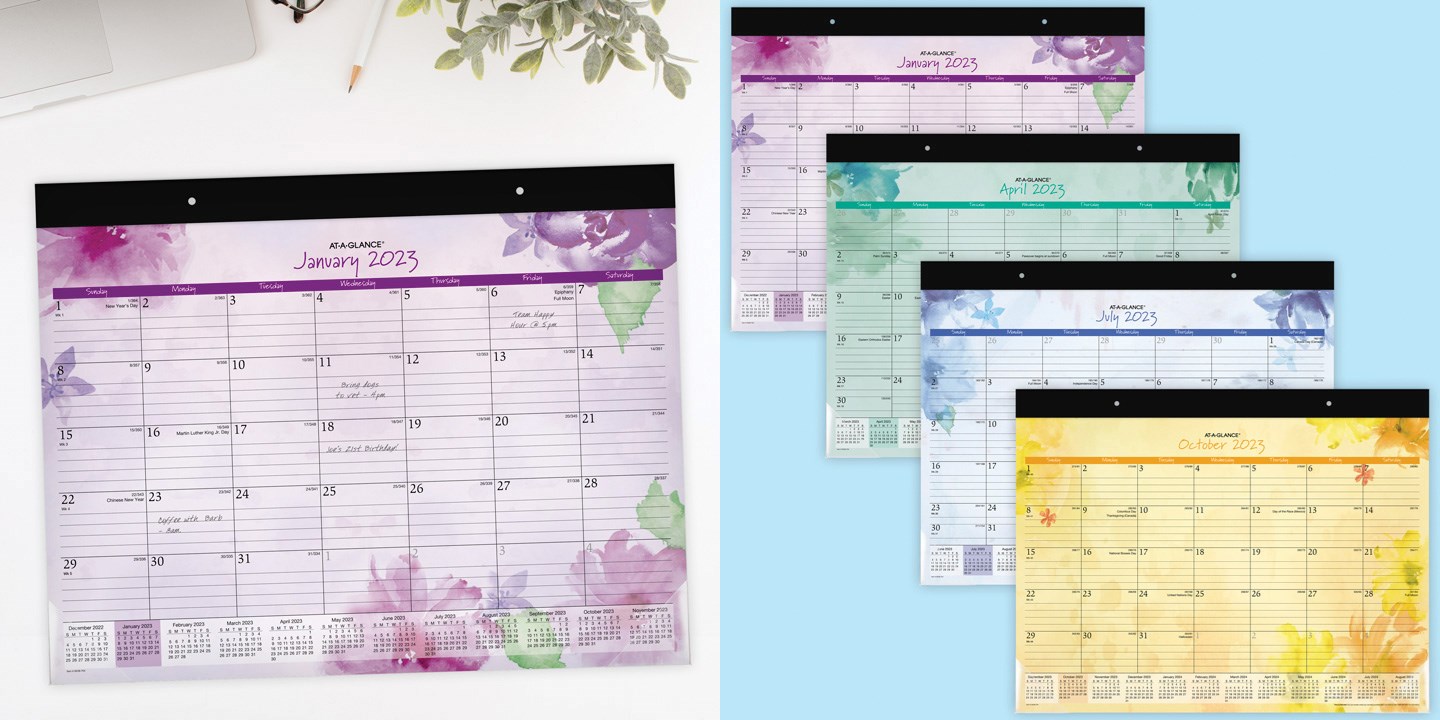 Beautiful and practical, this desk pad is also bound at the top with two eyelets allowing for wall hanging. Each page has large ruled daily blocks with Julian dates, and a full-year reference across the bottom. As the seasons change, so does the color palette on your floral calendar.
AT-A-GLANCE planners keep you balanced and quickly help you accomplish more. Easily schedule appointments, family plans, and date nights…whatever fills your life, there's an efficient way to take control of your time. We offer day planners, as well as weekly/monthly planners, daily appointment planners are also available.
Make 2023 the year of YOU. Time seems to fly, so make time to take care of yourself, do things you enjoy, and be with the people you love.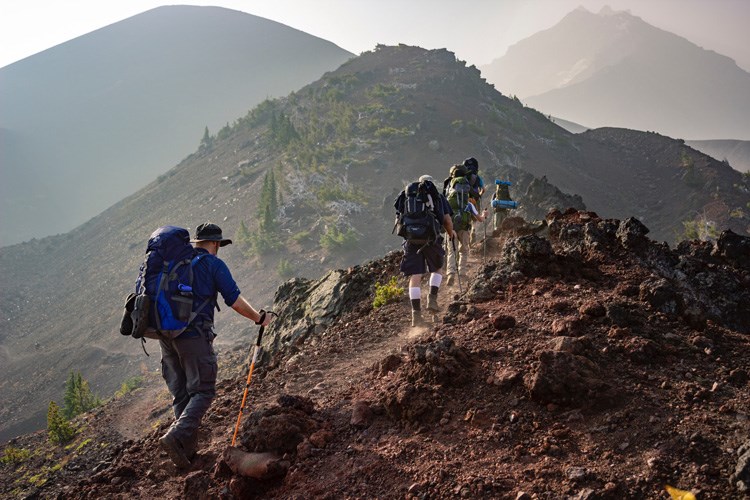 Focus your year on
Positive habits
Better health
Smarter approaches to your work life
Dedicated time for interests like hiking or creative pursuits 
More time with people who mean the most to you 
The best way to make sure you get what you need, while seeing to the needs and wants of everyone around you, is to get a good quality planner and use it every day. We have a huge variety of planners from very simple, open layouts to planners with a bit more guidance. Plan your month, plan your week, plan your day.
Here is just a sampling of our 2023 offerings, before you head out and start shopping on our site.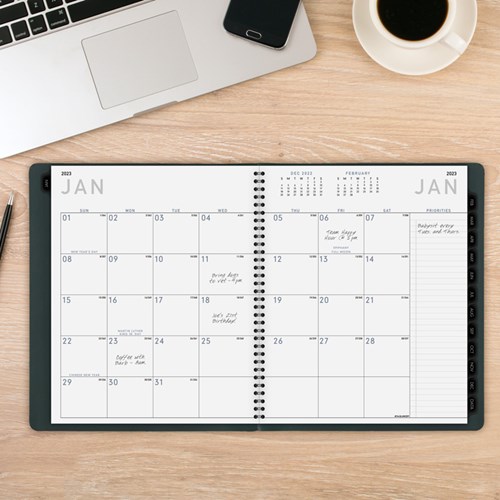 This open monthly planner has large open blocks with prior month and future month reference calendars across the top. The side column is ruled for priorities and notes. The cover and coil are durable, and the premium paper resists ink-bleed. It comes in merlot, graphite, forest, and black, all with metallic accents and sturdy tabs. Contempo planners also come in weekly/monthly layouts, as well as different sizes.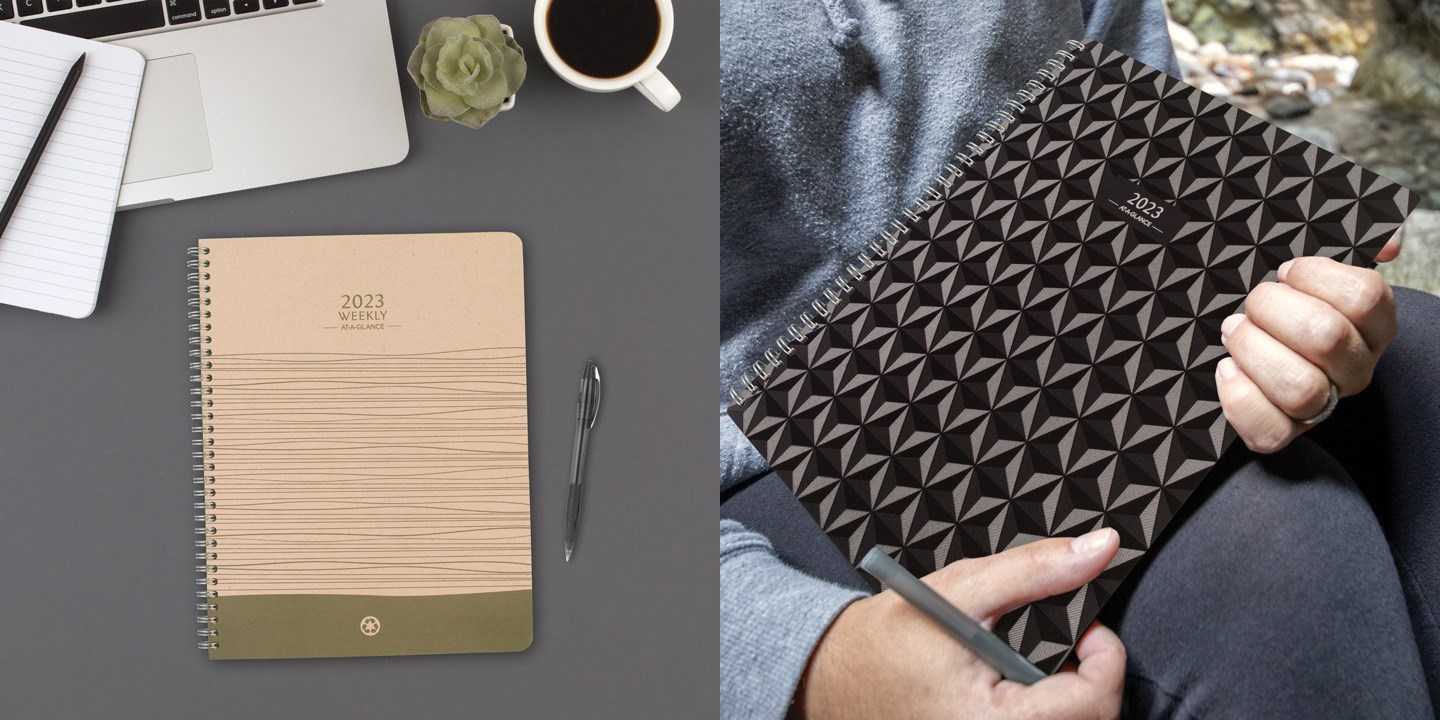 These planners stand up to the chaos of a busy life. Tough on the outside, the durable covers can withstand spills or being thrown in the backseat of your car. The paper provides a premium writing experience, and the ink won't bleed through to the next page. Daily planners will love the tough monthly tabs stand up to your busy life. Check out the website for the variety of layouts, sizes, and colors. Bring. It. On.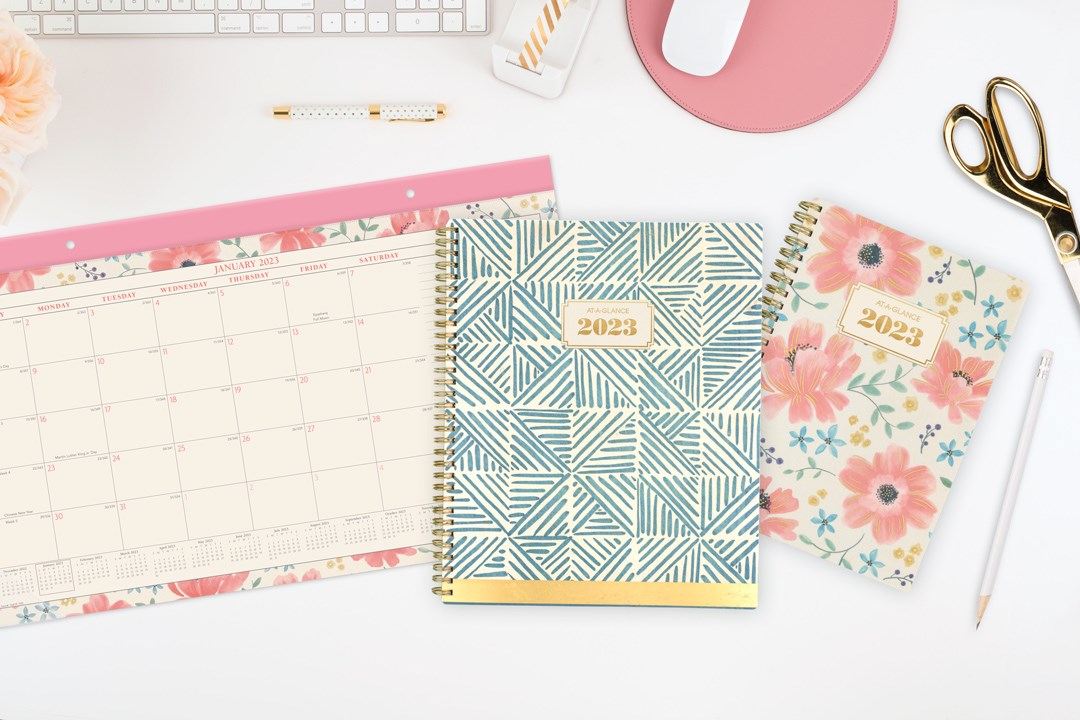 Peruse the website to see the gorgeous original art on our Badge Collection Planners for 2023. Each cute planner is durable and made to last all year. The sturdy covers are also flexible, and display gold foil year stamp badge. Sparkly twin wire coil allows the thick paper to lay flat, and it won't snag on fabrics. The back cover has a transparent storage pocket so you can find stamps, invitations, or anything else you want to bring along with you. As you would expect, our smooth, thick paper gives you a premium writing experience, while resisting ink-bleed.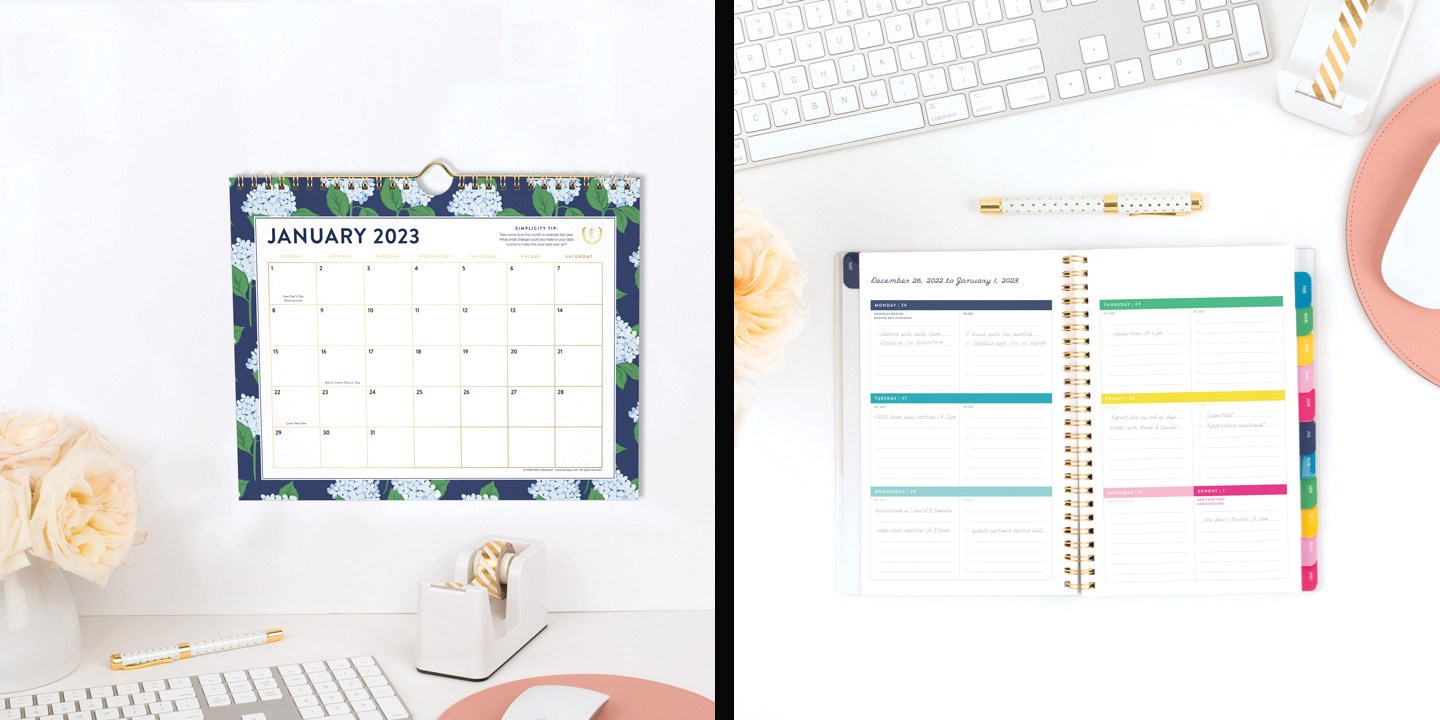 We are so proud of our collaboration with Emily Ley. Since 2019, we've been bringing you her organizers, planners, desk pads, and accessories. A mom of three and a successful entrepreneur, Emily Ley has inspired and equipped millions to declutter, simplify, and create margin for the good stuff of life.
Jump to her collection page to peruse the many planner and organizer colors and sizes. Each product is of the highest quality, including the colorful covers and strong tabs. Her products include large unruled blocks, lined to-do sections, special pages on her "Simplified" philosophy, simplicity tips, and more.
Her goal is to help you live a simpler life, and her business was built on the belief that a full, abundant life doesn't have to be overwhelming. She offers daily planners for 2023, as well as weekly/monthly.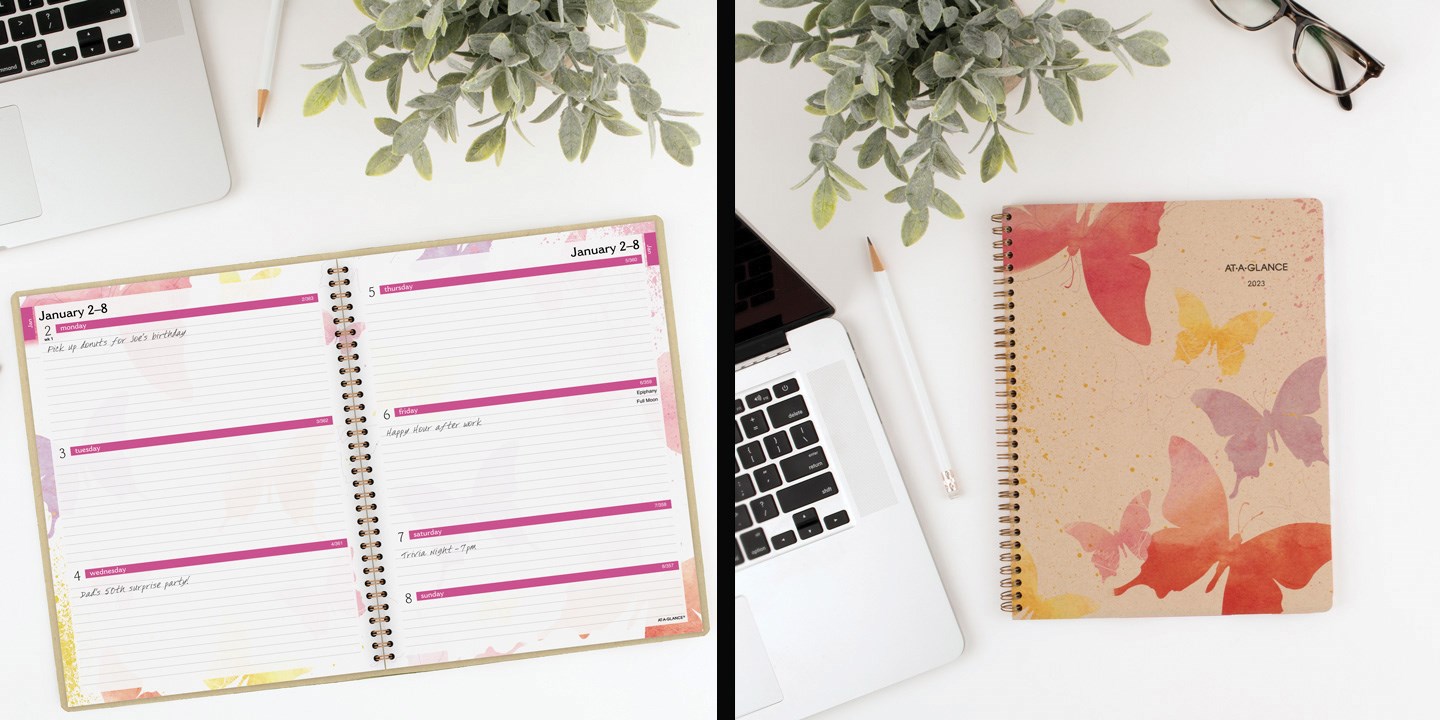 This beautiful planner, made from recycled materials, will add a splash to your day. The original watercolor pattern continues as you turn every page. The paper has already been saved from the landfill once, as it is post-consumer waste. The cover will withstand being bent or curled and will maintain its shape. Strong twin wire will keep your plans together all year long.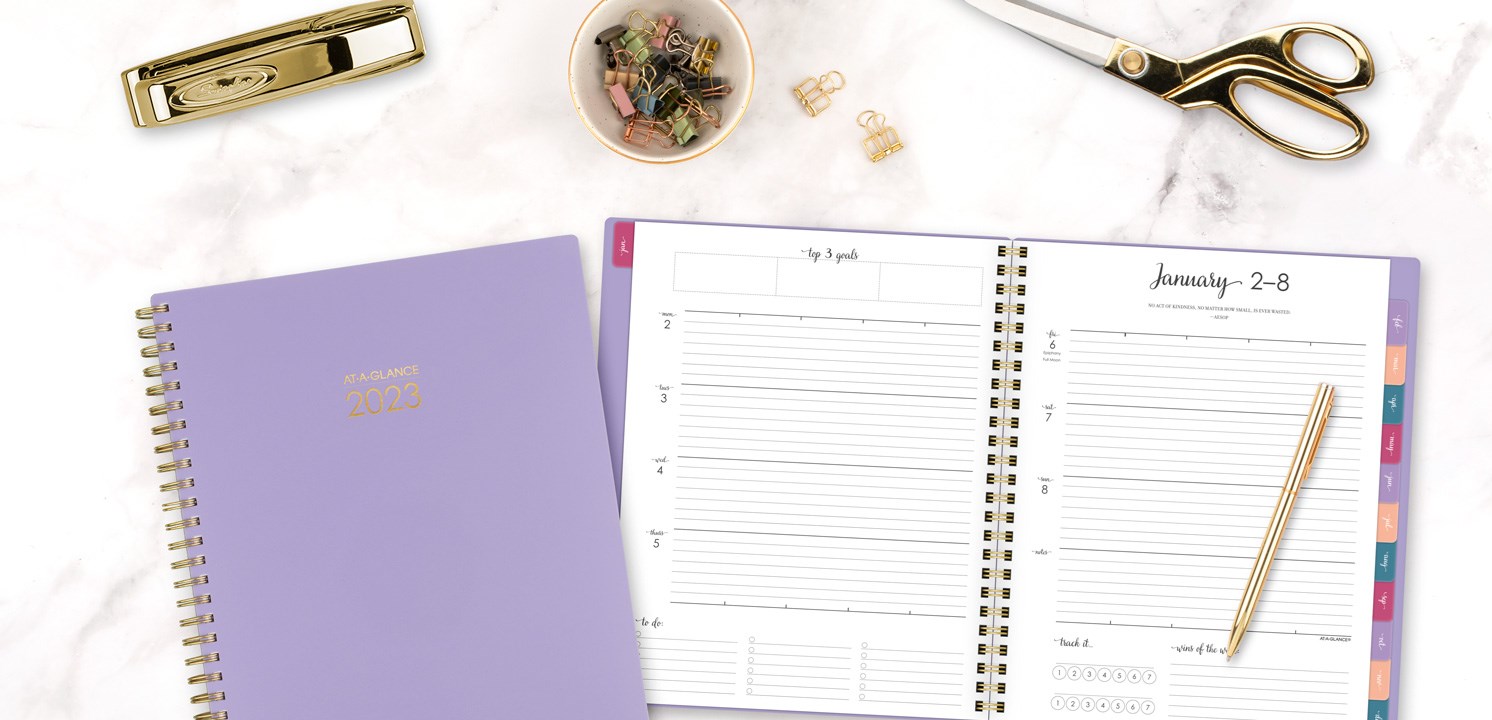 Whatever you love, whatever is most important to you, keep it in focus with the Harmony Collection. Soft-to-the-touch, durable covers on the outside; monthly tabs and weekly calendar pages on the inside. But the specially designed monthly and weekly and even daily planner pages are what makes Harmony different. Each month features a Big Idea box, and Monthly Goals, as well as a large Pursuits and Possibilities section and a motivational quote.
Weekly calendar pages help you concentrate on current needs while looking ahead, celebrating wins, tracking habits, providing ample space for planning. The Daily layout breaks down your day even more. Keep what's most important in front of you with the Harmony Collection.
Pursue possibilities with a designated area to capture your top 3 for today. Other areas help you concentrate on current needs while looking ahead, remembering wins, and tracking goals, as well as providing ample space for planning.

Check out the website for which layout, color, and size is right for you, and get ready for a more harmonious year with your planner for 2023.
The Signature Collection Planners are built to last with a flexible, durable cover, allowing you to lay the planner flat and not worry if it gets tossed around. The beautiful twin wire coil won't snag on clothes and is strong enough to last throughout the year. Like most AT-A-GLANCE planners, Signature provides you with our premium paper that won't bleed through.
The craftsmanship is evident on the vegan leather covers that have a weathered look and are stamped with the year.
There are two weekly calendar layouts:
Vertical across two pages, with each day in a column
Block layout gives each day its own block with an extra block for weekly notes.
Both layouts offer plenty of open space. Be sure to check out sizes, styles, and both layouts on our website, to see which you prefer.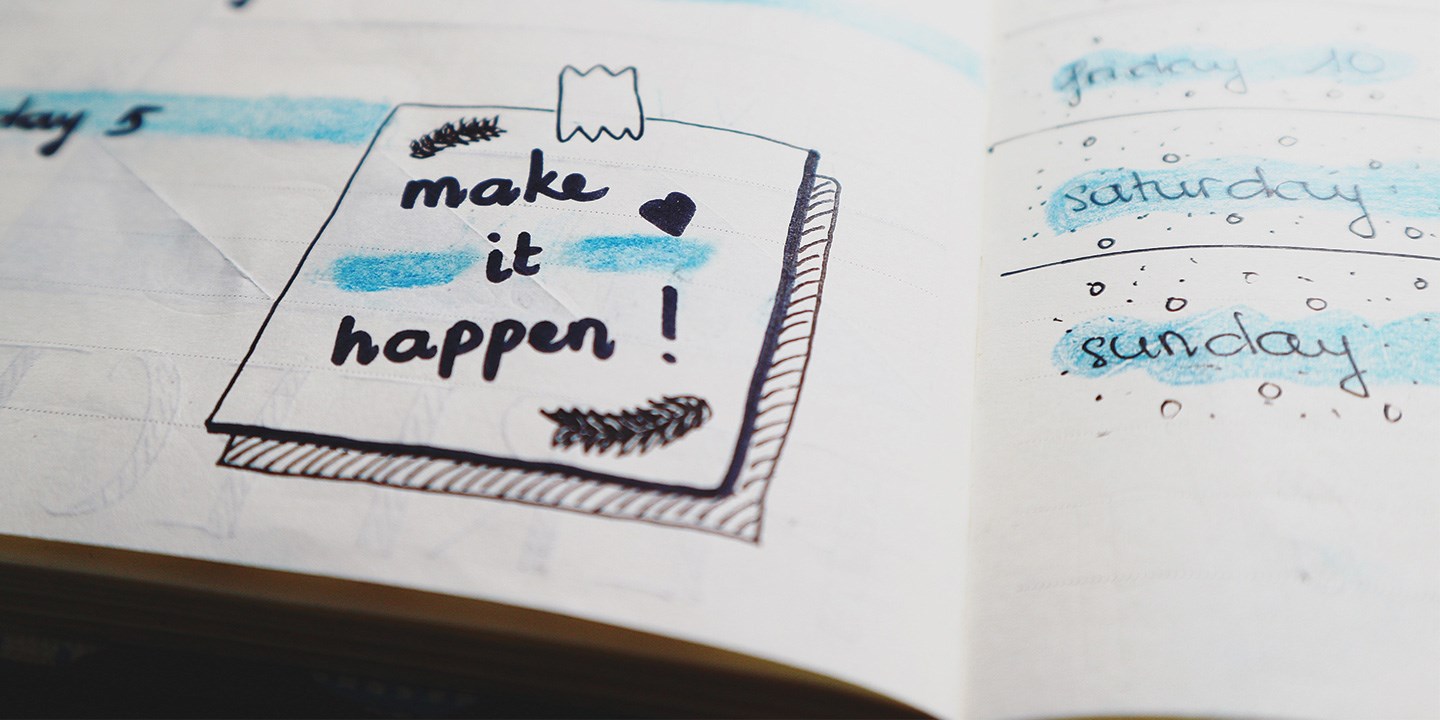 The Year of You
Get your year off to a great start:
Place a wall calendar in a shared space, and jot down your vacations and other events
Decorate your desk with a desk pad so that your due dates and other items you want to track are in view
Use a planner to keep things moving, and to make time for the things that matter most to you 
See our stories How to Successfully use Your Planner and How to use Your Planner to Set and Achieve Meaningful Goals to get yourself set up for a great year.
Please Share
What wall calendar, desk pad, and planner have you used in the past? Was it helpful? Are you purchasing the same planning products, or are you going to try a new approach?
Spread the Love
Send this story to anyone who might benefit from more conscious planning in their life!