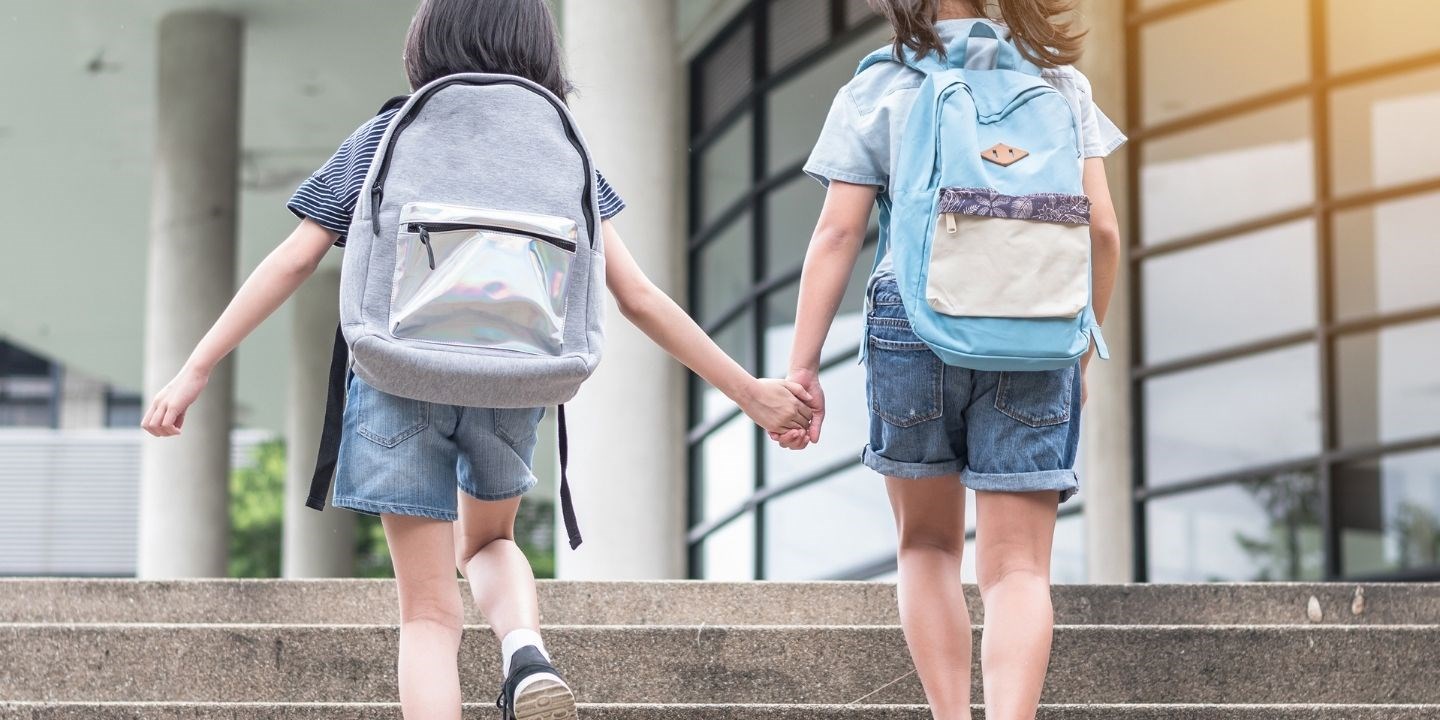 Where did the summer go? All of a sudden, it's time for school to start. Keep the fun going but take time to get organized for the school year. Set yourself up for success by establishing a routine and finding the best organizational tools.
Here are some personal perspectives and reviews shared by some of the students, teachers, parents, and professionals with whom we talked. They share the reasons they love the academic planner they chose from the wide selection at AT-A-GLANCE. We also share some of our top picks for this academic year. Which one do YOU identify with the most?
"I can't believe I leave for college soon, and I don't have my academic planner yet," says Noah, an incoming freshman at Ohio State University. "I just like to have it before school starts so that I can put in all the dates I need to remember and be ready to hit the ground running. I did pretty well in high school, but only used my agenda occasionally. I know that in college, I'll need to use my student planner faithfully to keep me focused. I'll have to be sure nothing falls through the cracks and be disciplined with the free time. I want to create a good study schedule and get into a routine." 
Noah and his friend, Chloe, also an incoming freshman, both chose the AT-A-GLANCE Signature Planner for the upcoming school year's weekly academic planner.
"I really like the unusual block layout," he explained. "It's wide open, and I like that the weekend also has its own space, and there's still room for notes. It looks cool and feels great, too. It's sturdy and flexible, and the paper and coil are substantial."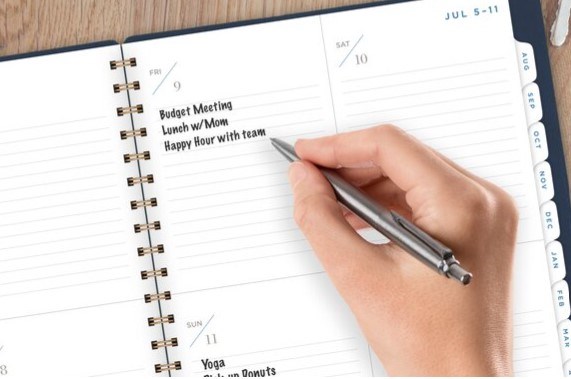 The Signature Collection layout is unusual. The monthly layout gives you a notes column on the left side, and each week features a block layout with lots of open space. The Signature Planner is built to last with a flexible yet durable cover and coil. Like most AT-A-GLANCE planners, we provide you with premium paper that won't bleed through.
Shop the Signature Collection of Academic Planners
For Alma, the Emily Ley 2021-2022 Academic Planner is perfect.
"I love the size and the simplicity of the Emily Ley Planner," she says. For many people, Emily Ley is inspirational. In the front section of every planner, she has a few pages up front with her Simplified Process and Ideas. Additionally, Emily's Simplified Tips appear throughout the weekly/monthly planner, helping you keep your life streamlined so the most important things stay front and center.
Rene, another AT-A-GLANCE planner fan, loves her Emily Ley Planner.
"It's the perfect planner for my busy personal and work life," she explains. The layout is as beautiful as her cover designs and it's very spacious, so you can plan all the parts of your life.
The AT-A-GLANCE Emily Ley Collection of minimal, meaningful planners was created to help busy women live simpler lives. They feature her cover designs, special pages like The Process of Simplifying, How to Use the Planner, the Simplicity Challenge, and more. 
Shop the Emily Ley Collection of Academic Planners

The Badge Planner Collection is one of our most popular products. You might say it's our pride and joy.
"I could not survive without this calendar," explains Barbara. "My whole life is in front of me, and I can make plans accordingly." Sue, another user agrees, saying she loves that she can see her whole month at once.
"I have been using this calendar for more than 10 years," says Rachael, another Badge fan. "It is my favorite as it has all the elements I like…a monthly calendar view divided by weekly pages. It's easy to carry with me without having to use microscopic writing, and they have really cute designs."
Many of our customers get a new AT-A-GLANCE Badge Planner every year. Lots of people are kind of obsessed with the smooth, thick paper, and that it's not all "junked up" with clutter they don't need. Badge allows you to create a view of your whole life: work, after-school or work activities, social life–everything in one place.
The Badge Collection features thick, high-quality paper with superior ink bleed resistance. The weekly layout has ruled planning space for each day, plus a Notes & Ideas section. The monthly layout has unruled daily blocks and a space for notes. The planner has sturdy tabs for easy navigation and is held together with strong, gold, double coil ensuring durability as well as beauty.
Shop the Badge Collection of Academic Planners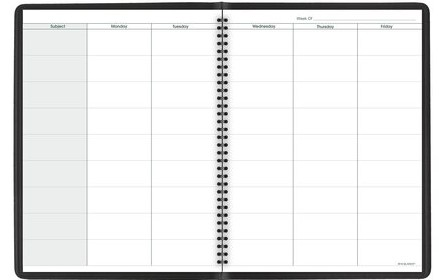 "I rely on this planner to keep me organized. I've gotten the same one year after year," says Sheryl. "I can't do my job without it." The AT-A-GLANCE Teacher Planner is a go-to for many teachers. It's undated, very simple, and sturdy, making it one of the best primary teacher planners.
Many customers like that it is very high quality, and there's never page bleed-through. This planner takes a beating, and it's a great guidebook up until the very last day of school. In fact, even students, like Elizabeth, use the teacher planner because it's a great way to track assignments and due dates.
"I'm using this planner for nursing school," she says. "And I love it."
The Teacher Planner makes it easy to plan and organize lessons and assignments. It's undated for anytime use with plenty of space to write in the week's dates. The weekly layout is column style, and there is a notes section both on the left AND right sides of each week. The high-quality paper features superior ink bleed resistance. The cover is sturdy yet flexible to last all year.
Get the Undated Teacher Planner
Get ready for the year by jotting down important dates, personal goals, notes, your daily routine, as well as creating a space to celebrate wins–big and small–in your new planner. 
Hit the ground running with an AT-A-GLANCE academic planner.