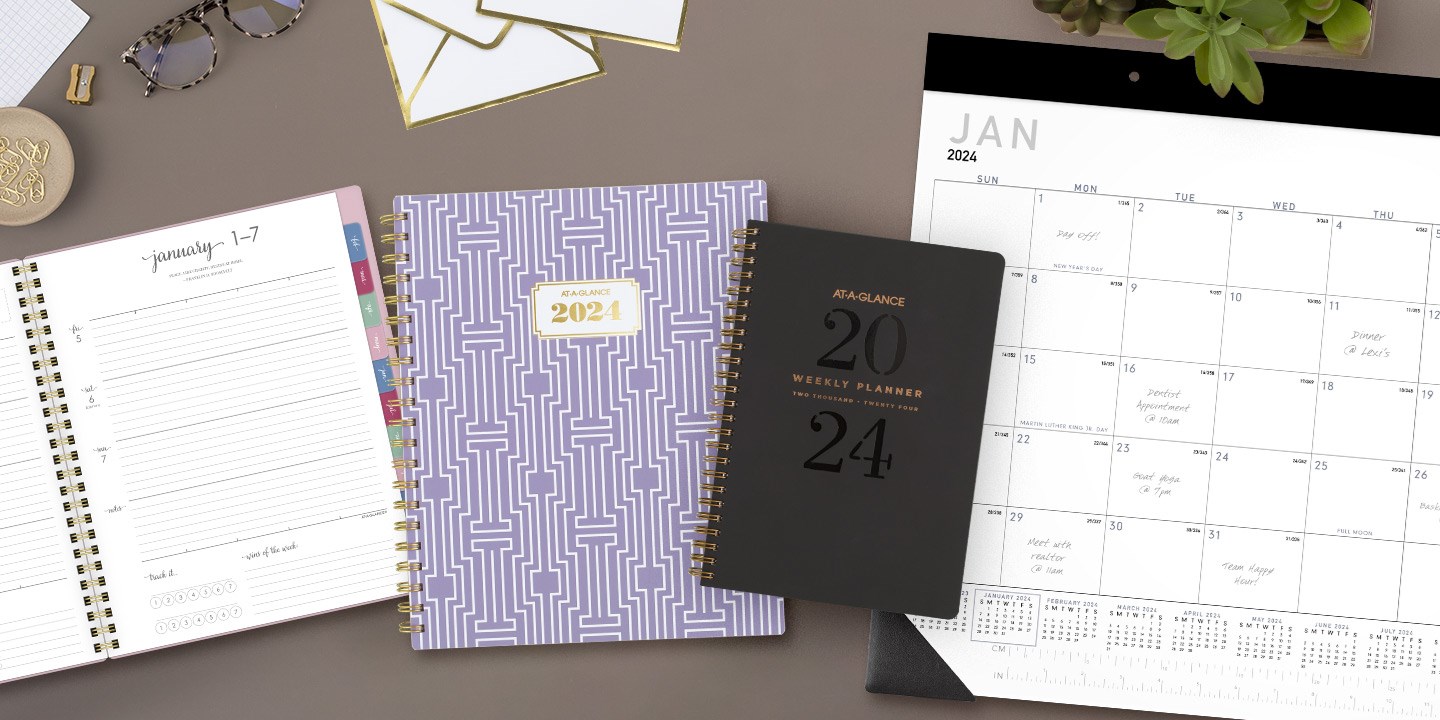 Get ready for the new year! Choose an AT-A-GLANCE® planner, calendar or organizer to track health and fitness goals, get excited for big annual events and check off your accomplishments each month.
Find what works best for you. Planners are perfect for planning on the go, while desk pads are great for a dedicated office space. Wall calendars keep everything in view and are a great choice for busy families and offices.
Explore some of our favorite planning tools to find the best fit for your lifestyle.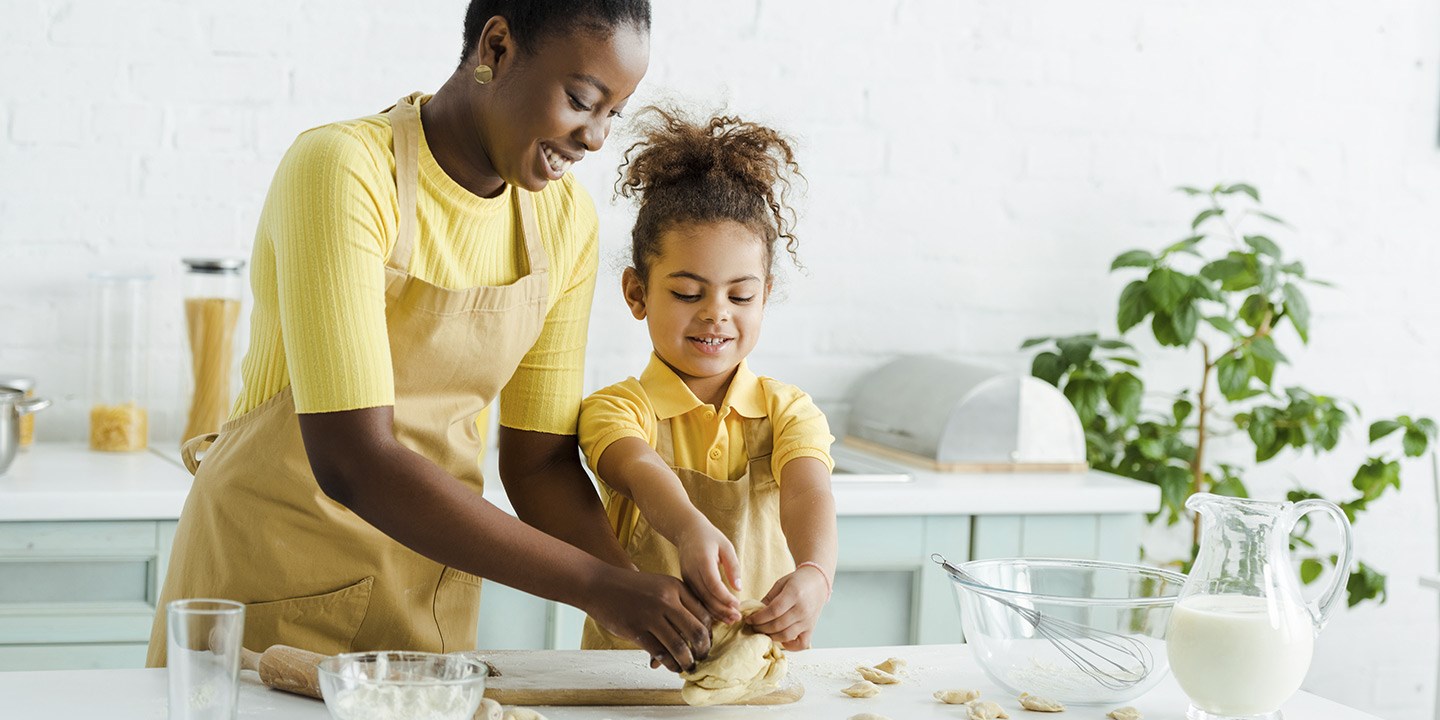 We know how crazy life can get! You may have more than just yourself to keep on track and moving in the right direction. From single month calendars to full year layouts, find the right wall calendar for your schedule.
Take a look at some of our most popular 2024 calendars:
Get inspired. Each month of this yearly calendar has a scenic image, while the daily blocks are large enough for notes. A full year of reference calendars across the bottom make it simple to plan ahead and look back.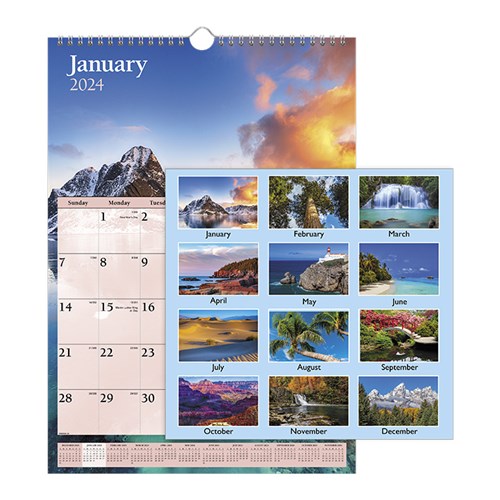 Future planning at your fingertips. Be prepared in advance with this Two Month Wall Calendar, which also has a full-year reference calendar across the bottom.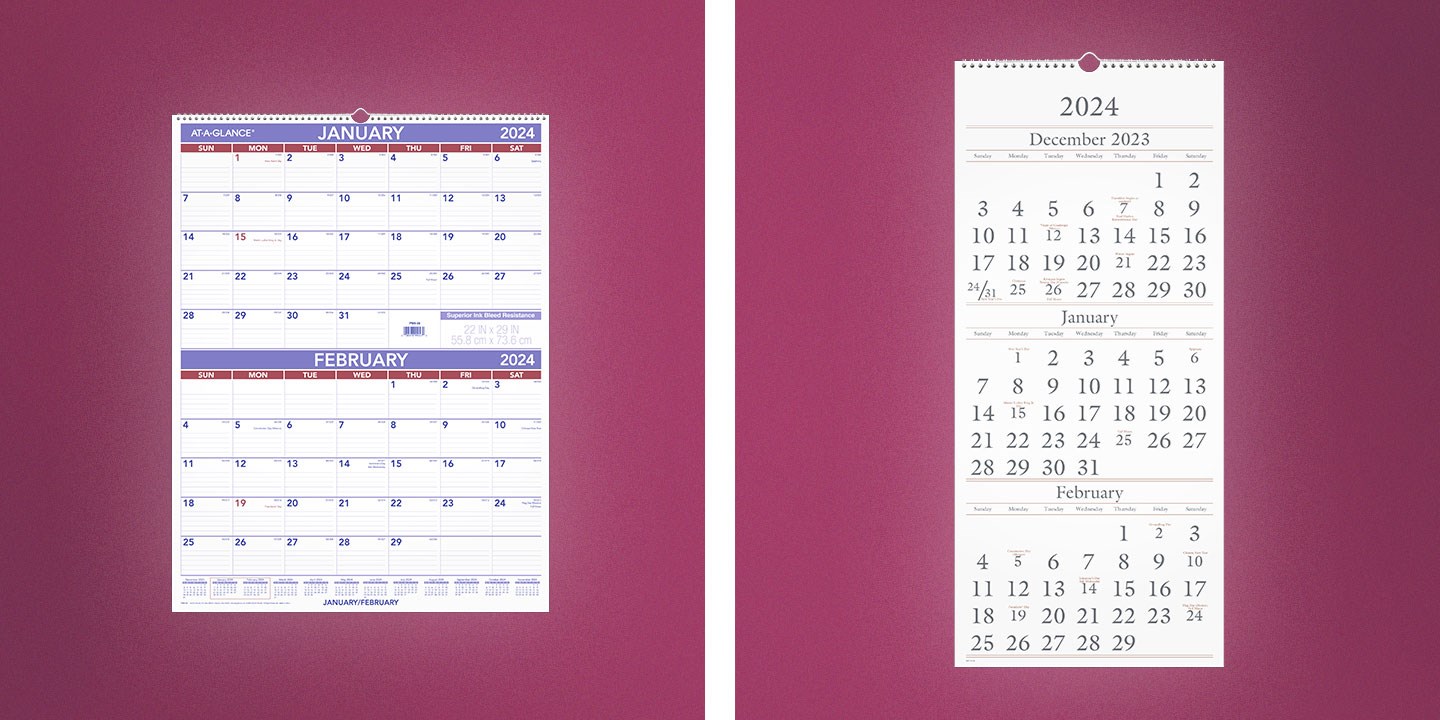 This reference calendar fits nicely into any décor. The simple, yet stylish layout shows three months in a large font for high visibility. Great for long-term planning.
The ultimate planning tool! Schedule your time your way with an erasable wall calendar that fits your space. Plans change quickly, and with an erasable surface, you can simply wipe the calendar clean and start over.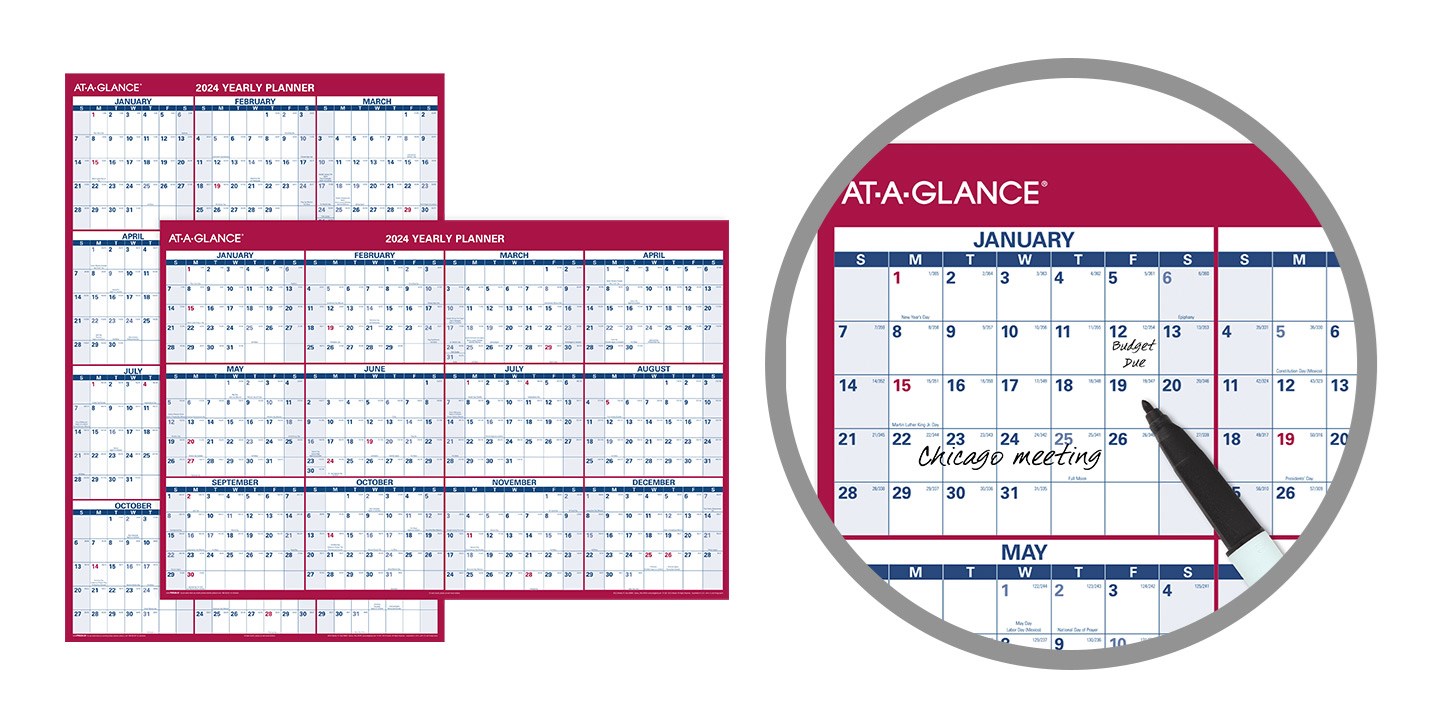 Whether you work from home or in the office, track plans, meetings, events and appointments with a desk pad calendar. Ranging from large to compact, you can find the perfect size for your desk space.
Here are just a few of our favorite picks for the year:
More than just basic black and white! With subtle shades of brown and green, you can add a little bit of color to your space while tracking your schedule. Each month has open blocks for plenty of writing room, and a full-year reference calendar for planning ahead.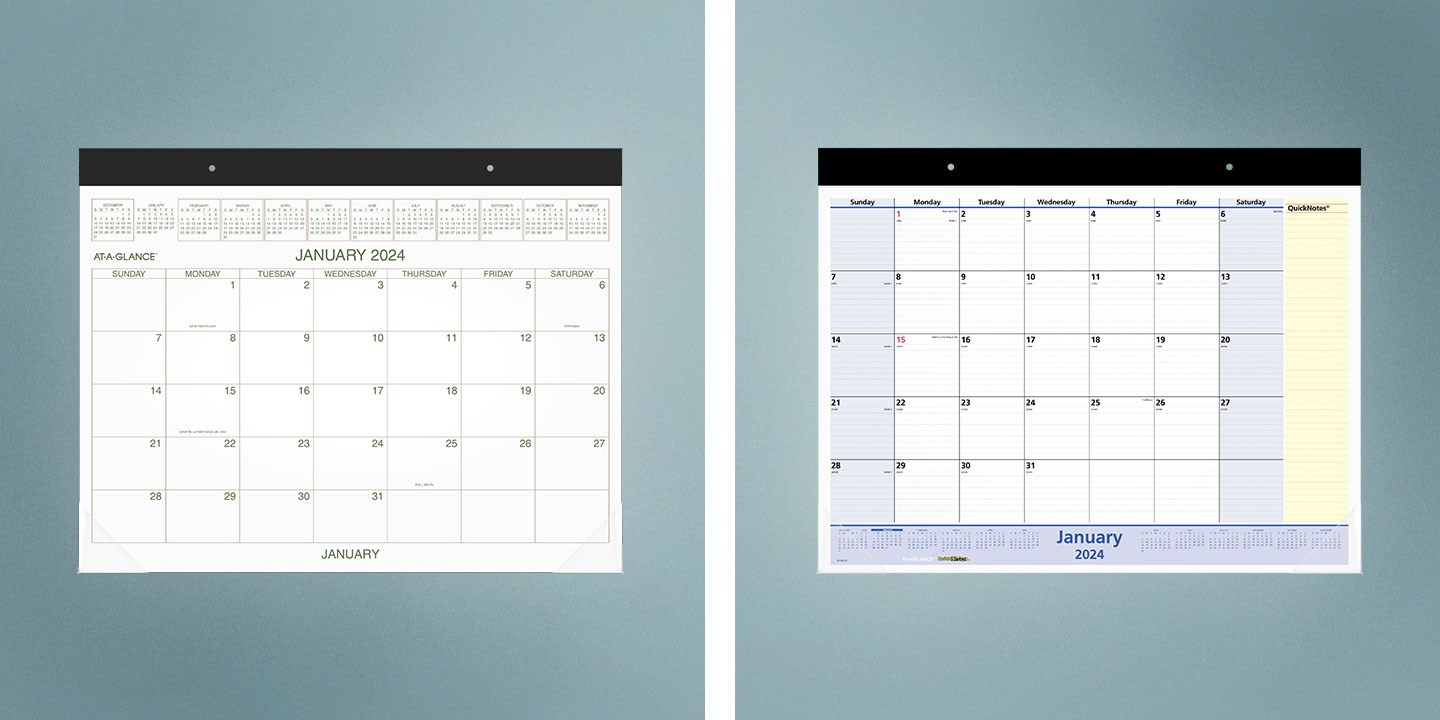 Your most important notes are highlighted for you! The QuickNotes Desk Pad has a yellow section on each page for tracking reminders and to-do's that you need to prioritize.  Ruled daily blocks and QuickNotes section keep writing neat and aligned.
Give your plans a touch of modern style. The Contemporary Desk Pad printed in black and white features extra space for priorities and notes. It has a sturdy backboard and can be hung up as a wall calendar.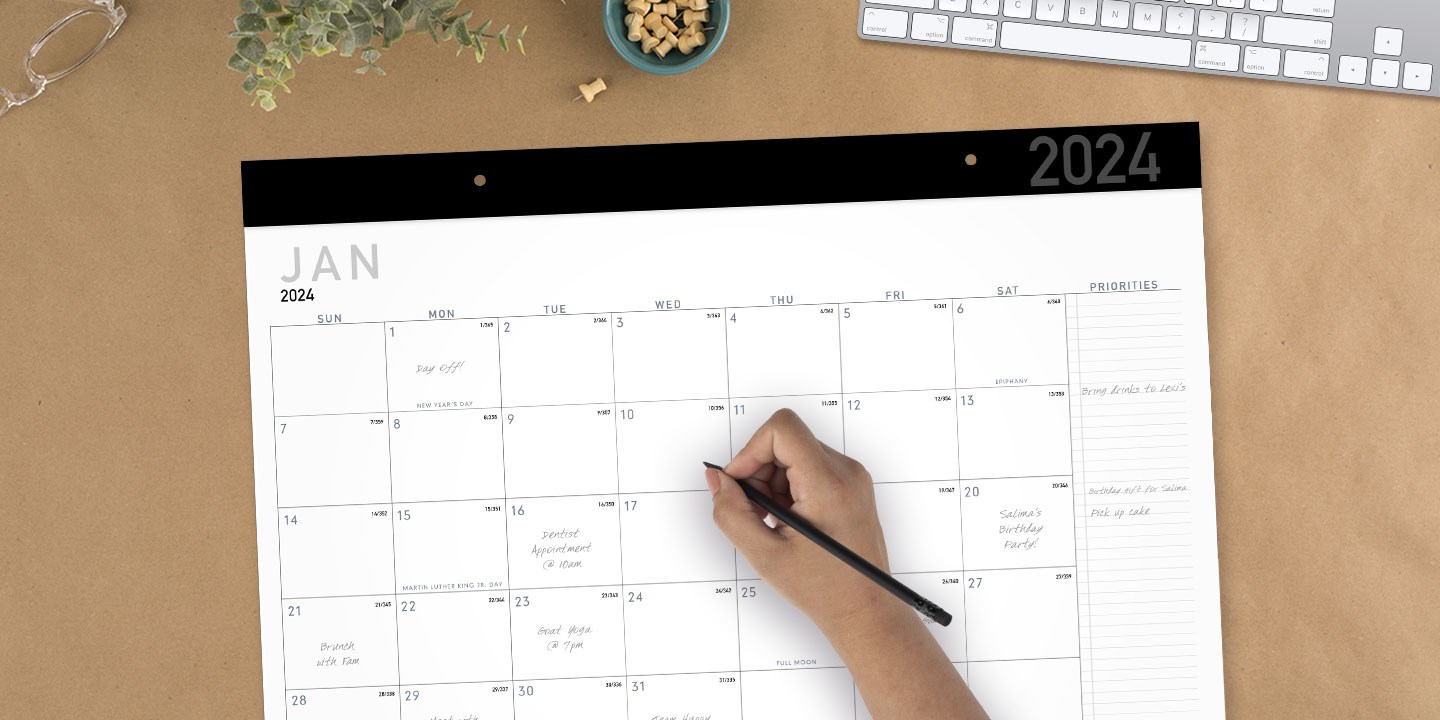 Turn your desktop into a work of art! Beautiful and practical, this desk pad has colorful planning pages that rotate throughout the year. Each page has large ruled daily blocks and a full year reference calendar across the bottom.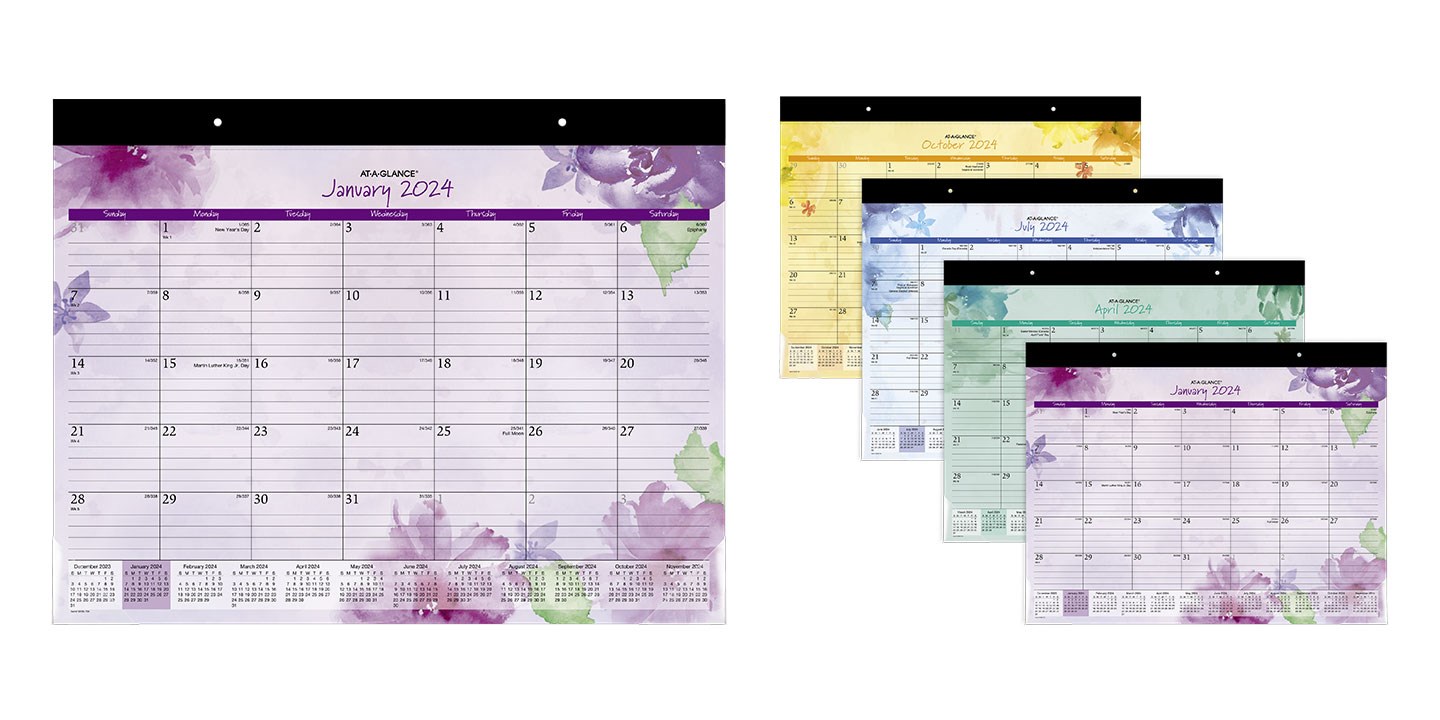 Stay balanced and accomplish more throughout the year with the help of an AT-A-GLANCE planner. No matter what fills your days, planners offer you a way to take control of your time. Schedule appointments, family plans, date nights and whatever else you need to keep track of. Choose from weekly, daily and monthly planners to fit your schedule.
Here are a few of our favorite 2024 planners:
Plan, execute, succeed! This monthly planner has large open blocks so you can easily organize every to-do and deadline. Plus, it comes with bonus pages to help you stay on track. Get more done with 40 notes pages, future planning pages, meeting notes and more.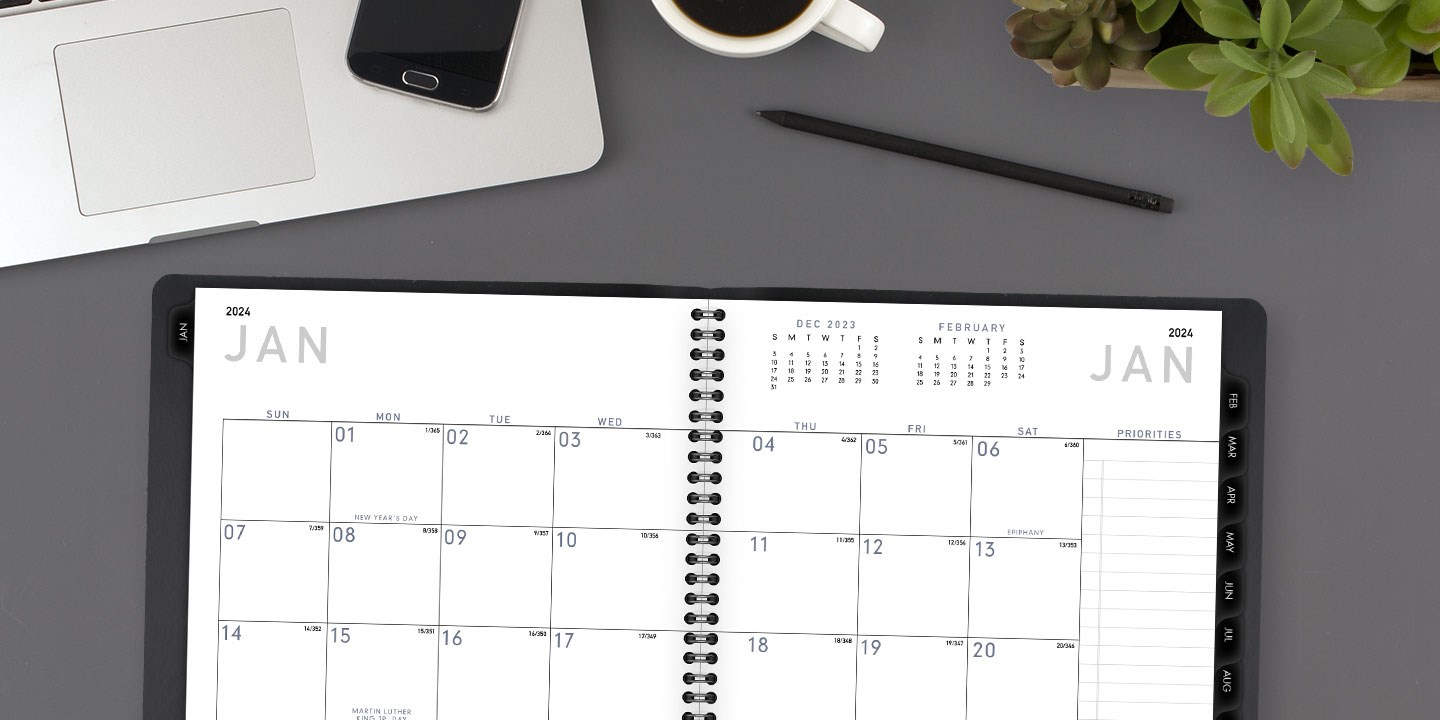 Stay on top of the chaos this year. Take on any challenge with an Elevation planner at your side! This planner gives you space to plan your day-to-day activities, as well as sections to track goals, set priorities and write down important reminders.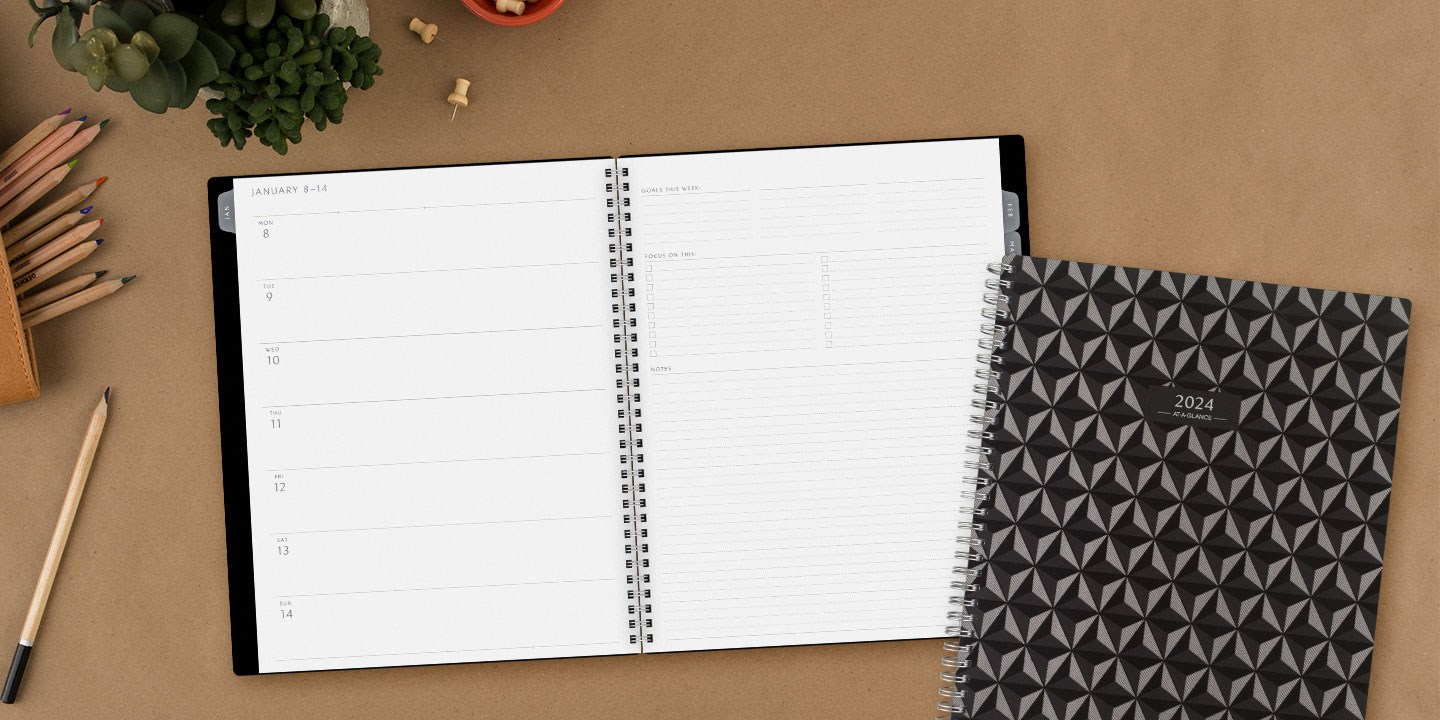 BADGE Collection Planners features beautiful art and unique designs. These planners are both fashionable and durable, with sturdy covers and twin wire binding. Plus, a storage pocket lets you store stamps, invitations and notes right in your planner.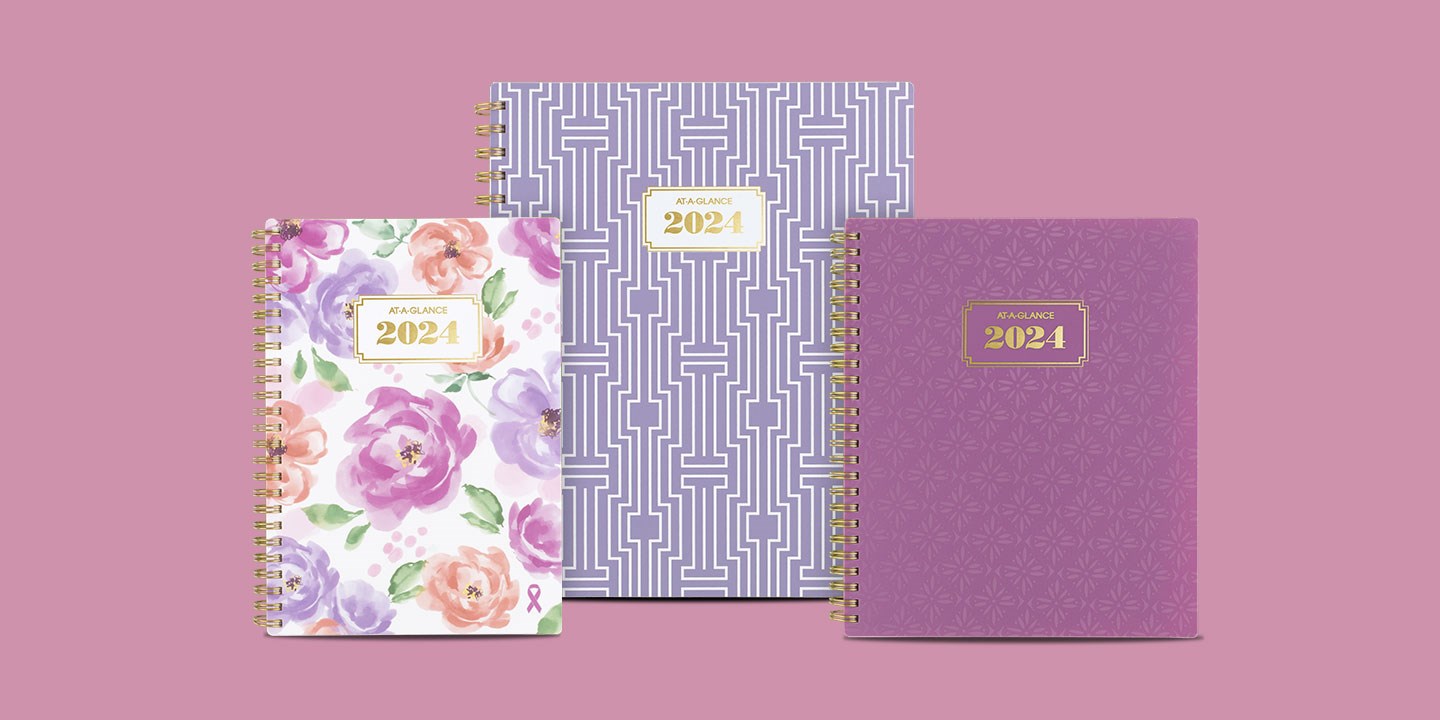 Declutter your life! Founded by designer and mom-of-three, the Emily Ley Simplified mission is to inspire and empower women with the tools they need to simplify their lives. Simplified was built on the belief that a full, abundant life doesn't have to be overwhelming.
Emily Ley planners offer bold, colorful designs and helpful planning pages that inspire and equip you to declutter, simplify and create margin for the good stuff in life.
Add a splash of color to your day while making a more eco-friendly choice. The watercolor pattern on the cover continues across each page for colorful planning. Made from post-consumer waste recycled materials, this planner is made with a 30% recycled cover and 30% recycled paper.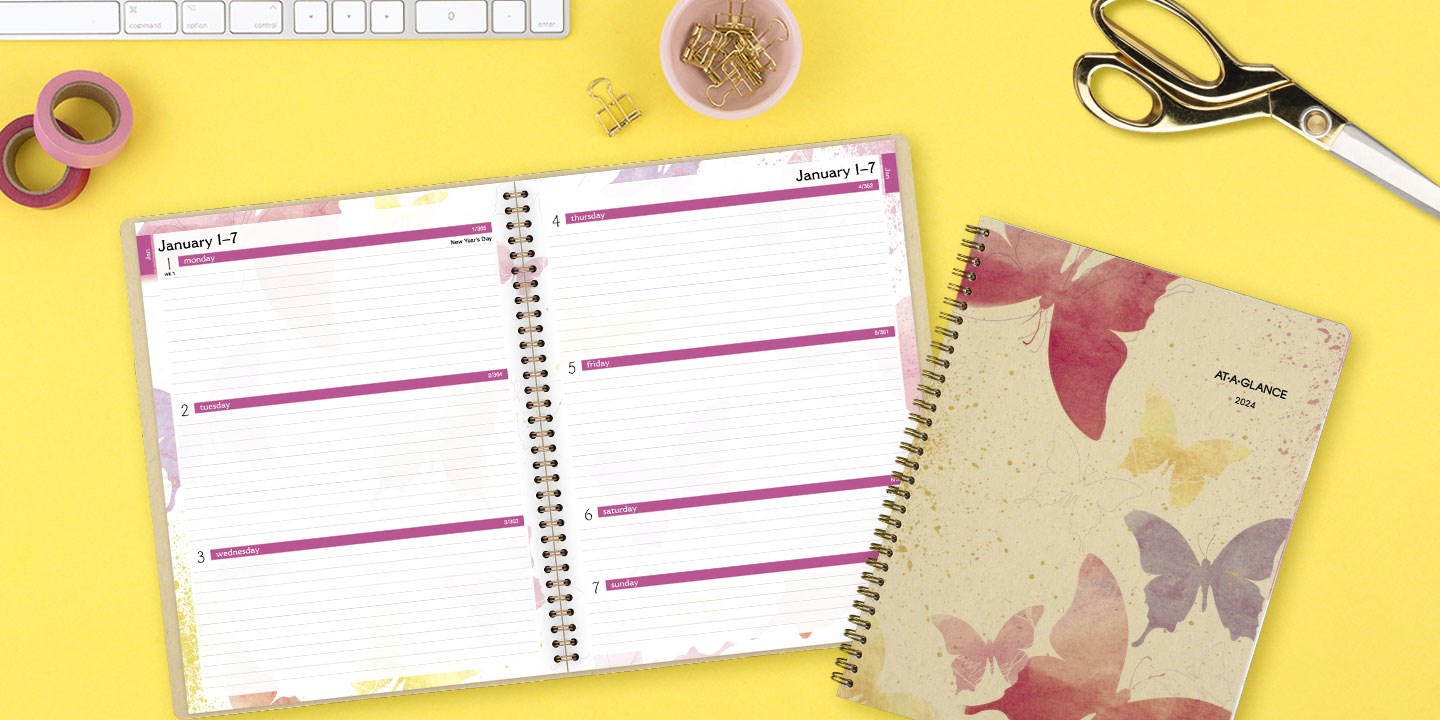 Whatever you love, whatever is most important to you, keep it in focus with the Harmony Collection. The specially designed daily, weekly and monthly pages set Harmony apart from traditional planners.
Each month features a Big Idea box, Monthly Goals, a Pursuits and Possibilities section and a motivational quote. Weekly and daily calendar pages help you concentrate on your daily to-do's, celebrating wins and tracking habits.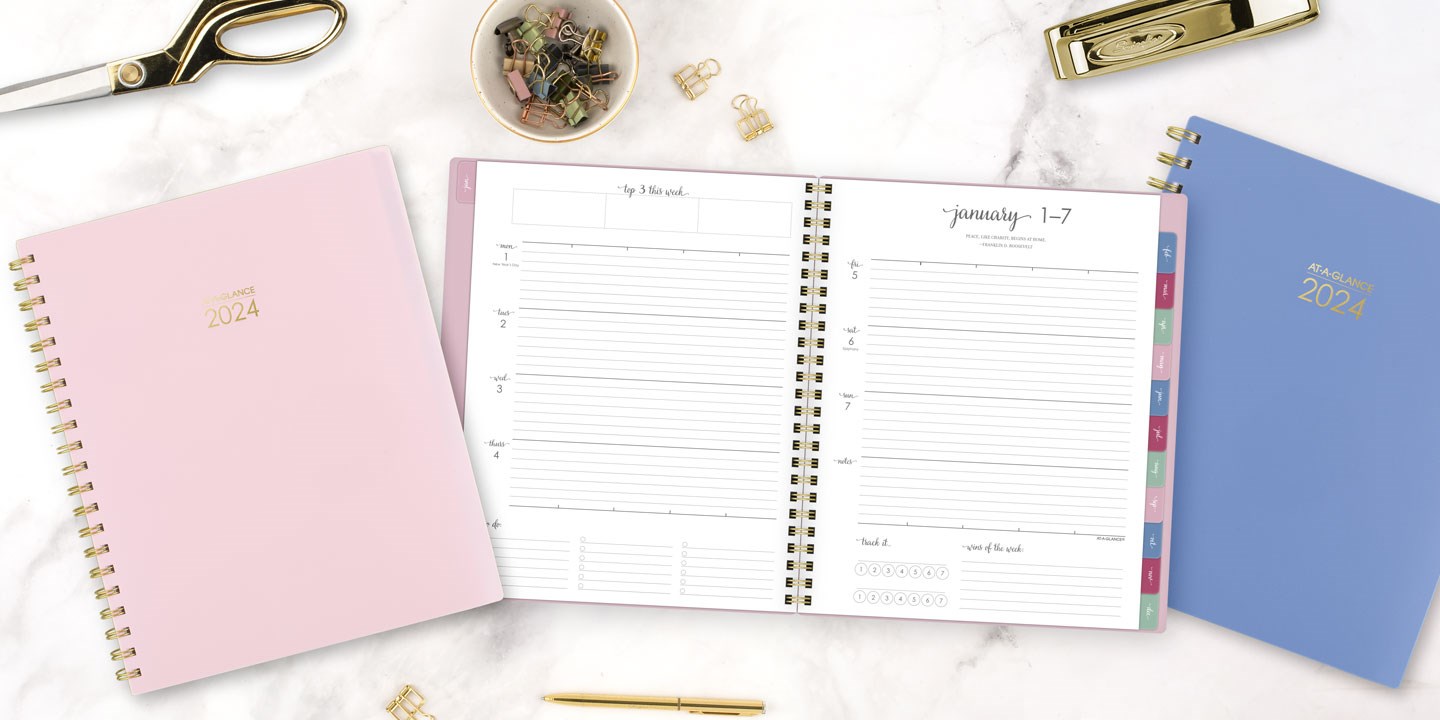 Take control of your schedule this year! Track plans, gets ahead on your goals and stay on top of your to-do's with the sleek and sophistication AT-A-GLANCE Signature Weekly Monthly Planner.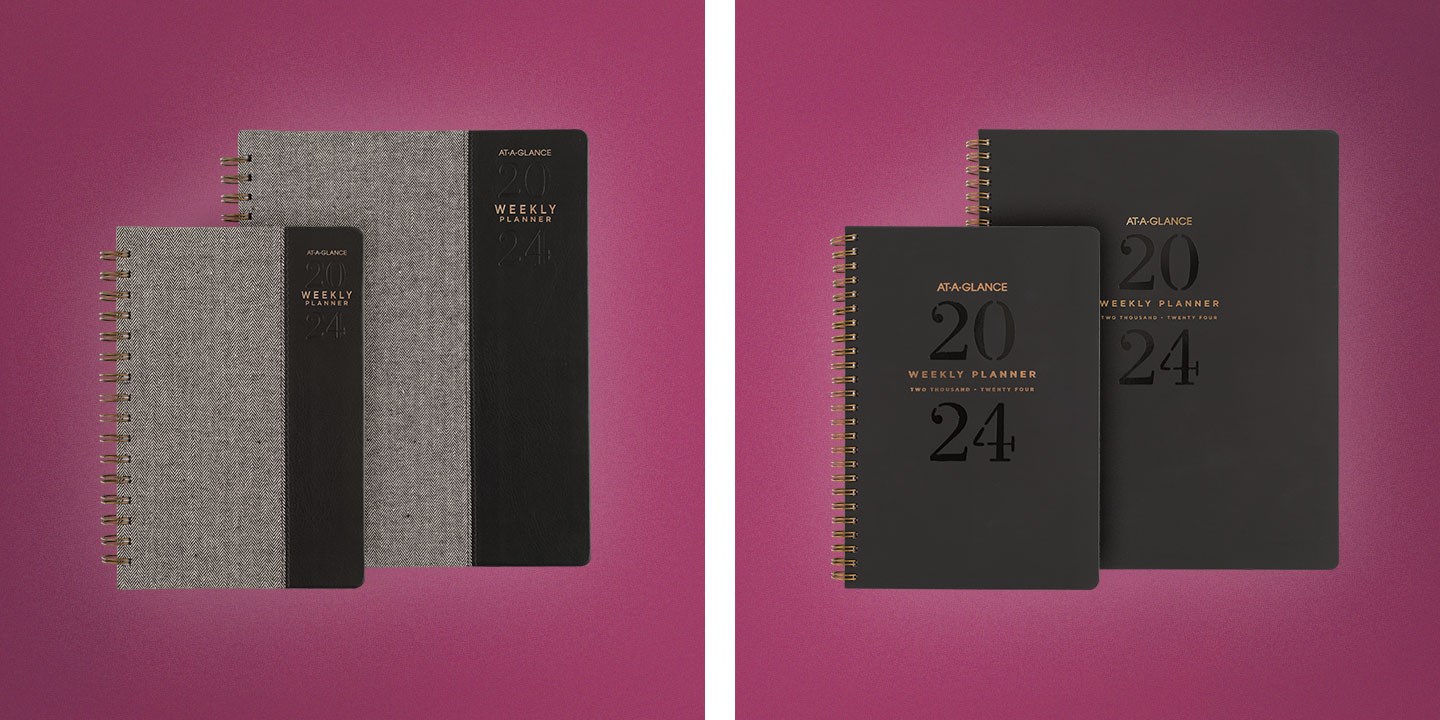 The Year of You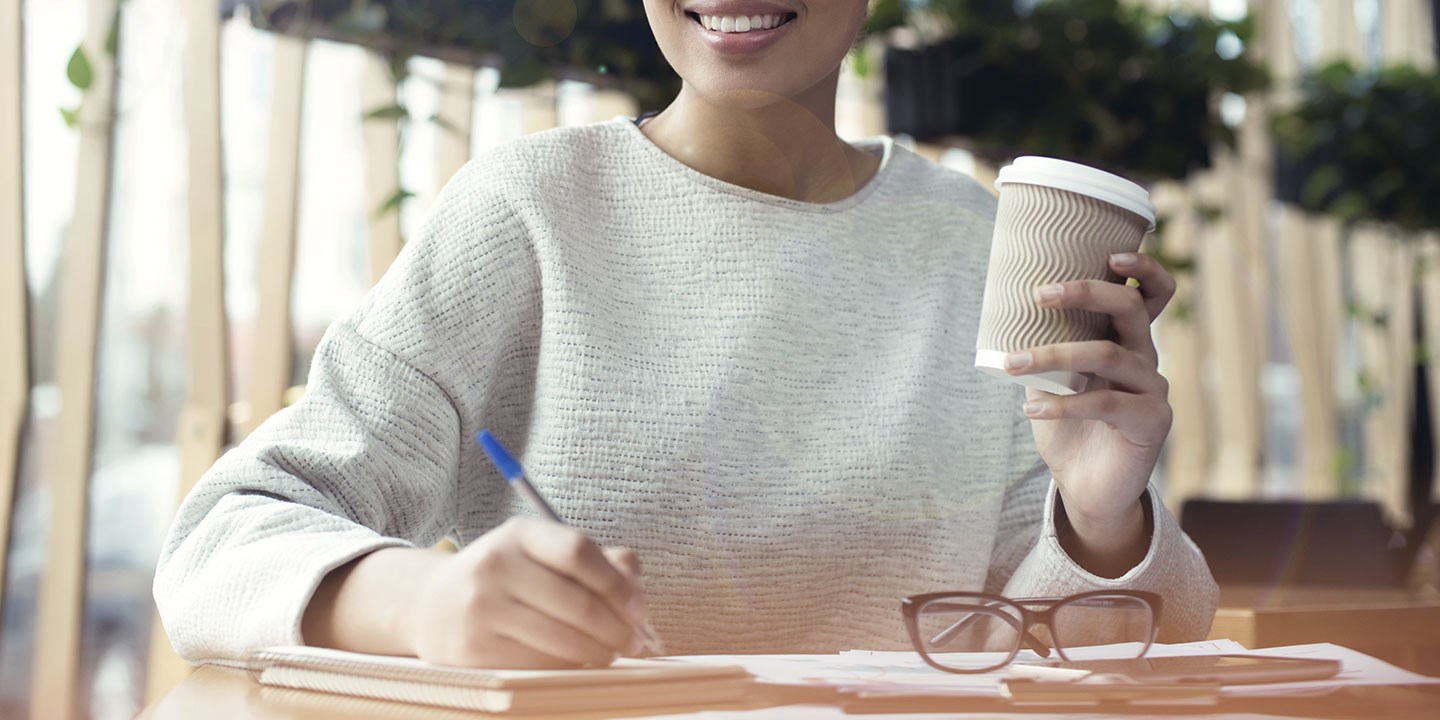 Start your yearly plans off right:
Place a wall calendar in a shared space and jot down vacations and other events
Decorate your desk with a desk pad so that important dates stay in view
Use a planner to keep things moving and to make time for the things that matter most to you
AT-A-GLANCE planning tools are here to help set you up for success. We hope you make the most of your year and complete everything you set out to accomplish!