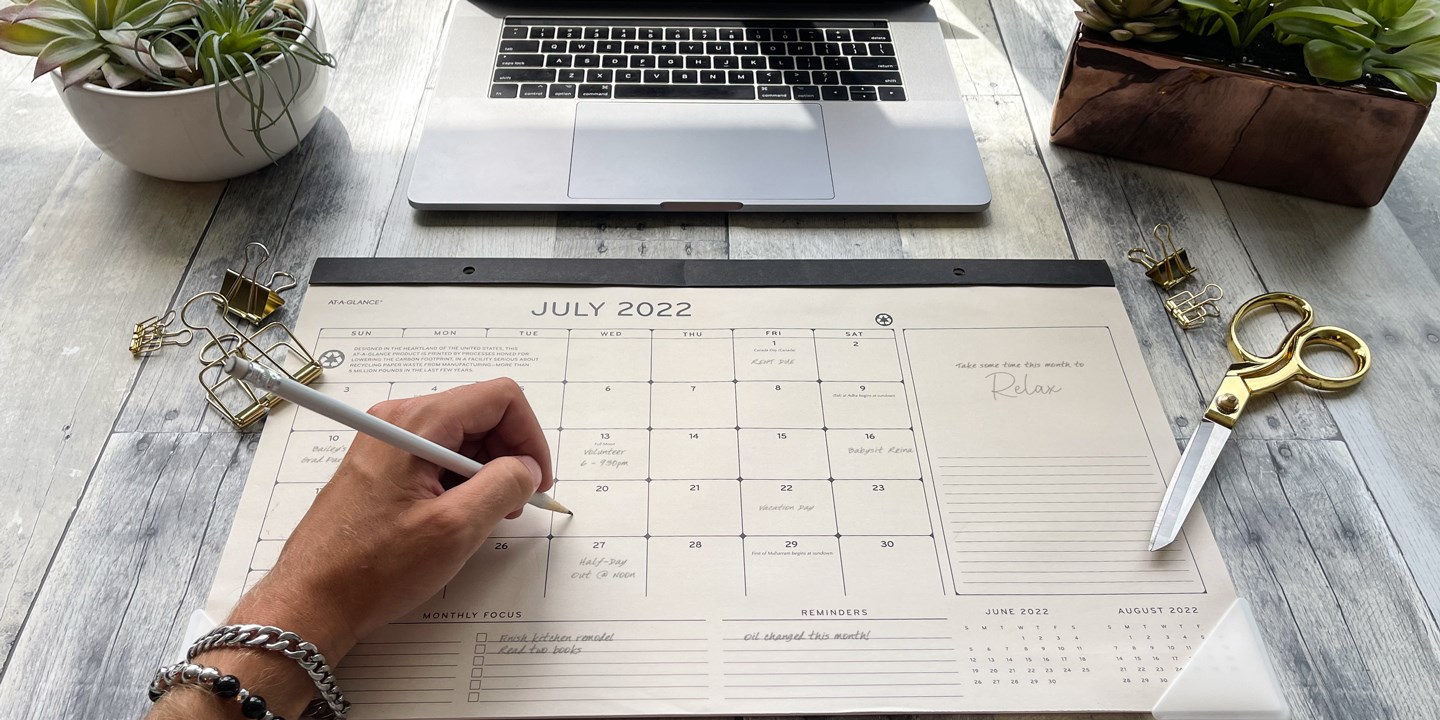 Whether you're working from home or an office, a desk pad calendar is a useful addition to your organizational system.
You may already be using a plastic desk blotter to protect your desk. A desk pad calendar adds both fashion and function while shielding your desk from wear. You can also further maximize your available space while strengthening your planning tool kit.
Using a desk pad calendar lets you see your month all at once. You may keep important dates and reminders in a phone app but writing them down enhances your ability to remember your obligations. Additionally, seeing everything at once helps you to create a more balanced life. Seeing your events in front of you also allows you to be sure you have time to recharge your social battery and practice self-care.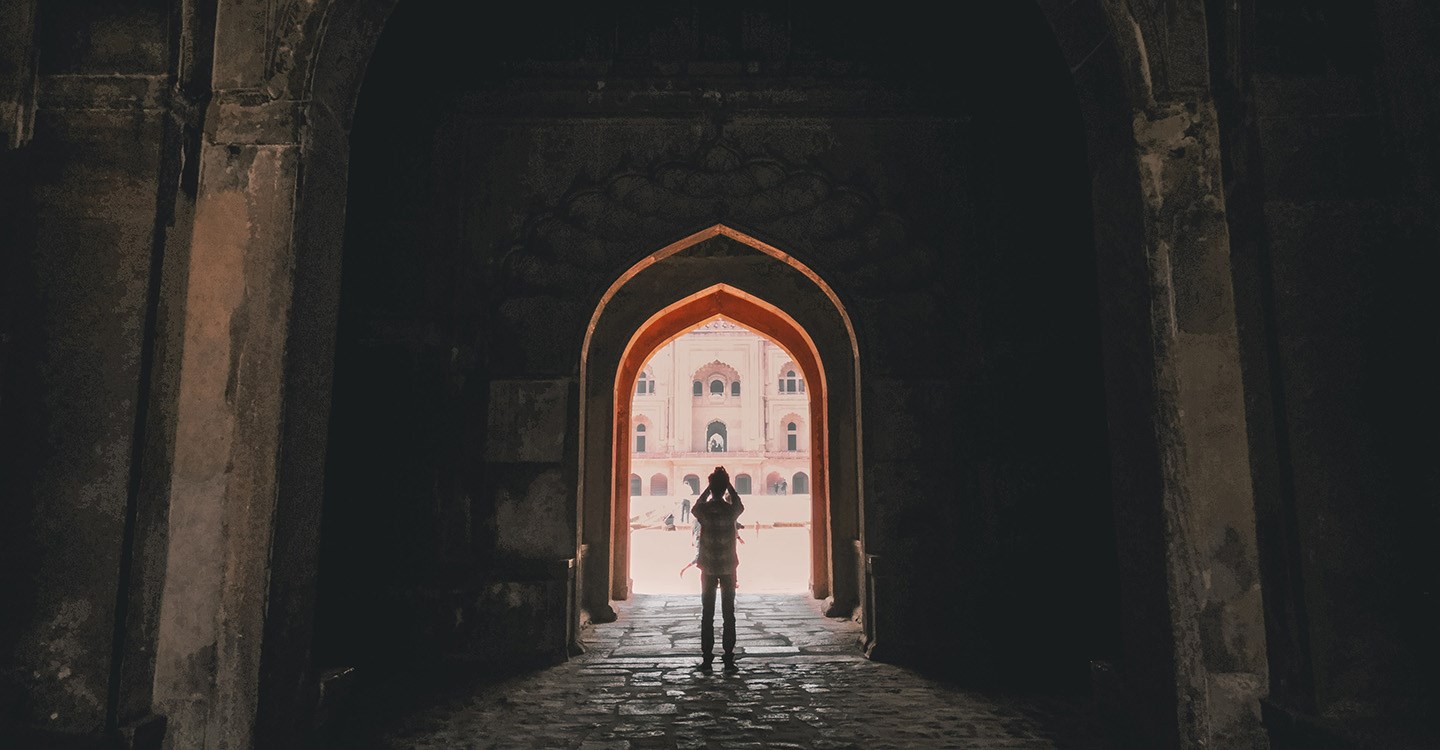 Struggle to manage your life with a planner or planning notebook? A desk pad calendar can be your gateway to the more organized life you desire. Though it's called a desk pad, it can be used anywhere space permits. Hang it on the wall like a wall calendar, if you like.
Take just a few minutes to set up every event and due date on your schedule. Whenever you view your desk pad, you're reminded of what's next and can look farther forward as well, all at a size larger than a phone screen. No daily struggle to use or feel guilty about leaving a blank page; just an unobstructed view of your plans.
How to Use a Desk Pad
It is important to remember that it is not a planner. A desk pad offers enough space for plans relevant to the time period shown: 1-, 3-, 6-, 12-months or other length. Some desk pads offer a column for notes or TO DOs, too. Desk pads allow days to be tied together for marking a vacation or work conference and are easily updated when plans change. If you require additional space or need to emphasize something, use color pens, highlighters or even sticky notes.
Use the calendar to see your big events, not your minor details. Keeping only the most relevant information on your calendar will make your space tidier and less overwhelming.
Personalize your desk pad so it works best for you and your needs. Here are just a few ways to use your desk pad:
Habit Tracking
Family Scheduler
Meal Planning
Workout Tracking
However you choose to use your desk pad, it is beneficial to assign it a specific goal–and build from there. Another tip: Display the desk pad where it is most relevant to the topic displayed and the parties using it.
Although creativity is important, remember your desk pad isn't a doodle pad. Using it as one might make your space feel cluttered and discourage you from using it.
Reflect at the end of each month to determine whether the desk pad was helpful. Regroup and adapt your use to keep improving. Make sure your tactics are truly what works best for you.
Our desk pads are made to last. Thoughtfully selected materials add strength and style. Here are a few features that make AT-A-GLANCE the best choice:
Durable Headband and Corners: The headband binding keeps pages securely together while you easily flip to the next page. Plastic corners secure pages to prevent rolling and allow for easily lifting to the next page.

Design and Special Features: From simple lines and colors to fashionable flowers and patterns, you have choices. You can also choose from special features such as perforated notecards, so you can take your lists or notes with you.

Perfect Sizes: The desk pads range in size, but most are 17¾"- 21¾" wide by 17"-11" high.

Versatility: Each top binding features two eyelets to allow the desk pad to be hung as a wall calendar if desired.
Which desk pad is right for you?
With all these choices, which AT-A-GLANCE pad will meet your needs? We've highlighted a few, so you can begin your search. To see the complete brand line and various collections, browse all desk pads to make the perfect choice for you–or even for a gift.
Shop All Desk Calendars and Pads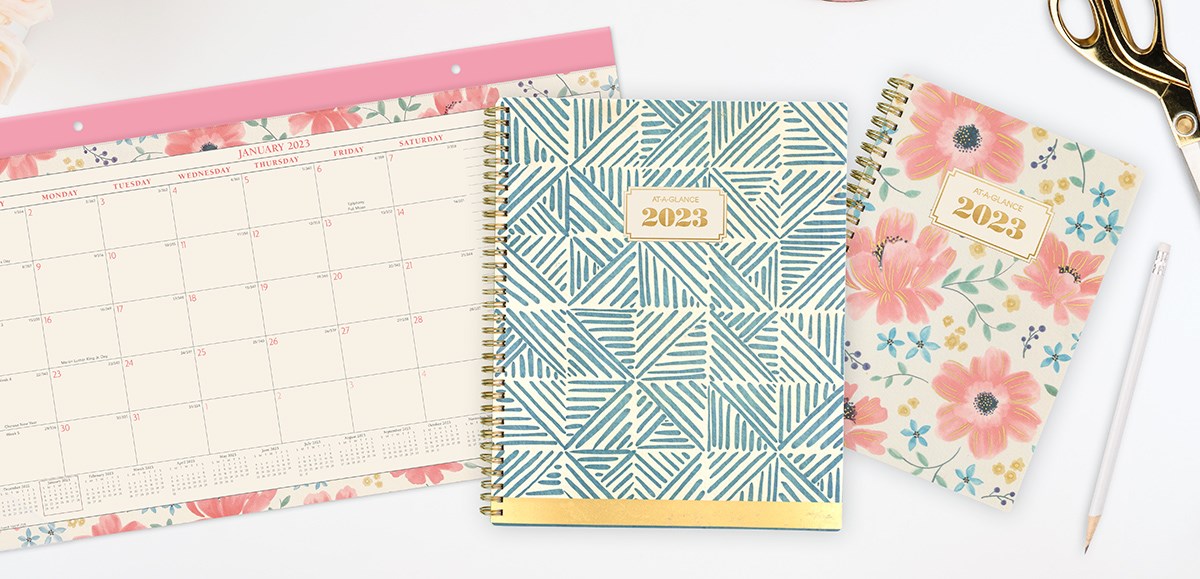 Part of the AT-A-GLANCE Style series, the Badge Collection focuses on trending designs and color palettes. Along with fresh florals, you'll find hand-drawn geometrical patterns to enliven your planning. You can coordinate all of your planning and notetaking accessories when you choose a Badge desk pad, wall calendar and weekly, monthly, daily, or pocket planner. Additionally, a coordinated planning and organizing set of an AT-A-GLANCE Badge design makes a great gift.
Shop the Badge Collection Desk Pads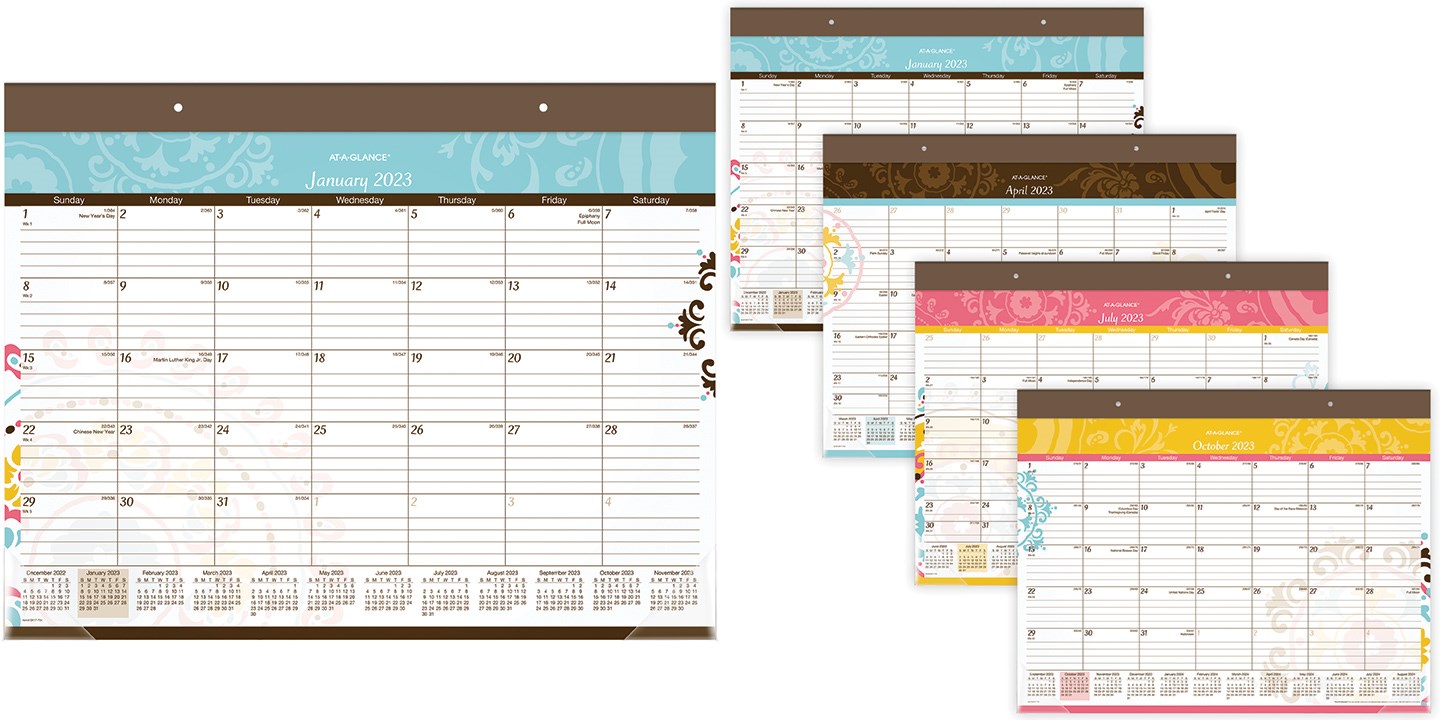 Want to add something new to your space and switch up designs without thinking about it? Add some color to your workspace with the AT-A-GLANCE Suzani Collection. A perennial favorite, Suzani offers a brightly colored medallion pattern that changes with each quarter. Research shows that even a slight change in surroundings helps us to stay motivated. So, keep your motivation throughout the year with the Suzani Collection.
Buy the Suzani 2023 Monthly Desk Pad Calendar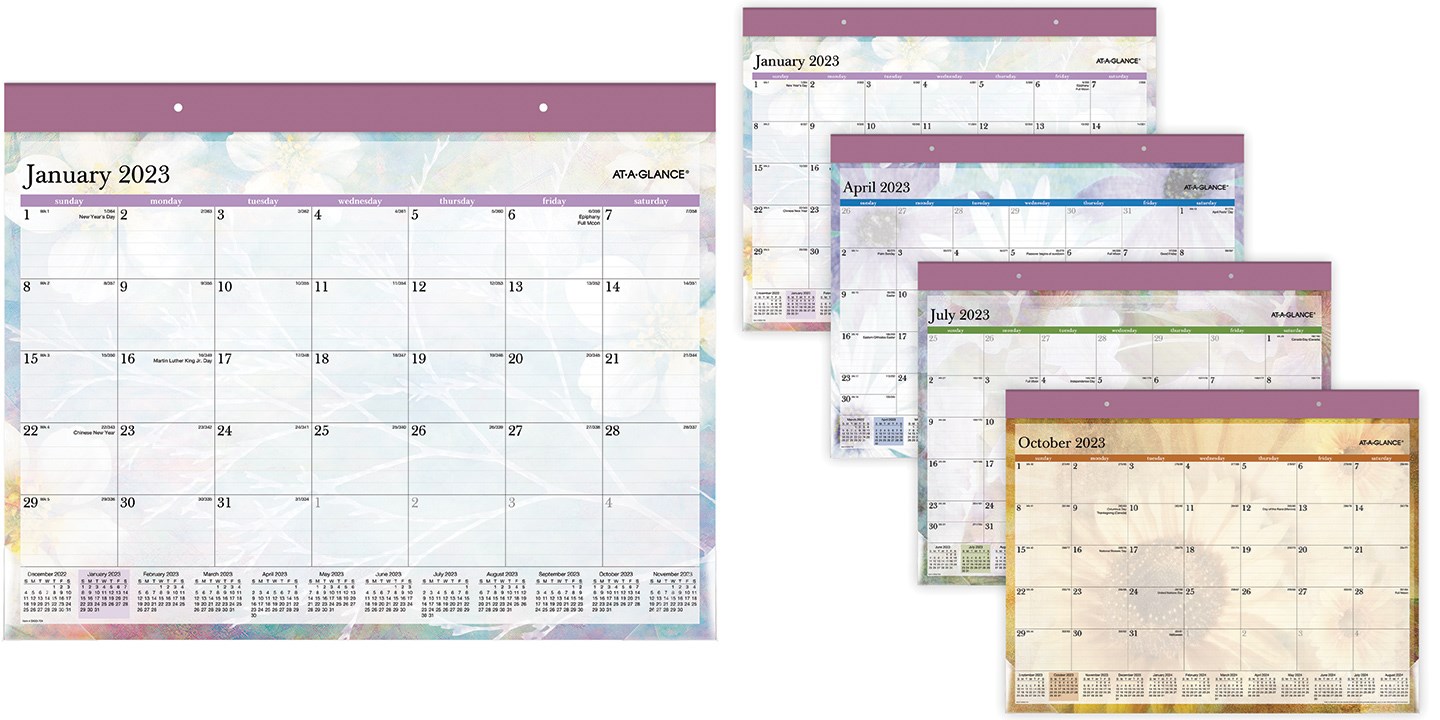 Another perennial favorite, the AT-A-GLANCE Dreams Collection offers muted tones with a watermarked design that evokes an ethereal feeling. An AT-A-GLANCE item, it features our high-quality, ink-bleed resistant paper, so all your pages start fresh. Available in different sizes, The Dreams Collection helps you make the most of your workspace area.
Shop the Dreams Monthly Desk Pad and Wall Calendar
Want to add a visionally clean, classically styled calendar to your workspace? AT-A-GLANCE Easy-to-Read items offer larger blocks with no writing lines as well as a larger font for viewing at a distance.
Like other AT-A-GLANCE desk pad calendar collections, these desk pads have plastic corner protectors that keep pages contained. This reduces unwanted folds and rips while also providing an easier way to grip and lift pages.
The Elevation Collection is another that can be paired to match your planning products. This collection does just what the name suggests: it elevates your space. On top of being a desk pad calendar, Elevation has a perforated notes section on the side of the page. This allows you to take with you a to-do or grocery list you've been keeping right there on your desk pad.
Shop the Elevation Collection of Desk Pads and Calendars
Be more aware of your carbon footprint and start with an AT-A-GLANCE 2023 Recycled Desk Pad. Though all our desk pads can be recycled after use, these desk pads print on post-consumer wastepaper. That's paper collected after consumers have recycled it. Keep track of all your goals while being environmentally friendly.
Buy the 2023 Recycled Monthly Desk Pad
Be Creative and Hang Up Your Desk Pad
At AT-A-GLANCE, we design our products with you in mind. To offer you more versatility, every desk pad has eyelets drilled into the headband. You can use your desk pad traditionally on your desktop or choose to hang wherever you need it. The hanging feature helps when more than one person needs to view the calendar, like a family schedule.
Your Desk Pad Will Help You Stay Organized Wherever You Work or Play
At AT-A-GLANCE, our goals remain the same as always: to help you live a life free of stress by providing the tools you need to plan and organize your time. Life is precious, and we don't want you to miss a thing.
Shop 2023 AT-A-GLANCE Desk Pads