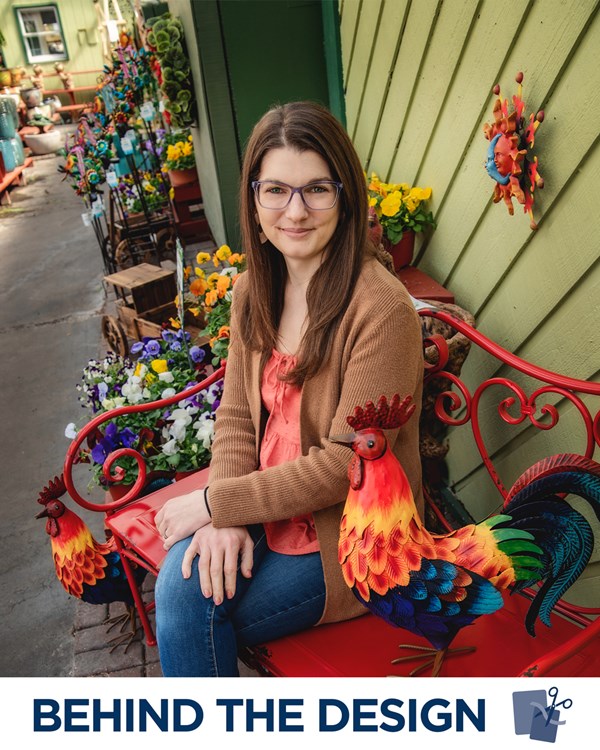 Dara grew up near Cincinnati, Ohio and did fine in school. She says she didn't love it, nor did she find much to be passionate about in school. She does remember how she was always obsessed with her school supplies, and loved to create art. She painted, threw pottery, designed, and loved to draw, mostly with permanent markers.
"I was such a nerd," Dara laughs. "I always had to have Five Star and Trapper Keeper school supplies. One year, when I saw the 3-D images on Trapper Keeper folders, something clicked. I couldn't imagine how someone could create artwork like that and I wanted to know how they did it. I wanted to create cool designs like those!
"My high school art teacher was very encouraging," she remembers. "He said I had a good eye and lots of talent. At the time, I wasn't so convinced, but it was a path I wanted to explore."
Although her teacher pushed Dara toward fine art school, one day there was a guest lecturer from the School of Advertising Art—dubbed The Modern College of Design now. 
"The structure of graphic design appealed to me," she explains. "Sometimes when a project is open-ended, it's hard for me to get started. I love an art or design project that comes with structure or a problem to solve."
Dara graduated with honors and applied at several small companies. Then she discovered that the Trapper Keeper brand she loved so many years ago was invented and developed in her own back yard, in Dayton, Ohio.
"I was thrilled that the company that created those folders with the 3-D designs was local," Dara says. "I couldn't believe it when I got an interview."
The company, ACCO Brands, features brands like Five Star, AT-A-GLANCE, Cambridge, Quartet (glass boards), Swingline, and more. Dara's first projects included working in the mock-up room where she created sample products for presentation. Her first design project was Hannah Montana® Notebooks. She also got to design artistic journals, and Franklin Covey® Planners.
According to her Art Director Judy Smith, Dara is not just a talented designer, she is a supportive teammate, and a gifted problem-solver.
"Not all creative people have both sides of their brain firing on a high level," explains Judy. "Dara can provide beautiful original art, and she is great at problem solving on the job. She is always one to step up if someone else needs help."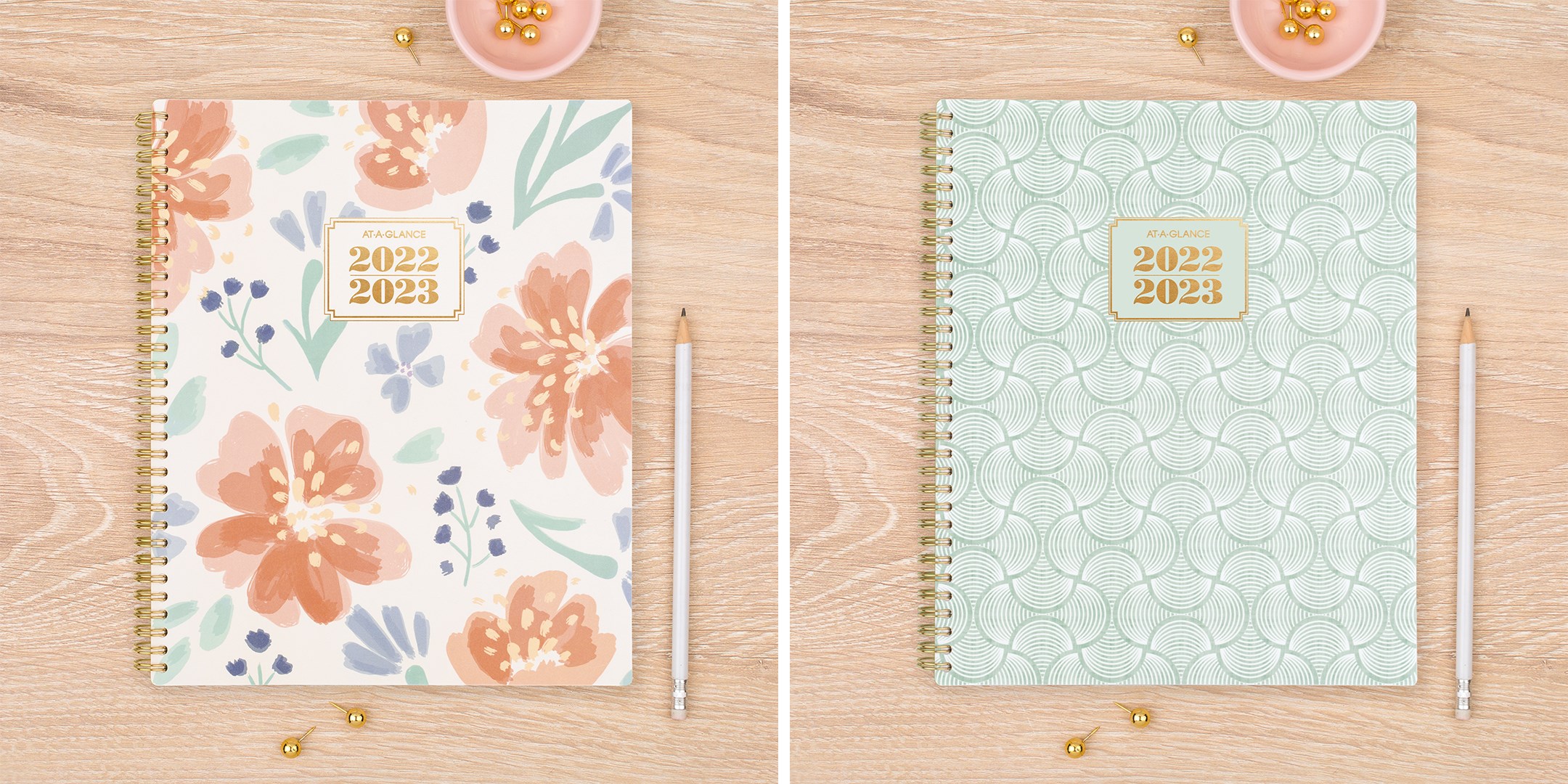 She designed these covers for the Academic Year planners 2022-2023. The floral is original artwork Dara digitally painted. Both the floral and the geometric designs for the Badge Collection 2022-2023 academic year planner were created during the COVID pandemic lockdown.
"I wanted to give our consumers calming colors," says Dara. "The floral features apricot, periwinkle, and sage green which float on a soft white background. I wanted a light, airy, somewhat muted palette on both designs to feel comforting. The geo wave pattern is a dusty mint, and they both have gold accents and gold coil."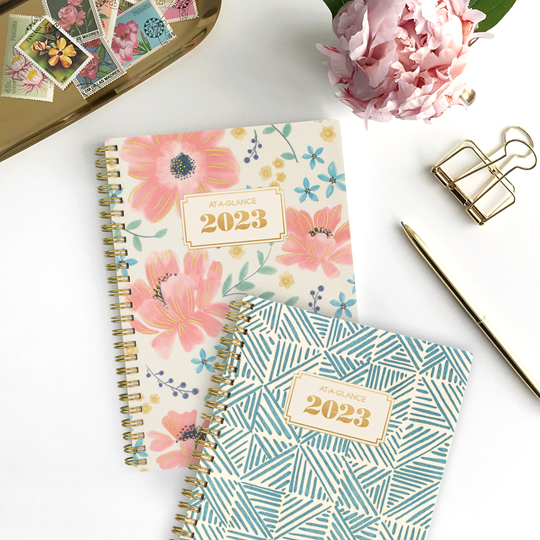 For the same collection for calendar year 2023, she brought on happy colors of soft pink, sage green, and light blue creating a soft prairie look for the floral design. Gold foil and twin-wire binding complete the accents. The geometric pattern is a line drawing with a gold foil bar along the bottom border. They both feature the gold foil badge year stamp and coil.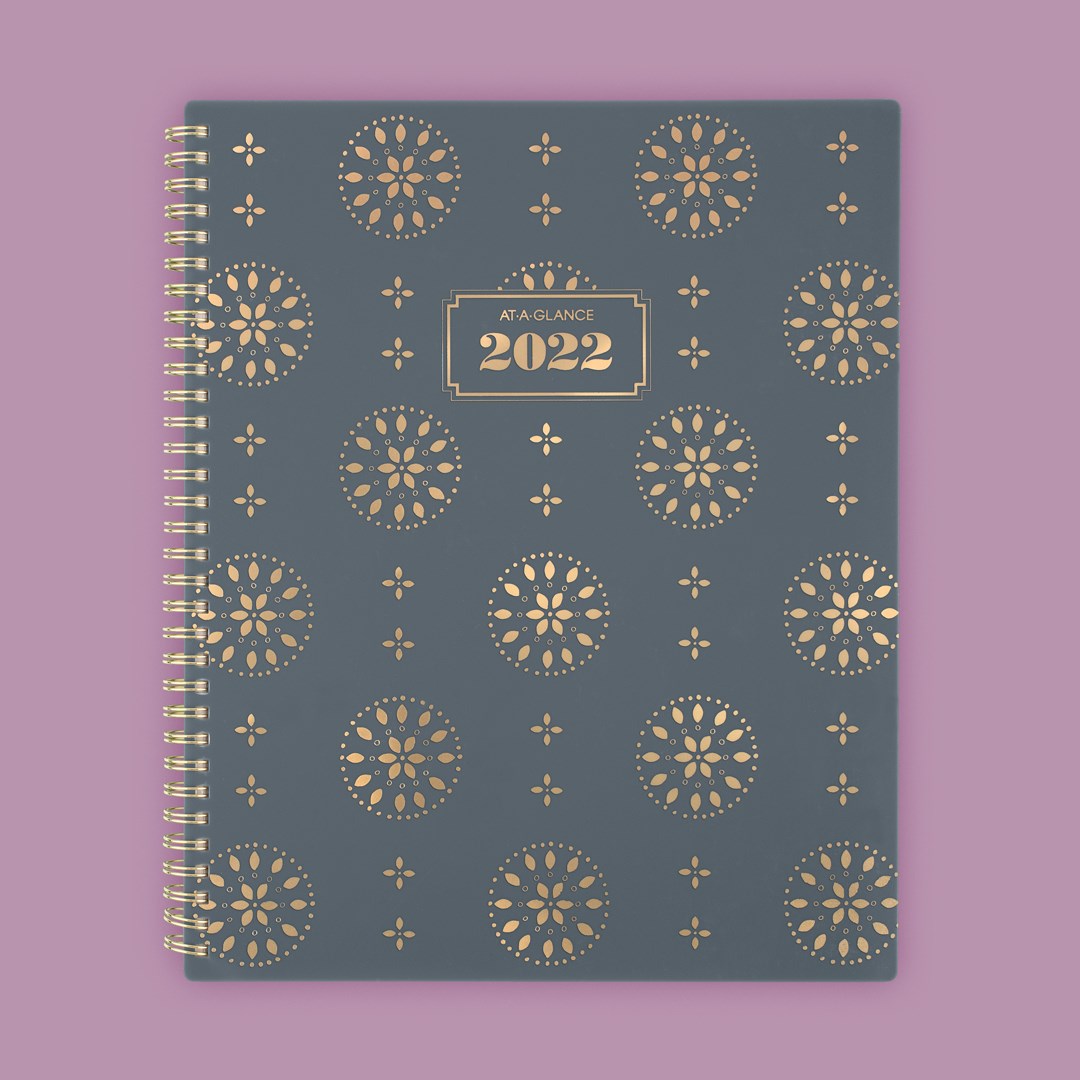 And in case you carried this 2022 Badge Collection design, Dara created it–with her treasured permanent marker, no less.
"Everything we do in the Creative Department is driven by trend research," Dara says. "Before we start designing, we dig for trends in many different ways, and not just color, print, and pattern. We also look at psycho-social trends. What people care about, and how they are feeling, changes all the time. We always have to work way ahead of the curve."
Dara says that she feels so honored to design things that matter to people.
"If I can make something that makes someone's life better or easier, that's the best part of my job," says Dara. "Once someone posted one of my designs on her social media, and said she loved 'carrying around a piece of art.' That was a great day for me. It reminded me of when I used to feel that way carrying around my cool Trapper Keeper folders."
Dara and her husband have two kids, ages six and four. They live in the country near Dayton, Ohio, on the half acre of land she calls a food forest. They raise chickens, and have pear, apricot, pecan, and apple trees, kiwi vines, hazelnut hedges, blueberries, blackberries, and more. Her family adores having outdoor fires, and swinging on the various swings on their property.