Recharge Over the Summer   
We all need lazy summer days to recharge during the summer. If you're a teacher, or parent, you are constantly putting others first. If you are a student, you may feel like your time is not your own during the school year. In any case, we all need some recharging time.
Preparations for the year can come later in the summer, but you may want to grab some planning tools and supplies now, while products are hitting the shelves, so you don't have to scramble in late summer. Buying and preparing your planner early can help you feel ahead of the game. Read our blog post Five Tips to Set Up Your Planner, so you can get organized and start your year with confidence.  
First, here are some things to consider about summer recharging! 
Rest your brain.
Your brain uses 20 percent of your energy, so it needs rest. Try unplugging from all electronics for at least one hour a day.
Don't try to pack too much into the summer months.
You may have a long list of places to go and people to visit but choose one or two high priorities. Often, we try to do too much during "free time," and then we don't feel rested.
Forest Bathe
Yes, it's a thing. Spend 20 minutes walking or just sitting in nature. The new, fresh air has antioxidants, and is very healthy for your body, while the whole experience is good for your mind and spirit.  
Spend time alone.
Especially if we spend time in school, we are around people for hours at a time. It's good to spend some time alone. Get a massage, take a long bath, read, go to a museum, or just go for a walk–alone.
Try something out of your comfort zone.
When we do something we aren't used to doing, we stretch ourselves in new ways, while resting those physical and mental talents we normally use. 
Academic Planning and Notetaking Tools from AT-A-GLANCE
Here, we give you a guide to planning and organizing tools that will help you hit the ground running next school year.
Wall Calendars, Desk Calendars, and Desk Pads–Keep it all Visible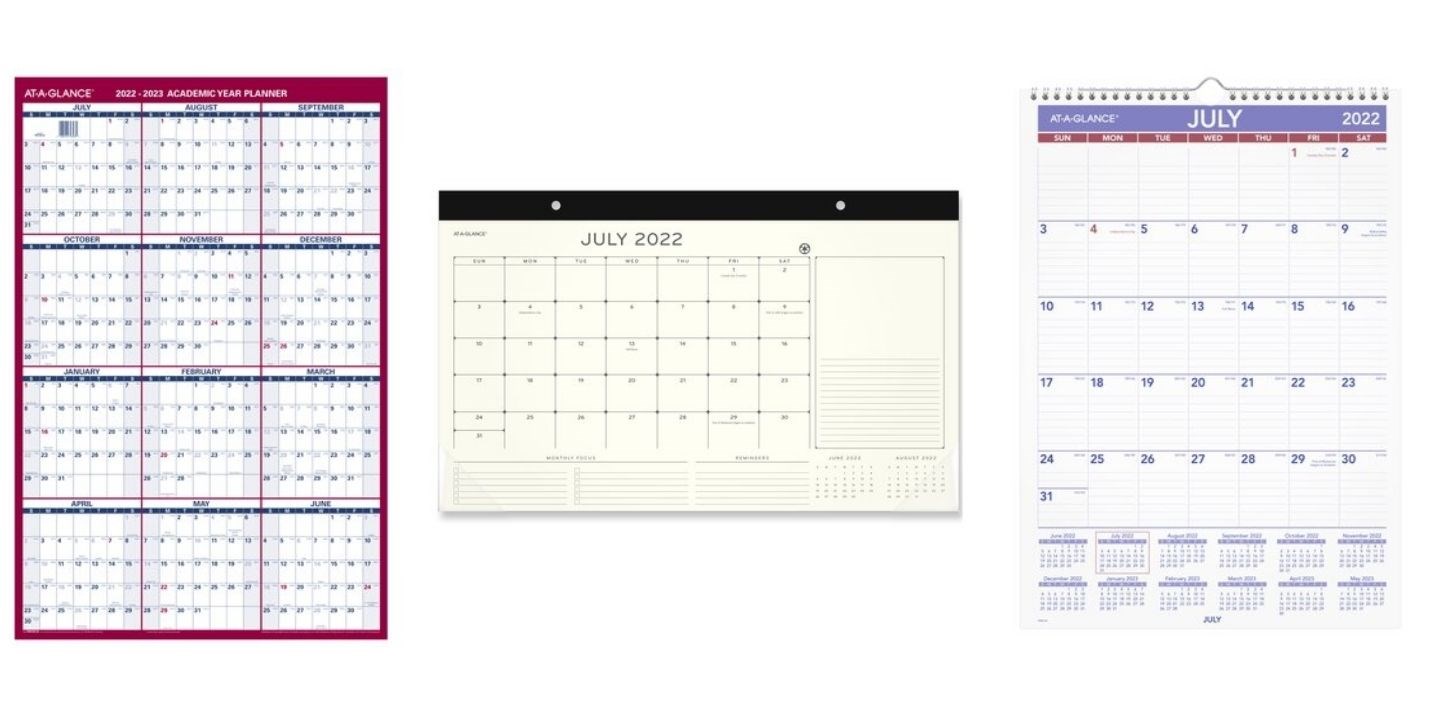 AT-A-GLANCE has all sorts of wall calendars from which to choose, so that you can keep important dates right in front of you. We have paper calendars, and erasable wipe-off calendars, including calendars that span three months per page for easy planning, and some that show the whole year at once. We also have calendars that are more focused on design. Choose an academic wall calendar for your office, dorm, and/or home. Additionally, for a wide selection of calendars to sit on your desk or desk pads to work and plan on, see which of our desk pad calendars you prefer. 
When it comes to planners, AT-A-GLANCE offers so many layout choices, you can find a perfect fit. We have some of the best planners for college students, nursing students, as well as the best teacher planners on the market.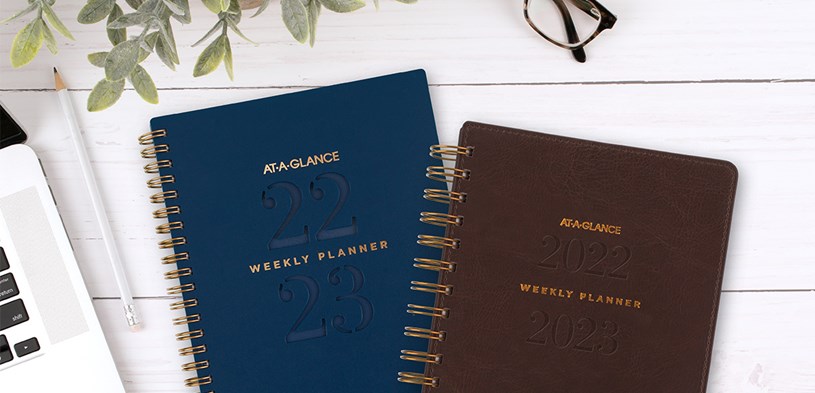 The craftsmanship is evident on our Signature Collection Planners. They have vegan leather weathered covers–which are stamped with the year–and brass twin wire binding.
Since not everyone plans the same way, Signature provides two weekly layouts: one is vertical across two pages, with each day in a column. The block layout gives each day its own large block with an extra block for weekly notes. Both layouts offer lots of open space.
Each Signature Academic Year Planner is built to last with a flexible yet durable cover and coil. Like most AT-A-GLANCE planners, Signature provides you with premium paper that won't bleed through.
Shop the Signature Collection of Planners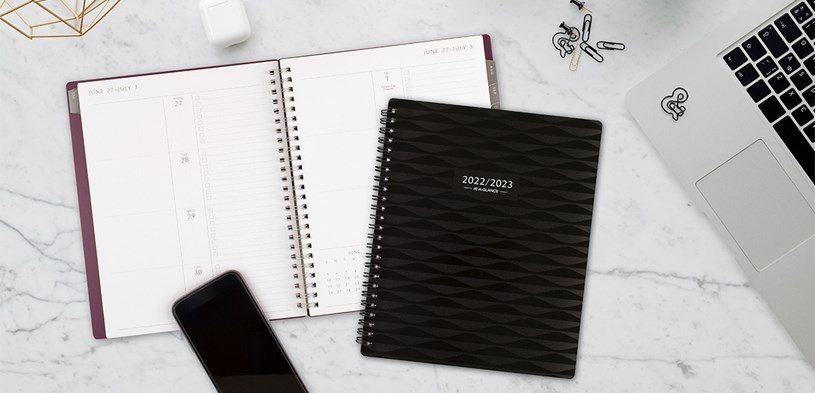 The Elevation Collection is progressive, stylish–and serious on the inside. Check out the year-in-two-pages spread, so you can look at your whole year, and here you get to choose from two weekly layouts.
The divided format offers blank and check-box daily blocks, as well as a Wins of the Week section to keep you motivated.
The block format has a block for each day on the left side, and three sections on the right page: Goals of the Week, Focus on This, and Notes.
The matching desk pad and wall calendars both have perforated cards so you can take lists or priorities with you, so nothing ever falls through the cracks!
Shop the Elevation Collection of Planners and Calendars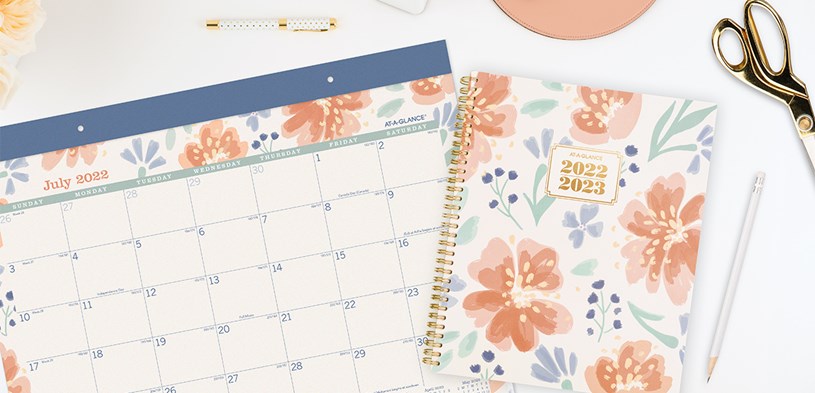 The AT-A-GLANCE Badge Collection is named for the beautiful foiled date stamped badge on the cover of every planner. It is a fan favorite, due to its superior paper, and durable beautiful covers and coil that can take the daily use of life and still look great at the end of the year.
The layouts are simple and uncluttered, with just a Notes and Ideas section added to the weekly layout. There is plenty of room on the monthly layout to track appointments and events as well as notes and monthly priorities.
Artistic matching wall calendars can complete your planning system, keeping everyone updated and informed.
Shop the Badge Collection of Planners and Calendars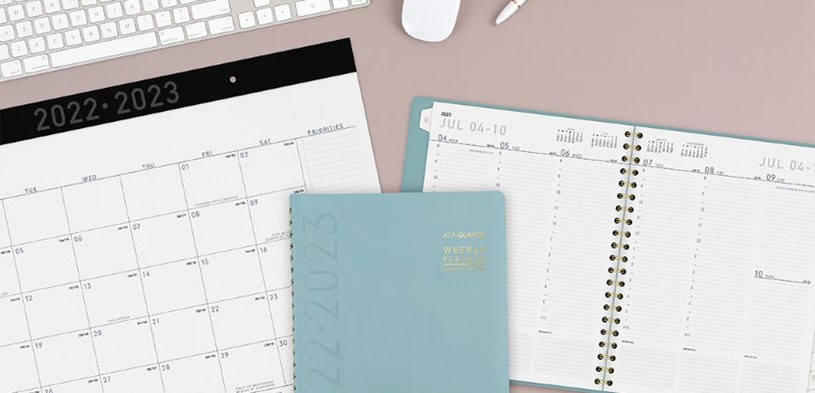 Our Contempo Collection is open and straightforward. It includes a variety of product types to suit any planning style, featuring modern formats and space for priorities. The covers are durable and flexible, and it's bound by a durable metallic coil. Contempo's smooth, thick paper resists ink-bleed and gives you a premium writing experience, and Contempo offers more than 40 notes pages.
The Contempo Collection also offers several different types of wall and desk calendars as well as desk pads to keep your plans in front of you all day long.
Shop the Contempo Collection of Planners and Calendars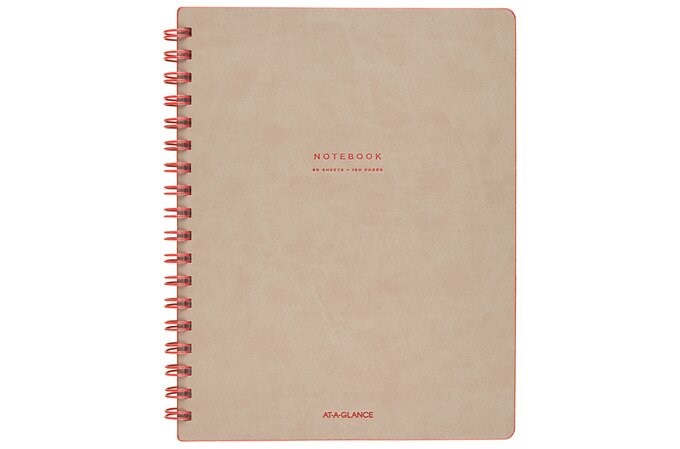 The notebook, but all grown up. Thick, high-quality paper that resists ink bleed, protected by rich covers. All our binding methods are beautiful and durable, and each case bound notebook comes with two ribbon page markers. Your detailed notes stay protected behind a modern textured cover.
Our notebooks are perfect for business meetings, school notes, and projects. The top of every page has a designated section for the date, and the bottom features a task section to separate key takeaways. Part of the AT-A-GLANCE Signature Collection line of products. Mix and match with other collection notebooks, planners, appointment books, calendars and accessories.
So, as you start your summer of hiking, swimming, cookouts, and all sorts of adventures, remember to grab your planning and notetaking supplies while you have a lot to choose from, and set yourself up for the upcoming academic year's success.
Explore our website to look at 2022-2023 Planning Collections, desk calendars, desk pads, and accessories.
Share this story with friends who may need to set up their planning systems for the upcoming year. You may also want to read our story How to Use Your Planner to Have a Productive Day, and How to Use Your Planner to Set and Achieve Meaningful Goals.