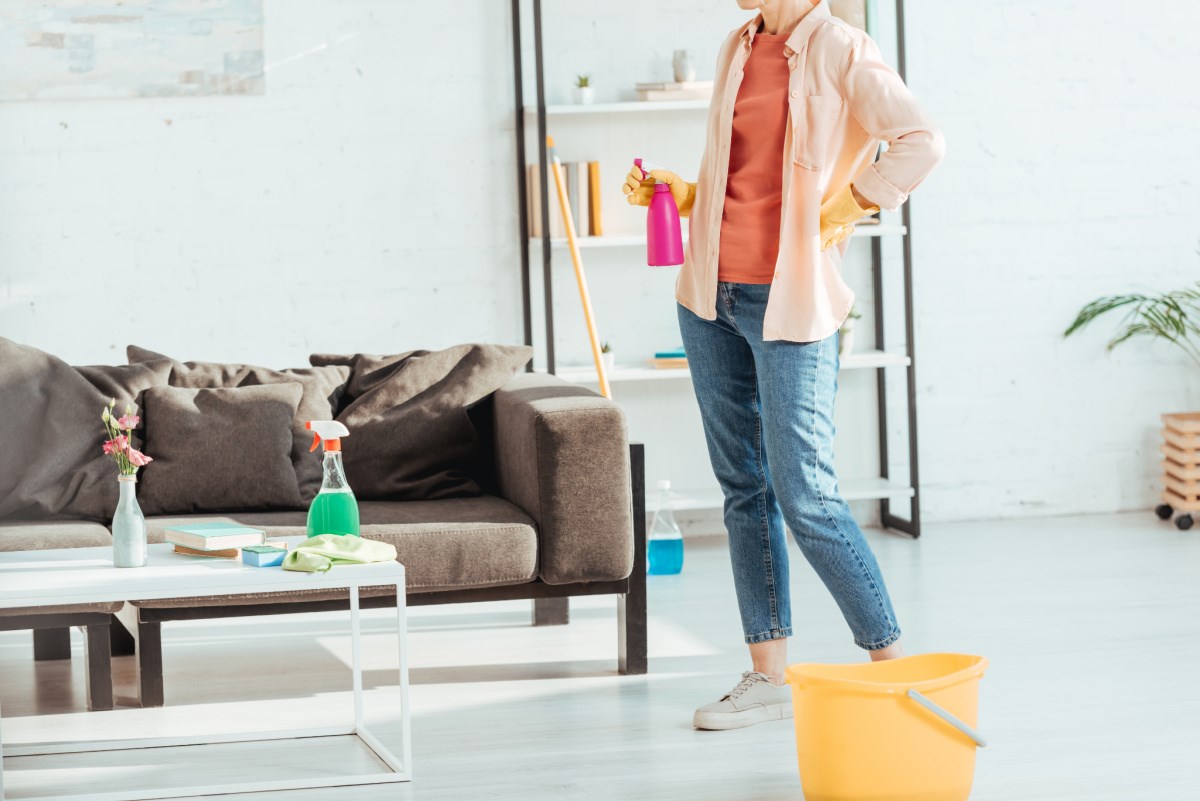 Are you ready to wipe away the grimy buildup of all these months quarantining at home? We are, too! That's why we couldn't be more excited for this season of spring cleaning to arrive. 
But where to start? How to begin? If you've been pondering what is the best way to spring clean, we have some thoughts to share.
Spoiler alert: There is no single, ultimate "best" way to spring clean. There are many possibilities, however, for you to choose from and create your own ideal plan.
Step 1: Pick the spring cleaning method that works best for you and your home. 
Do you want to go from the top to bottom of your house? Or top to bottom of each room? Maybe you'd prefer to start outside your house first and work your way in. Or take the room-by-room approach. 
Perhaps you don't want to clean the whole house, but would rather focus on certain areas or zones that need the most attention. 
Think about the state of your house right now, and how you'd prefer to proceed. That's the best first step.
Step 2: Decide which cleaning tasks matter most to you. 
There are countless cleaning tasks you could do for the "ultimate spring clean." But how much time and energy do you really have? Browse through our "menu" of cleaning possibilities (scroll down) and pick the ones your house needs right now. 
Make a list of what you plan to accomplish. (And don't for one second feel like you have to do them all. You're only human! Good enough is good enough.)
Step 3: Figure out when you can do your spring cleaning. 
You might want to spread out the process over a period of time. For example, set aside 15-20 extra cleaning minutes every day (on top of your regular cleaning), plus an extra hour once a week. If it takes you three weekends, or six weeks to finish your spring cleaning, that's totally OK! Or crank through it all in one long weekend, if you feel up to the challenge.
Step 4: Write down the plan.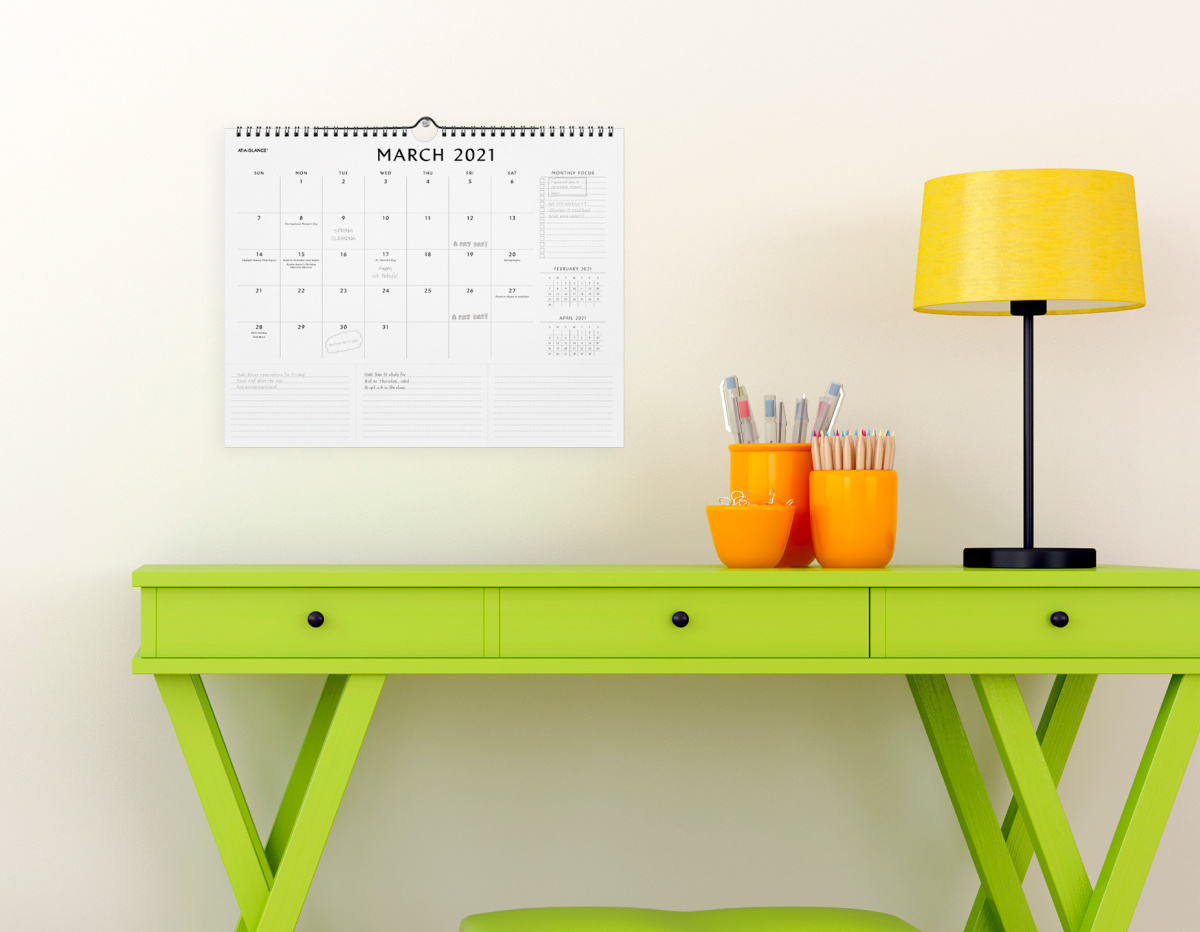 Regardless of how long it takes, you can get the job done with good planning and hard work. Use your AT-A-GLANCE planner or calendar to keep track of those spring cleaning goals. If you're fortunate enough to have some helpers, use a wall calendar to help communicate to your cleaning team who's doing what and when. 
Get more tips for creating a smarter spring cleaning plan from our sister brand, Day-Timer.
Step 5: Make sure you have everything you need to get the cleaning job done. 
Check out this list of spring cleaning essentials from our sister brand, Cambridge. You'll get a good idea of the supplies, tools, and other items that might come in handy for the big clean.
Spring cleaning tasks
Throughout your home
The following cleaning tasks could apply to some or even all areas of your home. Decide which ones must get done and feel free to skip any that don't. 
Clean/disinfect trash cans.

Clean doors, knobs and switch plates. 

Clean upholstered furnishings. 

Clean windows, screens, window sills, window treatments, blinds.

Dust books and shelves, decor, artwork, picture frames, electronics, anything "dust-able."

Dust hard-to-reach places (ceiling fans, light fixtures, window casings, etc.)

Open windows and screen doors. Let fresh air in, stale air out.

Polish metal hardware. 

Replace burnt out light bulbs, batteries (smoke, carbon monoxide detectors), and check expiration dates on fire extinguishers.

Reseal grout lines. 

Store all winter items, clothes, and decorations. 

Sweep and scrub floors.   

Vacuum and shampoo/wash rugs and carpet (allow time to dry).

Wipe walls, trim, baseboards, and ceilings. 

Wash floor registers and other vent covers. 

Wax wooden furniture, cabinet doors.

Wax non-wood floors.
Room-specific 
Bathroom
Clean mirror and frame . 

Clean sink and drain. 

Clean toilet, inside and out.  Remove seat and clean around seat bolts. 

Clean tub. Wax if necessary. Clean drain. 

Clean out cabinets and vanity: Wash inside. Toss expired medication while sorting other medication. Replace items neatly.  

Discard old and expired makeup. Clean your makeup holders. 

Polish faucets. 

Update first-aid kits. 

Wash bathmats. 

Wash and/or replace shower liners and shower curtains. 
Bedroom
Air out mattress pad, if you have one. 

Change bedding to lightweight sets. 

Clean out dresser drawers: Remove items, wash drawer, place items back neatly.  Donate Items you no longer need.  

Flip or rotate the mattress.

Freshen mattress by sprinkling with baking soda, letting sit briefly, and then vacuuming it up. 

Clean underneath the bed: Sort and put away anything under the bed. Sweep or vacuum under bed. Put the bed back.  

Wash bedding and curtains.  

Wash pillows and duvet in hot water.  
Closet
Take everything out.

Wipe down walls.

Clean/vacuum floor.

Dust any shelves.

Donate any unwanted items.

Sort and store (maybe even label, if you're a label person!) the keepers as you put them back in the closet.
Dining room
Clean chair pads, if applicable. 

Dust any displayed china or serving dishes. 

Polish silverware. 

Polish table, if necessary 

Launder table linens. 

Wipe down the table and chairs. 
Garage
Clean garage door. 

Clean garage door frame. 

Declutter tools, sports equipment, games, and toys. 

Open up the garage door to air out the space. 

Replace batteries in garage door openers. 

Sweep floor. 

Wipe down walls. 
Kitchen
Clean and descale your kettle/coffeemaker. 

Clean the dishwasher: Clear away any debris from the bottom of your dishwasher, then run it empty with baking soda or vinegar. 

Clean the garbage disposal: You can freshen your drain by pouring down baking soda and a lemon peel or lemon slices with warm water. 

Clean and organize the pantry. Check food expiration dates. 

Clean and organize the refrigerator and freezer. Defrost freezer, if necessary. Check food expiration dates.  

Clean crumbs out of the toaster. 

Clean microwave. 

Clean oven. 

Clean under the refrigerator and stove. 

Clean stove top. Remove elements and drip bowls, if applicable, then wash and put back. 

Sharpen knives. 

Use soapy water to wipe down counters, walls and backsplash.  

Vacuum refrigerator coils. 

Wash cabinet doors and knobs. 

Wash and sanitize cutting boards. 

Wipe down any other counter appliances. 

Working one cupboard or drawer at a time: Remove items, wipe out drawer, place items back neatly. Donate unneeded items. 

Wash and shine sink. Polish faucet. Clean drain. 
Laundry room
Wash the laundry sink. Clean drains. 

Wash inside the washing machine. 

Wash outside of the washer and dryer. 

Wash lint trap with soap and water to remove filmy build-up from laundry soaps and dryer sheets. Let the lint trap air dry thoroughly before putting back in place. 
Living room/family room
Clean television screen. 

Sanitize remote controls. 

Sort books and magazines. Donate or recycle any titles that no longer suit your interests. 

Spot clean sofas, if applicable. 

Tidy electronics wires. Tuck neatly out of sight.  

Vacuum sofas. 

Wash throw pillows and blankets. 
Office/work-from-home area
Clean out your files. Don't get rid of anything you may need in the future, such as the last few years' worth of tax returns. 

Clean your phone. (Check out these

expert tips for how to clean your phone

the right way.)

Disinfect your computer keyboard and mouse: Use compressed air to remove crumbs and dust, and wipe down the keys with a dampened microfiber cloth. Use dry microfiber to remove any leftover moisture. You also can use disinfectant wipes, if you're lucky enough to have some. 

Shred any papers with potentially sensitive information on them (either personal or for work, if paperwork has piled up since you've been

working from home

). 
Outside
Clean or replace the welcome mat. 

Give the front door a fresh coat of paint, if necessary. 

Sweep porches, decks, and walkways. 

Pressure-wash the driveway/patio.

Wash exterior doors. 

Wash thresholds. 

Wash siding. 

Wash outdoor furniture: Get it ready for spring and summer use.