About AT-A-GLANCE
Since 1934, the AT-A-GLANCE brand has been synonymous with planning and organizing your day, week, month and year. Today, AT-A-GLANCE is the leading maker of planners and calendars in the United States and Canada. The brand is also known for its premium-quality professional notebooks and padfolios, as well as other home and office essentials.
It's Your Life. Take Note.
We exist to help you publish your own, unique life story. We want AT-A-GLANCE to partner with you in the process of shaping your future and documenting your past. Whenever you're ready to put your carefully planned goals into action, embark on a new adventure, or record the moments that shape your own personal narrative, we will be with you every step of the way.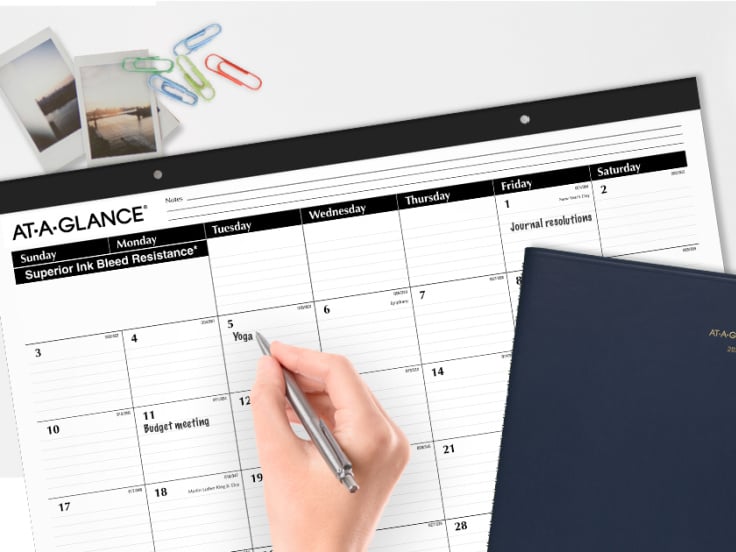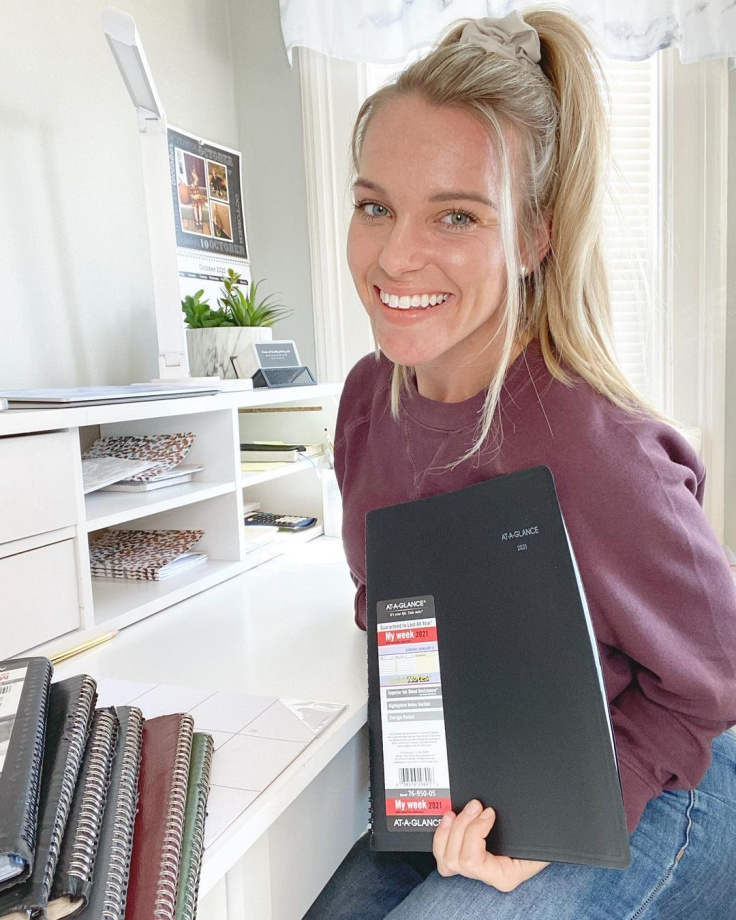 Fan favorites
Our fans swear by their AT-A-GLANCE products, whether it's the same planner they buy year after year or the new, innovative options they try and fall in love with:
"The ONLY way I've been able to stay on top of my daily life while balancing it out between both work & play is writing it ALL out. So you ask how do I do it all? I say AT-A-GLANCE." — Marisa Savino (pictured at left), fitness professional (AT-A-GLANCE QuickNotes Weekly-Monthly Appointment Book)
"I have had this planner for two years and put it in my back pocket every day. It can hold its durability through the folds and bends, and has not tore or broke on me. I am definitely going to get this planner for the next two years. Physical planners > digital planners!" — AnthonyP in Long Beach, CA (AT-A-GLANCE 2-Year Monthly Pocket Planner)
"This planner is AMAZING! I love it. The set up is perfect for organizing everything from daily tasks/appointments to goals, accomplishments, appointments, expenses, gift ideas and trackers that you can choose as you wish." — Michelle in New Orleans (AT-A-GLANCE Harmony Hardcover Daily-Monthly Planner)
AT-A-GLANCE Timeline
1934: The first AT-A-GLANCE planners were created and trademarked by Nascon Service, Inc., in New York.
1947: Eaton Paper Corporation acquired Nascon, including the AT-A-GLANCE brand.
1968: Textron, Inc. acquired Eaton, and later merged Eaton with its Sheaffer pen business to form Sheaffer Eaton. Its product lines included Sheaffer pens, Eaton stationery, AT-A-GLANCE appointment books, and Duo-Tang report covers.
1988: Cullman Ventures acquired the AT-A-GLANCE business to become part of its Keith Clark division, which manufactured a wide variety of diary and calendar products.
1997: Keith Clark adopted its most popular brand name as the company identity, AT-A-GLANCE.
1999: Dayton, Ohio-based Mead Corp., a publicly held company, bought The AT-A-GLANCE Group from Cullman Ventures for $550 million. The purchase included the umbrella AT-A-GLANCE brand and sub-brands such as Day Minder, Standard Diary, Timeline and Day Dream.
2001: Mead merged with Westvaco to become MeadWestvaco.
2012: ACCO Brands Corporation merged with MeadWestvaco's Consumer & Office Products business in 2012, adding well-known school and office product brands including AT-A-GLANCE and Day Runner

.