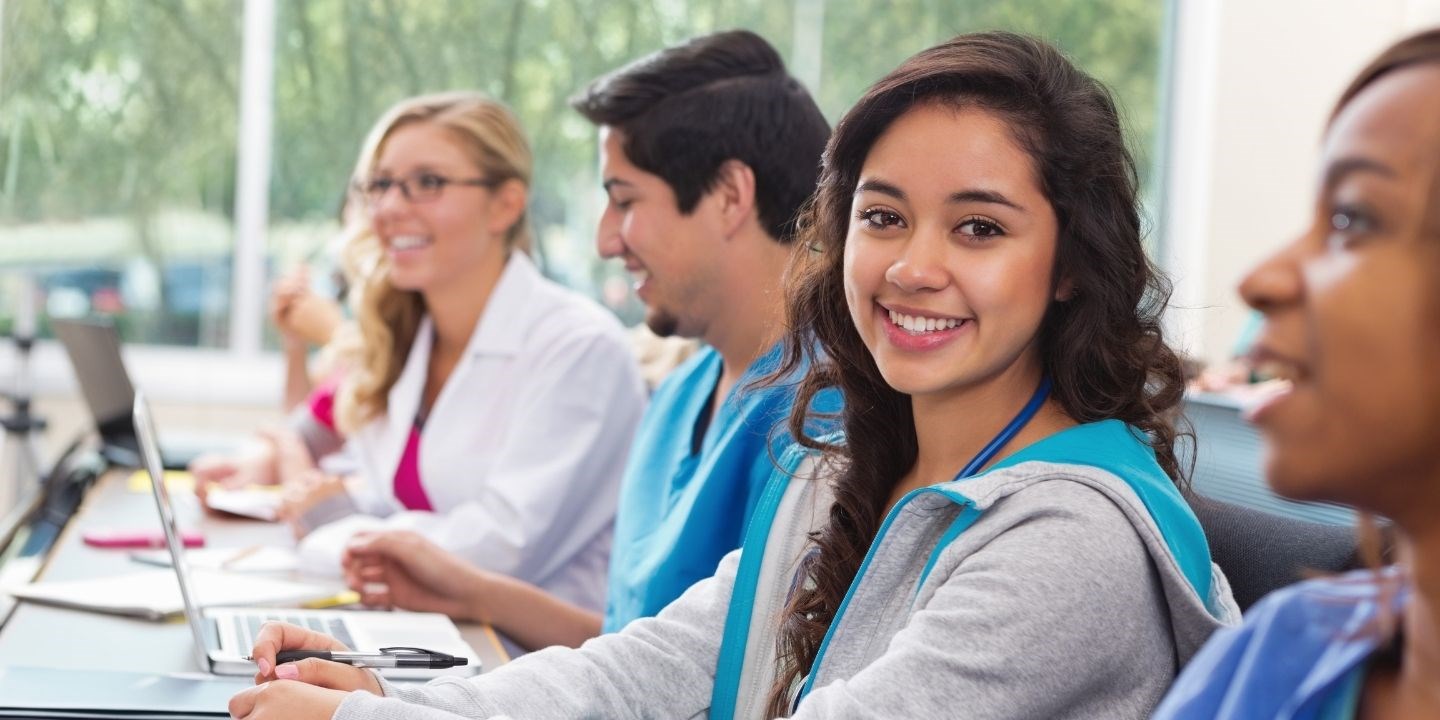 New Academic Planners, Notebooks, and Calendars Reduce Stress, Achieve Goals, and Make Space for Important Experiences.
If you like to plan using the academic year–July through June–check out our new planning and organizing products for the upcoming 2022-2023 school year. These AT-A-GLANCE academic year planners are some of the best planners for college students, high school students, and teacher planners.
Jot down appointments, meetings, days off, project due dates, and all the nagging things you need to remember for better time management. Once they are written down and planned out, you can forget about them. Just work the plan you created, day by day.
By planning the tasks you must complete to move your life forward, you are also carving out space for the things you want to do. Your goals and the experiences you have passion for are important. They can get lost in your fast-paced life as you try to do everything well. By controlling the chaos of your life's moving parts, you can find open space for experiencing all of life.
Use 2022-2023 Wall Calendars, Desk Calendars, and Desk Pads to Visualize Everything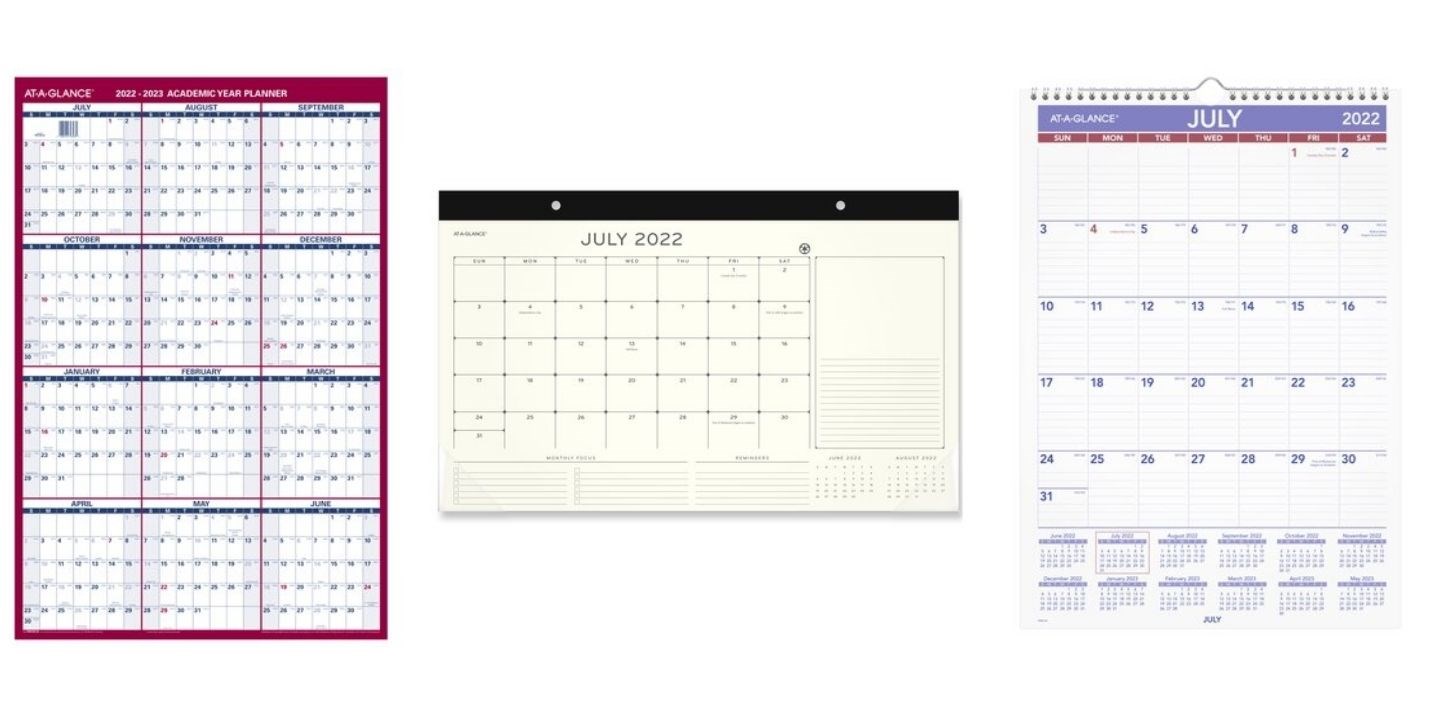 AT-A-GLANCE has a wide selection of academic year wall calendars that are functional and attractive. Choose from erasable calendars, wall calendars that span three months per page for easy planning, as well as calendars that are more design focused. Shop our academic wall calendars.
Additionally, for a wide selection of calendars to sit on your desk or desk pads to work and plan on, check out which of these work best for you. Shop our academic deskpad calendars.
Jot down all of your obligations, including project and other due dates. Then look at your year for time and space to have some wonderful experiences:
Taking trips,
Spending a few planned evenings with friends,
Attending concerts,
Learning to paint,
Playing an instrument,
Spending time with family, etc.
You can also add personal goal milestones you are hoping to hit. Research tells us that you are three times more likely to achieve a goal if you write it down, and even more likely if it is posted in your field of vision on a daily basis. Use your academic calendar planner to accomplish your goals.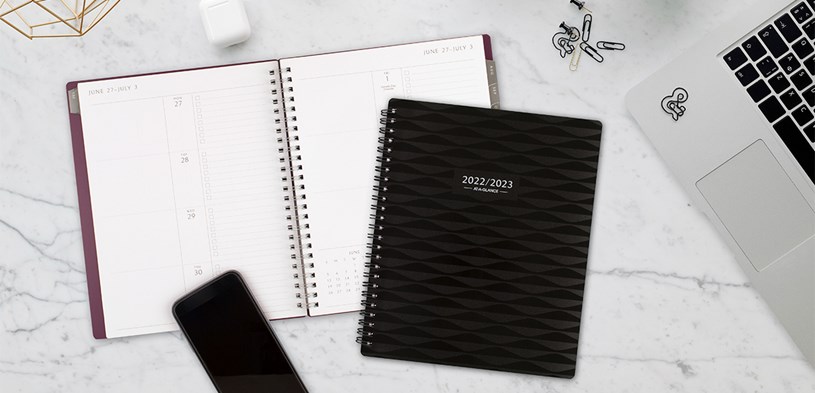 The Elevation Collection of academic weekly planners are progressive, stylish–and serious on the inside. The layouts are designed to help you get organized. Check out the year-in-two-pages spread, so you can look at your whole year at once.
The block format has a block for each day on the left side, and three sections on the right page: Goals of the Week, Focus on This, and Notes. Of course, with a name like Elevation, you know it is constructed with premium paper, strong coil, and durable, flexible covers guaranteed to last all year. 
Shop Elevation Collection Academic Planners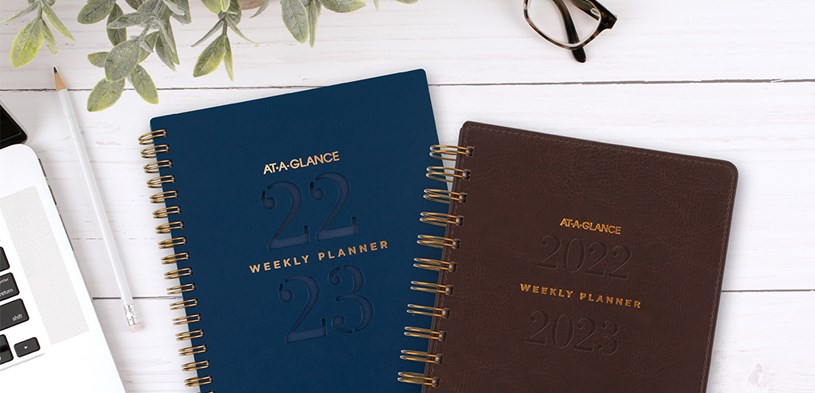 The durable covers of our Signature Collection Academic Planners are flexible, weathered, and embossed with the year. The unusual planning layouts are wide open so you can plan the way you want to, and the premium paper resists ink bleed. 
The strong twin wire coil secures pages, prevents snags, and helps the planner stay flat for a better writing experience. Store and organize in the same planner, by using the pocket for invitations, receipts, grocery lists, and more.  
Shop Signature Collection Academic Planners
The Badge Collection of 2022-2023 planners and calendars are a best seller at AT-A-GLANCE. Fans love the original hand-painted designs and the foiled date stamp on the strong covers. The layouts are open and uncluttered, with a Notes and Ideas section in each weekly layout.
Jot down due dates, project and meeting notes all in one place on the smooth, thick paper. The Badge Collection planners have durable twin wire as well as a storage pocket, so you can organize all year long in one place.
The beautiful Badge floral design was hand-painted in muted colors by an AT-A-GLANCE designer. The apricot, periwinkle floral, created during the pandemic, is a happy, calm palette that designer Dara Paul thought would be soothing for AT-A-GLANCE users.  The Badge Collection offers cute academic planners for you to focus in style.
The other original design is an arabesque-inspired, interlocking textured geometric with a dusty mint textured wash.
The planners are guaranteed to last all year, so your 2022-2023 school planner will still look good in the spring of 2023.  
Shop Badge Collection Academic Planners & Calendars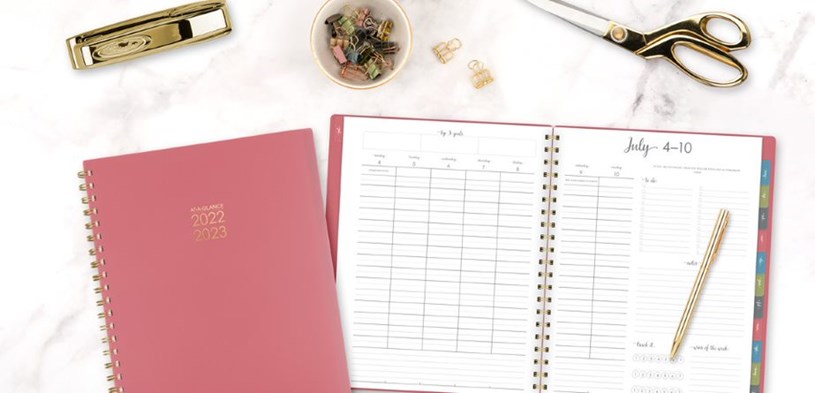 Whatever you love, whatever is most important to you, keep it in focus with 2022-2023 planners from the Harmony Collection. Soft-to-the-touch, durable covers on the outside, monthly tabs and weekly pages on the inside.
But the specially designed monthly and weekly pages are what makes Harmony different. Each month features a Big Idea box, and Monthly Goals, as well as a large Pursuits and Possibilities section and a motivational quote. Weekly planning pages help you concentrate on current needs while looking ahead, celebrating wins, tracking habits, and still provide ample space for planning. These features make this one of the best academic planners, and a good planner for college students.
Shop Harmony Collection Academic Planners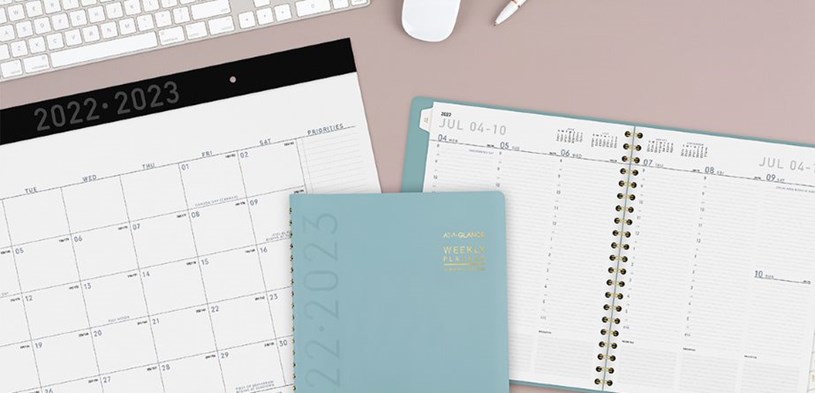 The Contempo Collection of 2022-2023 Academic Planners is for people who prefer less structured planning and have a sophisticated style. The planning formats are modern and include space for priorities. Whether you function best with a daily academic planner, or a weekly academic planner, Contempo offers a flexible way to plan your day.
The planners have more than 40 notes pages, so you can keep everything important in one place. The durable covers are flexible, and the metallic coil holds the premium paper, which is thicker than standard paper, so you have a better writing experience and the ink won't bleed through to the next page.
Several different types of wall and desk calendars are also available to keep your plans visible all day long.
Shop Contempo Academic Planners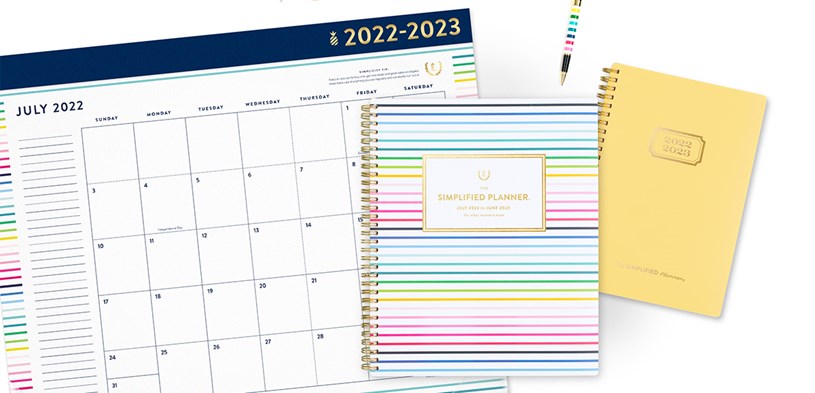 The Simplified by Emily Ley for AT-A-GLANCE collection of academic planners offers stylish and cute academic planners. Great as teacher planners, student academic planners, or college academic planners, these 2022-2023 academic year planners can help you manage your classes, assignments, and personal life to stay organized and successful.
Emily Ley's Simplified Planning System and message of joy and simplicity, paired with bright colors, inspire you to declutter, simplify and create room for the good stuff of life. Plus, pair your planner with fun academic planner stickers and accessories to personalize your look.
Shop Emily Ley Academic Planners
Keep Stress at Bay by Staying Organized with Academic Planners and Calendars.
Use your new AT-A-GLANCE academic planners and calendars to visualize goals, plan your days, take care of yourself, plan adventures, and set aside time to show those around you that you care about them.
Explore our website and look at the Contempo, Elevation, Harmony, Badge, Signature, and our other planning, organizing, and notetaking collections as well as our wall calendars, desk planners, desk pads, and accessories to put your wellbeing at the top of your priority list. 
Share with Others Who Need 2022-2023 Planners 
Share this story with others who may be looking for 2022 academic planners, school planners for students, academic planners for college students, calendars, and notebooks for the 2022-2023 academic year, and be sure to read our story How to Use Your Planner to Have A Productive Day.
We would love to know…which of our planners and other planning products fit best into your life?  Tell us on social media @ataglance and facebook.com/ataglance.