It's time to stop getting buried under your busy schedule! Take the first step toward control. Keep track of your personal and professional goals with a daily, weekly or monthly planner from AT-A-GLANCE. READ MORE ›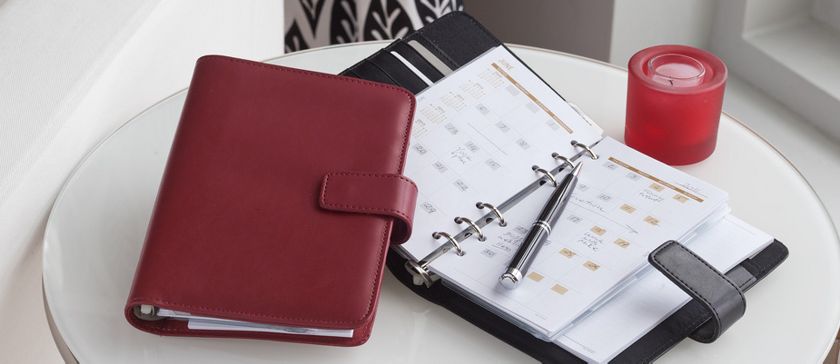 What people are saying about AT-A-GLANCE Day Runner:
"I use my planner/book every day! Notes, purse, cards, addresses, calendar, stamps, check book, important receipts, you name it! Stuck in a paper world, maybe, but I get countless compliments on my planner. I have everything I need at home, on the road, at work, and a phone is not attached to my right hand! AND I don't have to worry about charging it, or breaking it! I've only had to purchase 2 (the same ones) in 12 years! The fillers for each year are perfect and I can count on receiving them on time and just what I ordered! Oh and mine has a handle!"
— Deborah, Michigan [Item #
061-685Y
]
"I have been using this planner for about 20 years. As long as they keep making it, and I still need to keep track of my schedule, I will keep buying it. (And I am very fussy about quality.)"
— M from Abington, PA [Item #
064-287
]
"I love this organizer because I can keep my monthly calendar and daily pages in the binder rings for reference, but focus on a simple lined page for notes. I like scratching out to-do lists daily, having tons of free space for meeting notes and keeping hold of them for future reference. Instead of filling up yellow legal pads with to do items, I can keep only the pages I need--neatly hole punched and ready to keep or toss as needed. Sure this could all be accomplished with a normal 3-ring binder but it wouldn't look so professional and, more importantly, this has a slim design that fits neatly into my work bag with my laptop."
— Department Head with Things To Do, West Virginia [Item #
307-0304
]
‹ SHOW LESS
Showing 1-46 of 46 Results