Motivate and Decorate with AT-A-GLANCE Planner Accessories
At AT-A-GLANCE, we are passionate about making a positive difference in your life. We know that in a fast-paced world, you must curate your time to experience the life you want. We provide superior planning and organizing tools with smooth, thick paper so you can come to your planner every day of the year to find a calm place to plan the things you have to do, and to create space for all the wonderful things you want experience. 
That chaos in your mind settles and your shoulders fall away from your ears as you open your planner and realize that all the tasks are accounted for, and the plan you created breaks down big projects into small, manageable pieces. Your planner is a place of refuge, motivation, and fun.
Planning accessories makes organization easier and adds color to your daily planning.  Here, we will show you some of the accessories we offer and suggestions on how to use them. 
Planner Stickers, Decorations, and Embellishments Inspire Positivity and Motivation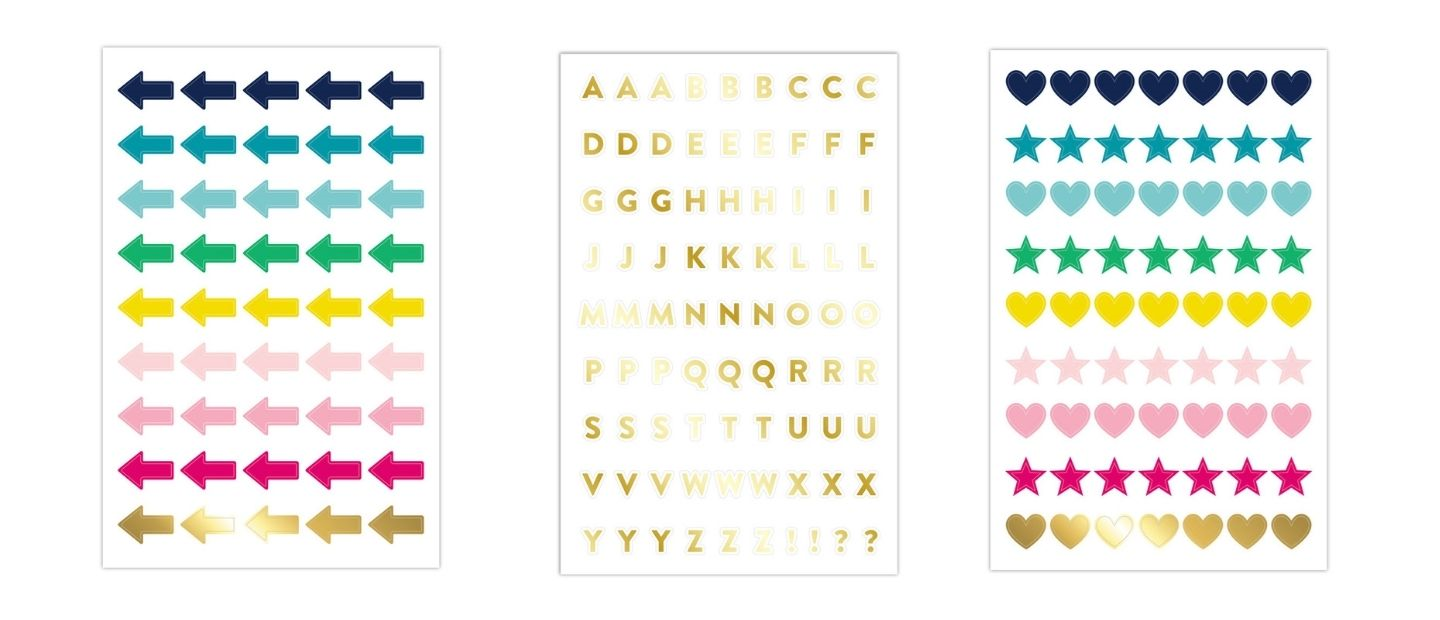 Colorful daily or monthly planner stickers, monograms, jewels, and washi tape can be used to create interesting areas in the personal pages of your weekly, monthly, or daily planner or calendar. You can use school planner stickers, college planner stickers or work planner stickers to customize your planner. Remember, this space is just for you. No one is looking over your shoulder judging the way you plan your life. Have fun and express the real you. Use cute planner stickers to create pages that stand out, motivate you, capture a memory, and even track habits, hydration, or healthy food.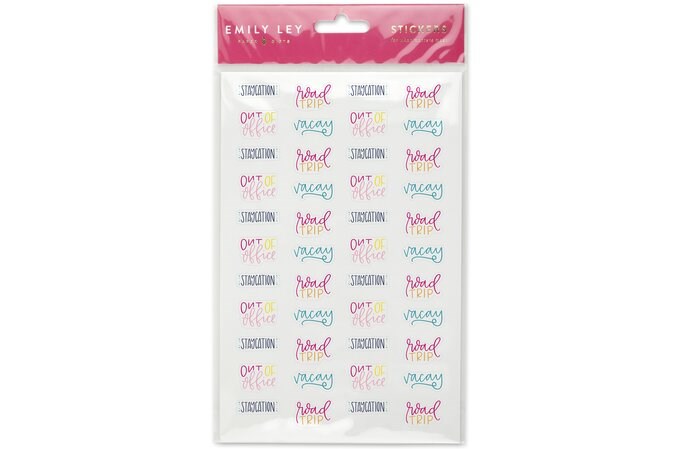 These vacation planner stickers brought to you by Emily Ley, are a fun way to customize your planner or notebook. Colorful stickers with vacation sayings will stand out on the most important dates–days off!
Get ready for vacation by simply peeling and sticking these into your planner for reminders that you're unavailable, and to remind you to pack, or complete tasks like arranging pet care before you leave town. The set comes with 6 sheets of self-adhesive stickers, and every sheet has 44 stickers. 
We are very proud of our partnership with Emily Ley whose Simplified collection of minimal, meaningful planners and organizational tools was created to help busy women live simpler lives.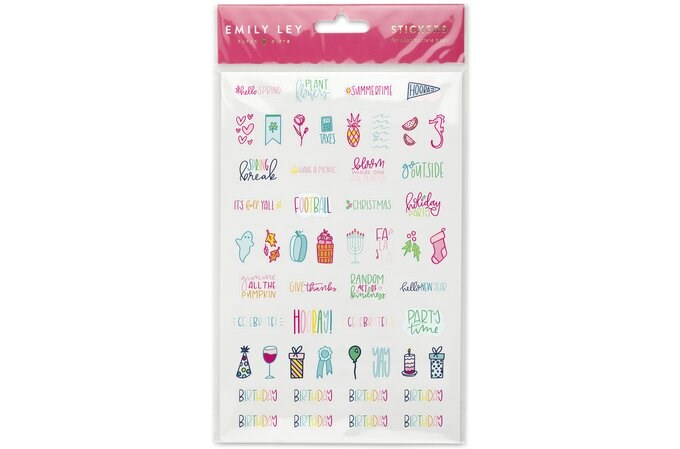 Celebrate everywhere, especially in the pages of your planner. These stickers for holidays, birthdays, and other special days have you covered all year round.
The multicolored stickers come with six sheets of self-adhesive stickers. Every sheet has 29 stickers. Christmas, Thanksgiving, Hanukah, St. Patrick's Day, and even tax season will stand out in your planner with these fun, colorful stickers. 
Planning Accessories to Keep You Organized
Aside from fun stickers and embellishments, some accessories help keep your planner organized. Create personalized sections in your planner or notebook, to live life the way you want to, and to create time and space for experiencing all of life.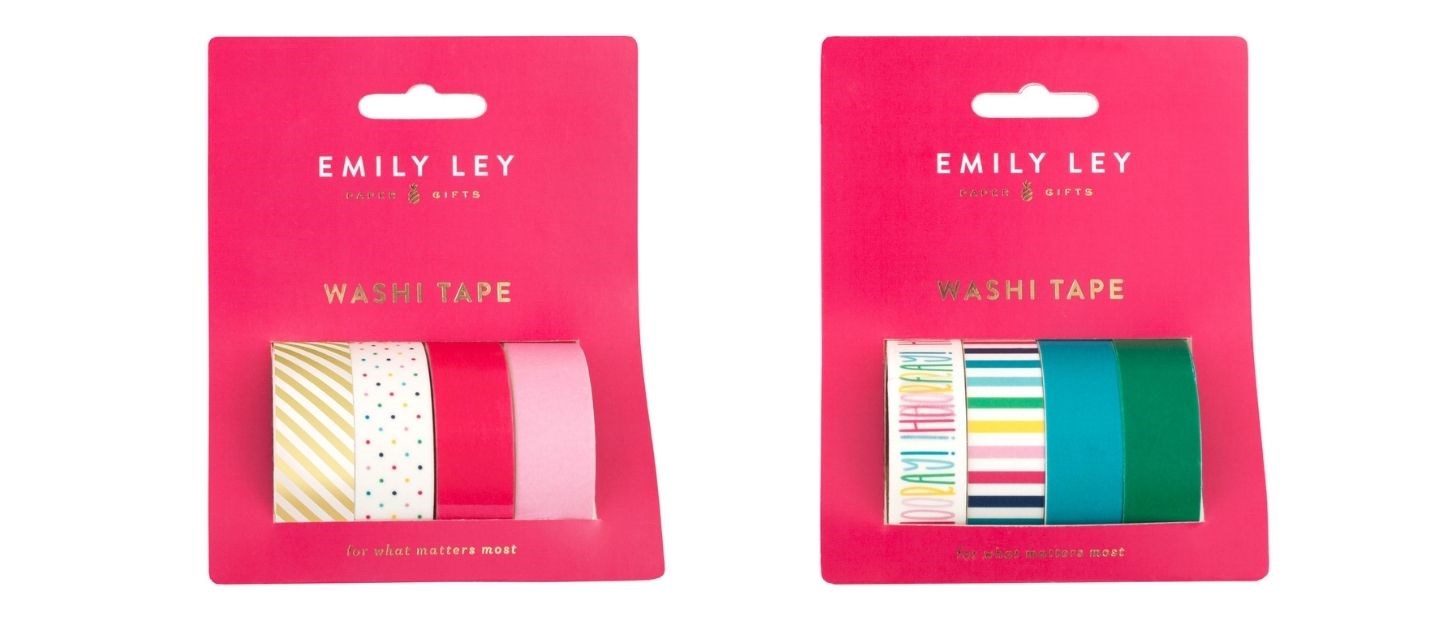 Washi tape is great to use for helping to carve out a special page in your planner, color coding, decoration, and blocking off sections of time. Highlight important dates and notes in a colorful, decorative way with our collection of Emily Ley Washi Tape. Each set comes with 4 rolls of tape, in different color palettes. The tape is partially transparent and is 9/16" wide.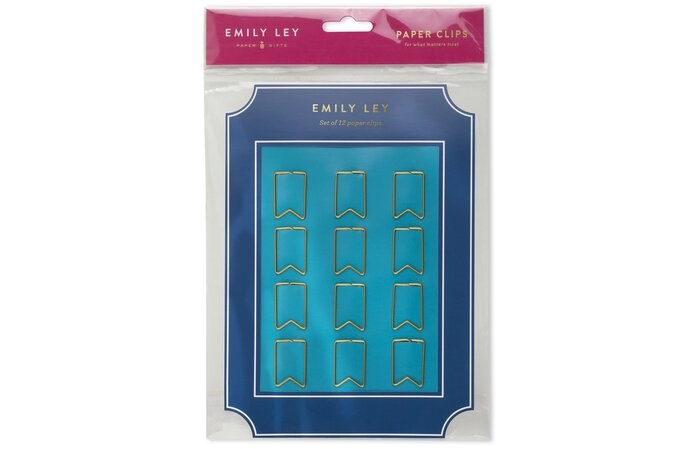 These Emily Ley paper clips in her signature flag shape are a unique way to mark a specific day or week in your monthly calendar, planner or At-A-Glance planning notebook, or spiral notebook. You can quickly refer back to any page or use the 1" tall clips to keep up to ten sheets of paper together. The set includes 12 matte gold paper clips.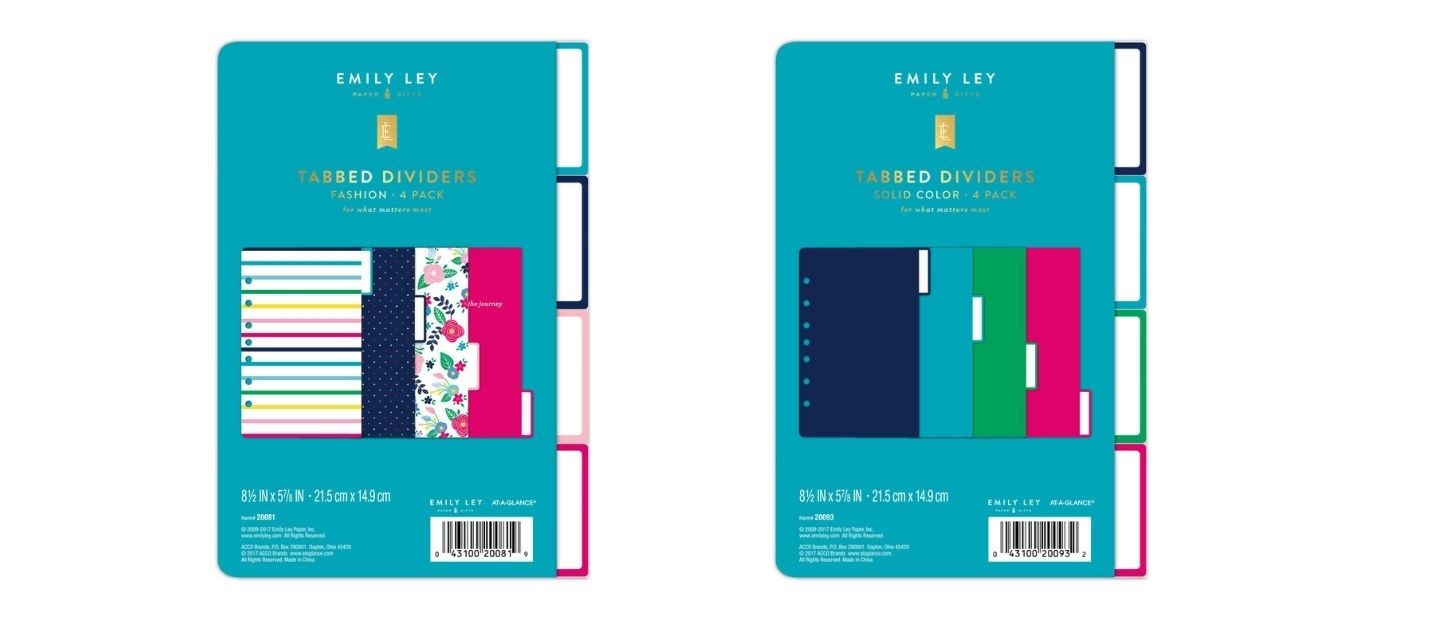 Another great idea from Emily Ley, these cheerful personal planner tabbed dividers keep your planner pages organized in style. The four-pack of dividers come in four colorful designs and are seven-hole punched with a 6" x 8 ½" page size to fit Emily Ley Simplified organizers.
You can create your own sections by writing on the tabs. Create calendar tabs for your planner, monthly tabs for your planner, or customize to fit your needs. These dividers include stripes, dots, floral, and solid pink designs to coordinate with the Happy Stripe Organizer.
Let's Talk About Color Coding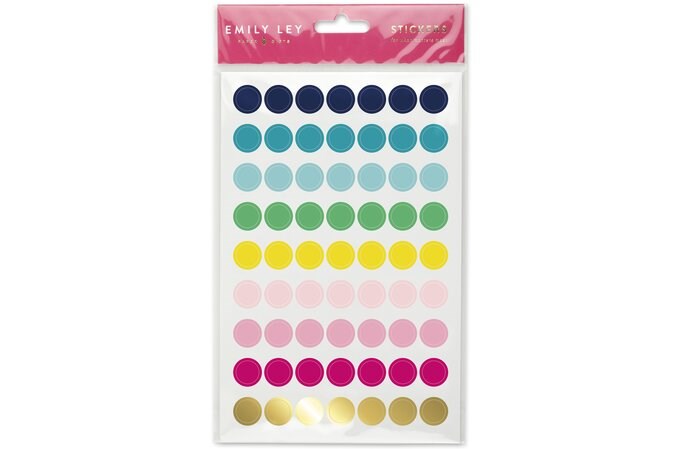 Experiment with color-coding in your planner! There are as many ways to color code as there are people crazy about their planners. Color coding creates an easy way to look at your daily plan, weekly plan, and even monthly and yearly plans.
For example, you could use colors to delineate all sort of activities, and goals:
Work projects and meetings
Self-care
Workouts
Tracking hydration, food, or habits
Connecting time: social life
Connecting time: family
Self-improvement/personal growth
Home projects and TO DOs
Morning/evening routines
Personal appointments  
The most important thing about color coding is that once you find a system that works for you, stay consistent. You may even want to put a color key in the front of your planner or notebook to refer to in case you forget.
As time goes on, you will be able to quickly look back at past weeks and determine whether or not you hit a fitness goal, got enough family time, or did your self-care the way you were hoping.
We offer several Emily Ley sticker sheets with her signature colors, or gold, to help you organize, prioritize tasks, highlight special events, appointments and dates, or color code in the pages of your planner. 
Keep Planner Supplies Organized
Are you wondering how to organize planner stickers and organize planner supplies? We have found that using planner covers are a great way to store and protect your best planner stickers and provides easy access to the planner date stickers and daily planner stickers that you use the most. You can also use clear plastic bins or decorated repurposed shoeboxes to store your washi tape and planner clips. For smaller items, At-A-Glance Storage Pockets are a helpful way to keep planning stickers and supplies organized.
A good AT-A-GLANCE professional notebook is a great accompaniment to your personal planner.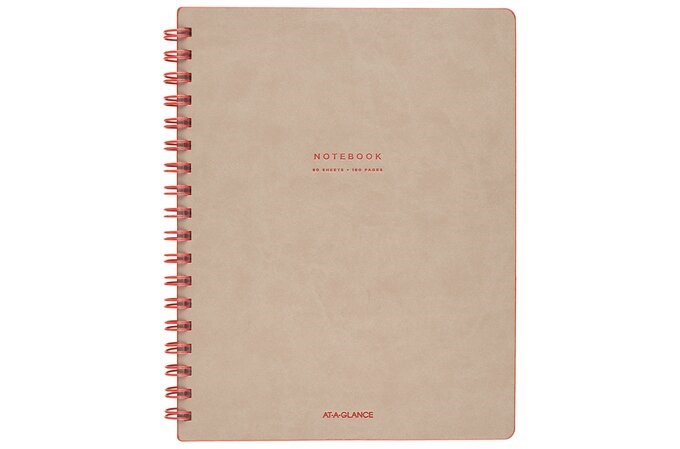 This vegan leather notebook is from the sleek AT-A-GLANCE Signature Collection. The neutral palette features a clean, polished look that's timeless. Our superior paper is thick, smooth and is designed for superior ink bleed resistance, allowing you to fully use every page of your notebook.
Each page has formatting that's specifically meant to enhance productivity. A date box at the top organizes notes chronologically, and a special section at the bottom is great for listing action items and key takeaways.
This notebook is part of the AT-A-GLANCE Signature Collection line of products. Mix and match with other Collection notebooks, AT-A-GLANCE notebooks with circle the date, monthly planners, appointment books, wall or desk pad calendars and planning accessories.
Your Planner is Your Personal Space
Your planner or notebook is a personal planning space. Think of it as your personal assistant, and make it work FOR you. The way your planner pages look should reflect you, support you, motivate you, and maybe even move you–emotionally–or move you to action.
Make sure you highlight the things you truly value, not just the things you need to check off your list. You can get more information about set up and use in our blog post How to Successfully Use Your Planner.
Post a comment to let us know what type of planning accessories you love! How do they help you? We would also love to hear any suggestions you may have for other planning fans.
Be sure to share this post with anyone who might like to improve the way they plan their months, weeks, or days.