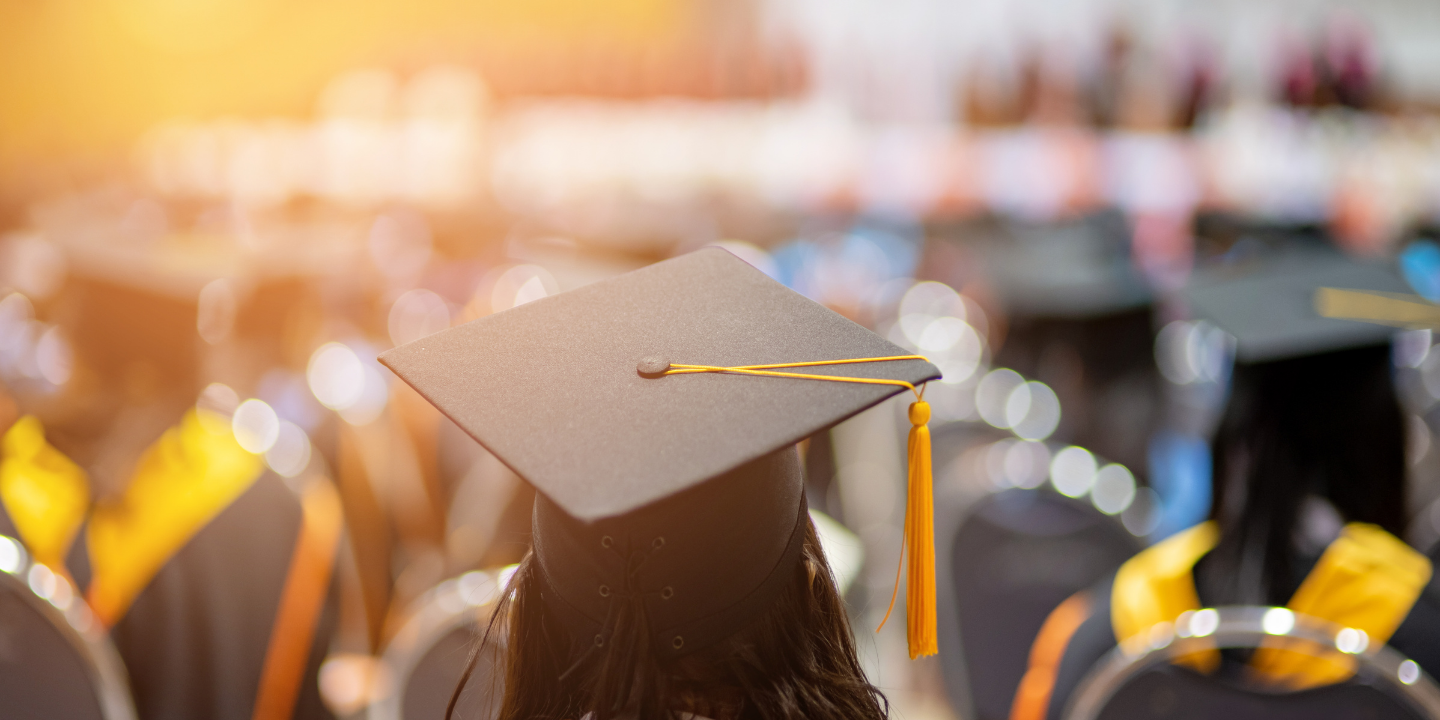 Give graduates the gift of organization with an AT-A-GLANCE 2022-2023 planner.
"You give but little when you give of your possessions. It is when you give of yourself that you truly give." - Kahlil Gibran
Give the graduates in your life the best gift: YOU, and your patient ear and guidance when they need it. Let graduates know that it's OK to lean on people other than their parents. That it's helpful to get others' perspectives about the future and those next steps as well as share the burden of the stress, confusion and fear they may be feeling. It's nice to have someone besides a parent to talk things through.
Why give a planner for a high school or college graduation gift? 
Graduation for both college and high school students is an exciting time but can also be filled with some uneasy feelings about the future. It is very common for graduates to feel apprehensive due to a perceived lack of control over what might come next. Graduates may be going on to more schooling, to a new job, or may not be sure what their next step might be. 
Wherever they are in their after-school pursuits, you need to find an appropriate gift to celebrate their current accomplishment. An academic planner and a professional notebook or calendar will help give your graduate a sense of control and organization and give him or her a place to put dreams and thoughts about the future.
Of course, many people use a smartphone, and younger people depend on their devices the most. However, a planner is more than just a spot to keep appointments and meetings.
A planner gives the user a place to:
Journal what goes on in his or her life;
Brainstorm dreams and goals;
Break down goals into tiny TO-DOs;
Write down important work (and non-work) items to remember;
Plan projects alone or with a team; and
Track habits, workouts and more. 
Research also shows that something happens in the human brain when we put pen to paper. Writing is much more effective for learning information, committing to goals, etc., than using a phone or typing into a computer. Neuroplasticity, or how your brain is trained through the way you act and think consistently, is affected most by writing with our hands.
Additionally, giving an academic year planner, desk pad and/or wall calendar gives you a place to jot little notes of support as your grad uses it throughout the year.
Managing time well is one of the most important skills in life. After all, the hours in the day are limited. If we manage what we have to do, we can create time and space for the things we most want to–activities that bring us joy and connection while allowing us to best use our talents.  
Review this gift guide for some ideas about thoughtful high school gifts and college graduation gifts that will support your graduate now and throughout life.
Our most progressive line of 2022-2023 academic planners for college students, technical or nursing students, or young professionals, the Elevation Collection gives you two layouts from which to choose. They are both extremely open so that the user can plan the way she/he wants to plan.
All our Elevation academic planners are constructed with premium paper, strong coil, and durable, flexible covers guaranteed to last all year*. Help your graduates free their minds with either a calendar, desk pad or academic year planner from the Elevation Collection.
Choose a Signature Academic Planner and Notebook to a graduate. This collection was created for busy students and professionals who like a simple planning experience. The layouts feature large areas of open space, and beautifully embossed, durable, flexible covers with a weathered look.
The notebooks are soft, vegan leather and are filled with high-quality thick paper that resists ink bleed. Each page offers a designated date section in the right corner and a task area at the bottom helps build good organizational skills.
The Harmony Collection of academic weekly monthly planners are gently guided and helps focus users on the life they desire most. Your graduate can track goals, plans, notes, and ideas throughout the year. This collection has plenty of room for journaling or even sketching. These characteristics make the Harmony Planner an ideal high school graduation gift or college graduation gift.
Each month features a motivational quote and areas for that "Big Idea," those "Pursuits and Possibilities," and three monthly goals.
Each weekly layout has:
a thoughtful quote;
a habit tracker;
a "top three for the week" for those important items;
a task list;
a special section for looking ahead; and
a place to celebrate wins–big or small.
Each Harmony Planner includes a storage pocket, premium paper that resists ink bleed, gold twin wire coil, and durable covers in beautiful colors.  The thoughtfully added colorful stickers are perfect for color-coding plans, projects, and goals.
The AT-A-GLANCE Emily Ley Collection of attractive, meaningful planners was created to help busy women live simpler lives. If you're looking for a graduation gift for "her," look no further. Emily Ley fans love her approach to planning which encourages and equips them to declutter, simplify, and create margin for the good stuff of life. For many people, Emily Ley is inspiring.
In the front section of every planner, she shares her Simplified Process and ideas through special pages like The Process of Simplifying, How to Use the Planner, the Simplicity Challenge, and more. 
Additionally, Emily's Simplified Tips appear throughout the weekly/monthly planners, helping your graduate keep life streamlined so what's most important stays front and center. As lovely as her cover designs, her inside page layouts provide functionality, too, with space for users to plan all parts of their lives in one place. 
The 2022-2023 academic year planners from the AT-A-GLANCE Badge Collection offer durability and stunning original art. Your graduate or young professional may prefer the floral or the geometrically patterned cover with gold foil imprints.
Inside, uncluttered layouts print on thick, premium paper, with just a Notes and Ideas section added on the weekly pages. The tabs are colorful and sturdy, allowing a quick flip to the proper page. 
Like many of our collections, Badge offers matching school year desk calendars and wall calendars to up your grad's planning game. 
Encourage Your Graduate with the Gift of Your Support along with Organization
Even if a graduate has a next step, it is still an uneasy time. School creates a structure that starts early in life and lasts a long time. Moving ahead without that structure can be daunting. Before you wrap the planner, notebook, desk pad and/or calendar you've chosen as gifts, take time to jot down some little notes of support and encouragement throughout the year. Let your grad know she/he is in your thoughts.
Here are some ideas:
I believe in you.
Always know we are here for you.
You are doing awesome!
Have a great day today.
Any day you feel frustrated, call me!
Sending you positive vibes today.
Enjoy your journey.
One day at a time.
Surround yourself with positive people.
You learn through your mistakes and "failures." (And we ALL have them.)
If you have a tough time, remember it will pass. Just do your best. 
We are so proud of you.
Give yourself a break.
You have lots of people in your corner.
Relax. Quit pressuring yourself.
Call anytime you need us.
I'm so proud of your effort.
Share this story with others who may be looking for interesting graduate gift ideas. You may also want to send graduates our stories How to Use Your Planner For Success and How to Use Your Planner to Have a Productive Day.
We would love to know…what products are you choosing for the graduates in your life?  Tell us on social media @_at_a_glance and https://www.facebook.com/ataglance.
*ACCO Brands will replace any AT-A-GLANCE planner that is returned within one year from the date of purchase. This guarantee does not cover damage due to misuse or abuse. Contact us for instructions.